Transcription by Kate Atkinson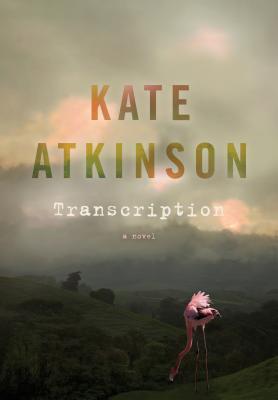 Juliet Armstrong is a dissatisfied radio producer in a 1950s London that is recovering from the war as much as she is. During World War Two, Juliet was conscripted into service, transcribing conversations between an MI5 agent and a ring of suspected German sympathizers. The seemingly dull work quickly plunged Juliet into a treacherous world of code words and secret meetings where Juliet herself was sent into the field. These moments of intrigue and romance feel like a lifetime ago as Juliet trudges through her commute, her job and her new life. But as Juliet and the rest of London find ways to return to normal, her routine is upended by an encounter with a mysterious man from her past life.
Haunted by the relationships and actions of her past and facing a very real threat in the present, Juliet cannot escape the repercussions of her work for the government. With no other choice, Juliet is quickly pulled back into the life of espionage she thought she'd left behind. Kate Atkinson's latest novel brings mid-century London to life in a gripping tale of deception and consequences.
Well it is official! I am a Kate Atkinson fan! I now need to run out and buy all of her books. I am blown-away by the characters that she is able to create.  Juliet Armstrong is one of the most read characters that I have ever read.  She manages to be flawed but still likeable. She is very naive and she is all the more relatable because of that.  It was interesting to see WWII from this perspective.
This is story less about the war itself and more about the people who are left behind and are trying to make sense out of their new reality.  There was also moments of dry and witty humour throughout the story, which was refreshing.  All of these characters can be very petty, selfish, and egotistic, which makes for an interesting dynamic.
There is a subplot involving a character named Perry that I will not go in to detail about because it will be a spoiler, but I really enjoyed it and found it to be interesting.
I enjoyed the fact that the story is told in three timelines, so we get to see Juliet in different times during her life, both during and after the war.  I will say that I found that chapters that took place during the war to be much more fast-paced and interesting, but I think that the other timelines were needed to add more context to the story.
Transcription can be slow-paced, which I actually enjoy, but if you are looking for a spy novel with a lot of action this isn't it.  Juliet's role as a spy is what she or I imagined.
"Choice, it seemed, was one of the first casualties of war."
"It was the war, Juliet thought, remembering the photograph of the flamingo's creased wife, it has made refugees of us all."
"The world is a comedy to those that think; a tragedy to those that feel,"
Thank you to Penguin Random House Canada for sending me a copy of Transcription in exchange for an honest review.