I have written posts like this twice in the past and you can find them here and here. I am constantly added books to my TBR and I thought it might be interesting to talk about why I want to read them. I also get a secret joy out of adding more books to your TBR's!
Sweetpea 
by

 C.J. Skuse
The last person who called me 'Sweetpea' ended up dead…
I haven't killed anyone for three years and I thought that when it happened again I'd feel bad. Like an alcoholic taking a sip of whisky. But no. Nothing. I had a blissful night's sleep. Didn't wake up at all. And for once, no bad dream either. This morning I feel balanced. Almost sane, for once.
Rhiannon is your average girl next door, settled with her boyfriend and little dog…but she's got a killer secret.
Although her childhood was haunted by a famous crime, Rhinannon's life is normal now that her celebrity has dwindled. By day her job as an editorial assistant is demeaning and unsatisfying. By evening she dutifully listens to her friend's plans for marriage and babies whilst secretly making a list.
A kill list.
From the man on the Lidl checkout who always mishandles her apples, to the driver who cuts her off on her way to work, to the people who have got it coming, Rhiannon's ready to get her revenge.
Because the girl everyone overlooks might be able to get away with murder…
Now that Fall is almost here, I have found that I am in the mood for mysteries/thrillers, which is not a genre that I am very familiar with.  I follow and adore Zuky the Bookbum and I she absolutely loved Sweet Pea!  I completely trust her opinion and I thought the summary sounded interesting so I instantly added it to my TBR! I will definitely be reading this soon!
The Victorian and the Romantic: A Memoir, a Love Story, and a Friendship Across Time 
by

 Nell Stevens
History meets memoir in two irresistible true-life romances–one set in 19th century Rome, one in present-day Paris and London–linked by a bond between women writers a hundred years apart
In 1857, English novelist Elizabeth Gaskell completed her most famous work: the biography of her dear friend Charlotte Bronte. As publication loomed, Mrs. Gaskell was keen to escape the reviews. So, leaving her dull minister husband and dreary provincial city behind, she set off with her daughters to Rome. There she met a dazzling group of artists and writers, among them the American critic Charles Eliot Norton. Seventeen years her junior, Norton was her one true love. They could not be together–it would be an unthinkable breach of convention–but by his side and amidst that splendid circle, Mrs. Gaskell knew she had reached the "tip-top point of [her] life."
In 2013, Nell Stevens is embarking on her PhD–about the community of artists and writers living in Rome in the mid-19th century–and falling head over heels for a soulful American screenwriter in another city. As her long-distance romance founders and her passion for academia never quite materializes, she is drawn to Mrs. Gaskell. Could this indomitable Victorian author rescue Nell's pursuit of love, family and a writing career?
Lively, witty, and impossible to put down, The Victorian and the Romantic is a moving chronicle of two women each charting a way of life beyond the rules of her time.
I have been absolutely loving non-fiction this year, and I am always on the hunt for more light-hearted memoirs.  I adore the Victorian era and the premise of this book is so intriguing! I love the idea of a dual narrative and the fact that these two women are connected and their lives are very similar even though they lived over 100 years apart. I have read a lot of amazing reviews for it as well.  I actually own this book already so I hope to pick it up soon!
I Was Born For This 
by

 Alice Oseman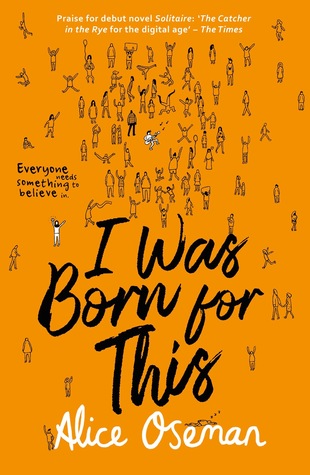 For Angel Rahimi, life is only about one thing: The Ark – a pop-rock trio of teenage boys who are currently taking the world by storm. Being part of The Ark's fandom has given her everything – her friendships, her dreams, her place in the world.
Jimmy Kaga-Ricci owes everything to The Ark too. He's their frontman – and playing in a band is all he's ever dreamed of doing. It's just a shame that recently everything in his life seems to have turned into a bit of a nightmare.
Because that's the problem with dreaming – eventually, inevitably, real life arrives with a wake-up call. And when Angel and Jimmy are unexpectedly thrust together, they will discover just how strange and surprising facing up to reality can be.
I have heard so many amazing things about Alice Oseman's writing, and I have actually added all of her books to my TBR.  There is something about I Was Born For This that appeals to me the most.  I think it was because I was absolutely obsessed with The Backstreet Boys when I was growing up so I completely relate to the whole boy band thing. The idea of fandoms is really big right now so I definitely think this will be an interesting read!
Not That Bad: Dispatches from Rape Culture 
by

 Roxane Gay

 
Edited and with an introduction by Roxane Gay, the New York Times bestselling and deeply beloved author of Bad Feminist and Hunger, this anthology of first-person essays tackles rape, assault, and harassment head-on.
In this valuable and revealing anthology, cultural critic and bestselling author Roxane Gay collects original and previously published pieces that address what it means to live in a world where women have to measure the harassment, violence, and aggression they face, and where they are "routinely second-guessed, blown off, discredited, denigrated, besmirched, belittled, patronized, mocked, shamed, gaslit, insulted, bullied" for speaking out. Contributions include essays from established and up-and-coming writers, performers, and critics, including actors Ally Sheedy and Gabrielle Union and writers Amy Jo Burns, Lyz Lenz, Claire Schwartz, and Bob Shacochis. Covering a wide range of topics and experiences, from an exploration of the rape epidemic embedded in the refugee crisis to first-person accounts of child molestation, this collection is often deeply personal and is always unflinchingly honest. Like Rebecca Solnit's Men Explain Things to Me, Not That Bad will resonate with every reader, saying "something in totality that we cannot say alone."
Searing and heartbreakingly candid, this provocative collection both reflects the world we live in and offers a call to arms insisting that "not that bad" must no longer be good enough.
I have only read one other book by Roxane Gay, Bad Feminist, and while I did not absolutely love it, I did enjoy her writing.  I have heard amazing things about Not That Bad and although I think it will be a difficult read for me, I also think it has the potential to be a powerful one.  There are so many amazing reviews on Goodreads from women that I respect so I am totally confident that this is a book I will love.
Melmoth 
by

 Sarah Perry
For centuries, the mysterious dark-robed figure has roamed the globe, searching for those whose complicity and cowardice have fed into the rapids of history's darkest waters—and now, in Sarah Perry's breathtaking follow-up to The Essex Serpent, it is heading in our direction.
It has been years since Helen Franklin left England. In Prague, working as a translator, she has found a home of sorts—or, at least, refuge. That changes when her friend Karel discovers a mysterious letter in the library, a strange confession and a curious warning that speaks of Melmoth the Witness, a dark legend found in obscure fairy tales and antique village lore. As such superstition has it, Melmoth travels through the ages, dooming those she persuades to join her to a damnation of timeless, itinerant solitude. To Helen it all seems the stuff of unenlightened fantasy.
But, unaware, as she wanders the cobblestone streets Helen is being watched. And then Karel disappears. . . .
I read The Essex Serpent by Sarah Perry and it was one of those book that I have grown to appreciate more and more as time goes on.  The writing was absolutely magnificent and atmospheric.  There was very little plot, and the focus really was on the characters and the setting.  I do not know how I did not realize that she is publishing a new book, but I am so excited! The plot sounds interesting and I love books that deal with superstition! I will be adding the date, October 16th, to my calendar!
Bridge of Clay 
by

 Markus Zusak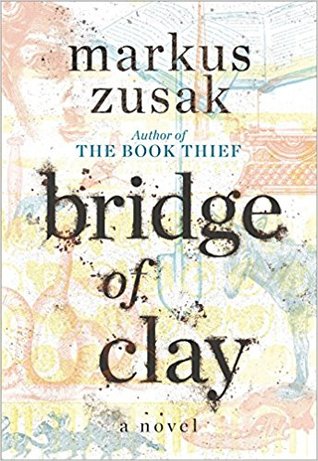 The breathtaking story of five brothers who bring each other up in a world run by their own rules. As the Dunbar boys love and fight and learn to reckon with the adult world, they discover the moving secret behind their father's disappearance. At the center of the Dunbar, family is Clay, a boy who will build a bridge—for his family, for his past, for greatness, for his sins, for a miracle. The question is, how far is Clay willing to go? And how much can he overcome?
I think me and everyone else loved The Book Thief, so as soon as I realized that Markus Zusak had written a new novel I was absolutely thrilled!! I would read this book without knowing what it is about, but the synopsis definitely intrigues me.  I love stories that focus on brothers, because that dynamic is always interesting.