I posted one of these recently and I mentioned that it is something that I would like to do more often. I am constantly added books to my TBR and I thought it might be interesting to talk about why I want to read them.
A Thousand Beginnings And Endings edited by Ellen Oh
Star-crossed lovers, meddling immortals, feigned identities, battles of wits, and dire warnings. These are the stuff of fairy tale, myth, and folklore that have drawn us in for centuries.
Fifteen bestselling and acclaimed authors reimagine the folklore and mythology of East and South Asia in short stories that are by turns enchanting, heartbreaking, romantic, and passionate.
Compiled by We Need Diverse Books's Ellen Oh and Elsie Chapman, the authors included in this exquisite collection are: Renee Ahdieh, Sona Charaipotra, Preeti Chhibber, Roshani Chokshi, Aliette de Bodard, Melissa de la Cruz, Julie Kagawa, Rahul Kanakia, Lori M. Lee, E. C. Myers, Cindy Pon, Aisha Saeed, Shveta Thakrar, and Alyssa Wong.
A mountain loses her heart. Two sisters transform into birds to escape captivity. A young man learns the true meaning of sacrifice. A young woman takes up her mother's mantle and leads the dead to their final resting place. From fantasy to science fiction to contemporary, from romance to tales of revenge, these stories will beguile readers from start to finish. For fans of Neil Gaiman's Unnatural Creatures and Ameriie's New York Times–bestselling Because You Love to Hate Me
Julianna @ Paper Blots wrote a post talking about Asian-inspired fantasies and A Thousand Beginnings and Endings instantly caught my eye. It is an anthology that includes short story retellings from some authors I really love, including Julie Kagawa and Cindy Pon. I am always looking for anthologies because it is a great way to find new authors. It also doesn't hurt that the cover is amazing!
Fresh Ink: An Anthology edited by Lamar Giles
In partnership with We Need Diverse Books, thirteen of the most recognizable, diverse authors come together in this remarkable YA anthology featuring ten short stories, a graphic short story, and a one-act play from Walter Dean Myers never before in-print.
Careful–you are holding fresh ink. And not hot-off-the-press, still-drying-in-your-hands ink. Instead, you are holding twelve stories with endings that are still being written–whose next chapters are up to you.
Because these stories are meant to be read. And shared.
Thirteen of the most accomplished YA authors deliver a label-defying anthology that includes ten short stories, a graphic novel, and a one-act play. This collection will inspire you to break conventions, bend the rules, and color outside the lines. All you need is fresh ink.
Fresh Ink is another anthology that recently came to my attention! It has pieces from so many authors that I recognize, but I am most excited to read the one by Jason Reynolds. What I think is different about this anthology is that it is not just short stories, but there is also a graphic novel and a play included! It comes out on August 14th and I can not wait!
An Ocean of Minutes by Thea Lim
America is in the grip of a deadly flu. When Frank gets sick, his girlfriend Polly will do whatever it takes to save him. She agrees to a radical plan—time travel has been invented in the future to thwart the virus. If she signs up for a one-way-trip into the future to work as a bonded labourer, the company will pay for the life-saving treatment Frank needs. Polly promises to meet Frank again in Galveston, Texas, where she will arrive in twelve years.
But when Polly is re-routed an extra five years into the future, Frank is nowhere to be found. Alone in a changed and divided America, with no status and no money, Polly must navigate a new life and find a way to locate Frank, to discover if he is alive, and if their love has endured.
I have seen An Ocean of Minutes all over Instagram lately and added it to my TBR as soon as I saw that cover! I have read a lot of the reviews for it and it sounds fantastic! I am always on the hunt for new Science Fiction, especially if time travel is somehow involved. It sounds like an original take on time travel so I am excited to get to this one!
The Book of M by Peng Shepherd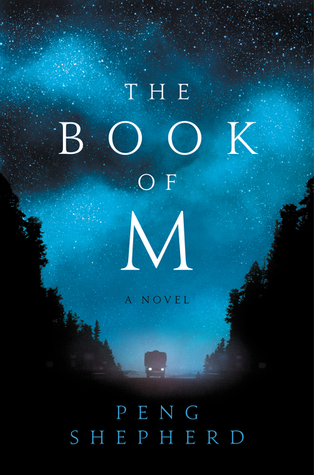 One afternoon at an outdoor market in India, a man's shadow disappears—an occurrence science cannot explain. He is only the first. The phenomenon spreads like a plague, and while those afflicted gain a strange new power, it comes at a horrible price: the loss of all their memories.
Ory and his wife Max have escaped the Forgetting so far by hiding in an abandoned hotel deep in the woods. Their new life feels almost normal, until one day Max's shadow disappears too.
Knowing that the more she forgets, the more dangerous she will become to Ory, Max runs away. But Ory refuses to give up the time they have left together. Desperate to find Max before her memory disappears completely, he follows her trail across a perilous, unrecognizable world, braving the threat of roaming bandits, the call to a new war being waged on the ruins of the capital, and the rise of a sinister cult that worships the shadowless.
As they journey, each searches for answers: for Ory, about love, about survival, about hope; and for Max, about a new force growing in the south that may hold the cure.
I have already bought a copy of The Book of M because I have been seeing it everywhere lately and it sounds exactly like the kind of book that I will love. Science Fiction and dystopian are definitely two of my buzz words. I am trying to read more debut novels this year as well, and this seems like a great one. The reviews have been amazing so far!
The Book of Essie by Meghan MacLean Weir
Esther Ann Hicks–Essie–is the youngest child on Six for Hicks,a reality television phenomenon. She's grown up in the spotlight, both idolized and despised for her family's fire-and-brimstone brand of faith. When Essie's mother, Celia, discovers that Essie is pregnant, she arranges an emergency meeting with the show's producers: Do they sneak Essie out of the country for an abortion? Do they pass the child off as Celia's? Or do they try to arrange a marriage–and a ratings-blockbuster wedding? Meanwhile, Essie is quietly pairing herself up with Roarke Richards, a senior at her school with a secret of his own to protect. As the newly formed couple attempt to sell their fabricated love story to the media–through exclusive interviews with an infamously conservative reporter named Liberty Bell–Essie finds she has questions of her own: What was the real reason for her older sister leaving home? Who can she trust with the truth about her family? And how much is she willing to sacrifice to win her own freedom?
The Book of Essie is another debut novel that I have seen being talked about all over the Internet lately. It was a Book of the Month club pick recently, and as I have said before, I am so mad that they do not ship to Canada! From what I have seen, this seems to be a thought-provoking novel that poses a lot of interesting questions. I am curious to see how the author handles these topics.
River of Teeth by Sarah Gailey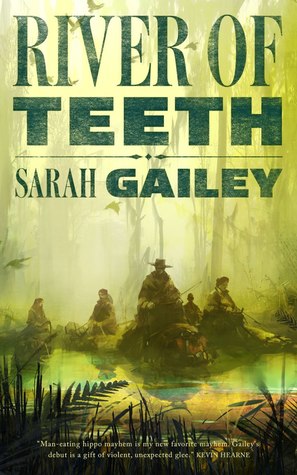 In the early 20th Century, the United States government concocted a plan to import hippopotamuses into the marshlands of Louisiana to be bred and slaughtered as an alternative meat source. This is true.
Other true things about hippos: they are savage, they are fast, and their jaws can snap a man in two.
This was a terrible plan.
Contained within this volume is an 1890s America that might have been: a bayou overrun by feral hippos and mercenary hippo wranglers from around the globe. It is the story of Winslow Houndstooth and his crew. It is the story of their fortunes. It is the story of his revenge.
I have really been in to bookish podcasts lately, and quite of few of the ones that I listened to have mentioned River of Teeth. As soon as I heard the phrase "domestic, killer hippos" I was sold! I also loved speculative fiction. I am hoping to read it this month and I can not wait to see what I think about it. There seems to be some mixed reviews on Goodreads, but I am so intrigued and it looks like a quick read so I am definitely willing to give it a chance!