The Long Way to a Small Angry Planet by Becky Chambers
Follow a motley crew on an exciting journey through space—and one adventurous young explorer who discovers the meaning of family in the far reaches of the universe—in this light-hearted debut space opera from a rising sci-fi star.
Rosemary Harper doesn't expect much when she joins the crew of the aging Wayfarer. While the patched-up ship has seen better days, it offers her a bed, a chance to explore the far-off corners of the galaxy, and most importantly, some distance from her past. An introspective young woman who learned early to keep to herself, she's never met anyone remotely like the ship's diverse crew, including Sissix, the exotic reptilian pilot, chatty engineers Kizzy and Jenks who keep the ship running, and Ashby, their noble captain.
Life aboard the Wayfarer is chaotic and crazy—exactly what Rosemary wants. It's also about to get extremely dangerous when the crew is offered the job of a lifetime. Tunneling wormholes through space to a distant planet is definitely lucrative and will keep them comfortable for years. But risking her life wasn't part of the plan. In the far reaches of deep space, the tiny Wayfarer crew will confront a host of unexpected mishaps and thrilling adventures that force them to depend on each other. To survive, Rosemary's got to learn how to rely on this assortment of oddballs—an experience that teaches her about love and trust, and that having a family isn't necessarily the worst thing in the universe.
The Long Way to a Small Angry Planet is just as wonderful as everyone says that it is! I can almost guarantee that you will see this book on my favourite books of year list.  There was so much to love about this one from the writing, to the plot, to the characters.  This book opened by eyes that I love feel-good science fiction.  I want to read all of the books that exist about an electric group of charming characters travelling through space.  I got such Guardians of the Galaxy vibes from this book and I loved every single second of it.  It also had a similar sense of humour as Guardians and it was an absolute joy.
The world that Becky Chambers creates was extraordinary.  It was so refreshing to read about all of the different alien races and cultures. It was a joy to read about the characters navigating the differences between them. The characters where really the highlight of this book for me.  They were each charming and unique and I have a soft spot for them all!
If you are someone who has never read SciFi, I think that this is the perfect book to introduce you to the genre.  The world-building is fantastic, it is diverse, and the characters are memorable.  I want to put this charming novel in the hands of absolutely everyone!
"No sapient could sustain happiness all of the time, just as no one could live permanently within anger, or boredom, or grief."
"People can do terrible things when they feel safe and powerful." 
"Such a quintessentially Human thing, to express sorrow through apology."
Little Fires Everywhere by Celeste Ng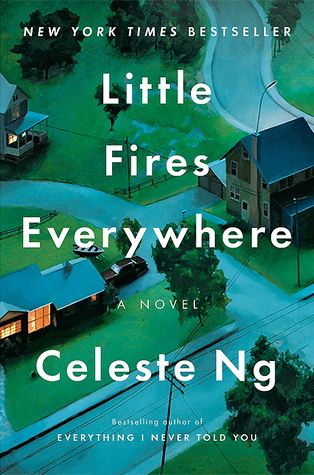 Everyone in Shaker Heights was talking about it that summer: how Isabelle, the last of the Richardson children, had finally gone around the bend and burned the house down.
In Shaker Heights, a placid, progressive suburb of Cleveland, everything is meticulously planned – from the layout of the winding roads, to the colours of the houses, to the successful lives its residents will go on to lead. And no one embodies this spirit more than Elena Richardson, whose guiding principle is playing by the rules.
Enter Mia Warren – an enigmatic artist and single mother – who arrives in this idyllic bubble with her teenage daughter Pearl, and rents a house from the Richardsons. Soon Mia and Pearl become more than just tenants: all four Richardson children are drawn to the alluring mother-daughter pair. But Mia carries with her a mysterious past, and a disregard for the rules that threatens to upend this carefully ordered community.
When the Richardsons' friends attempt to adopt a Chinese-American baby, a custody battle erupts that dramatically divides the town and puts Mia and Mrs. Richardson on opposing sides. Suspicious of Mia and her motives, Mrs. Richardson becomes determined to uncover the secrets in Mia's past. But her obsession will come at unexpected and devastating costs to her own family – and Mia's.
Little Fires Everywhere explores the weight of long-held secrets and the ferocious pull of motherhood-and the danger of believing that planning and following the rules can avert disaster, or heartbreak.
Little Fires Everywhere is a book that I have been seeing everywhere and is being turned in to a miniseries produced by Reese Witherspoon, but sadly I felt myself let down by it.  I have come to the realization that there is something about Celeste Ng's characters that I do not get along with, but it is definitely a me thing.  I enjoy unlikable characters, but they have to have some depth and layers. Most people are not all good or all bad, and that is what makes them interesting.  In this book I really struggled to find any redeeming qualities in any of the characters. Mia was the only character I felt any connection to, and I absolutely loved the part of the story where we learned about her past. I wish there was more of that! I also wish the story focused more on the adults as opposed to the teenage characters. I also didn't quite understand the motivation for a lot of the characters and the actions a lot of them take seemed a bit extreme and unrealistic.
I thought that the plot twists were interesting, and there were definitely some jaw-dropping moments that I did not see coming!  It was because of these twists that I enjoyed the second half of the novel much more than the first half.  The pace really picked up and we got to know a little more about some of the characters. I also really appreciate some of the topics that this book takes on such as mother/daughter relationships, adoption, and race.  
I thought that the setting for this book was amazing.  I really loved the juxtaposition between the perfect setting and the imperfect characters.  
While there was a lot that did not work for me with this book I completely understand why so many people love it and I am still happy that I read it.  I think it will make for an amazing TV show!
"Most of the time, everyone deserves more than one chance. We all do things we regret now and then. You just have to carry them with you."
"She had learned that when people were bent on doing something they believed was a good deed, it was usually impossible to dissuade them."
"She smelled of home…as if home had never been a place, but had always been this little person whom she'd carried alongside her." 
The Storied of A.J. Fikry by Gabrielle Zevin
Hanging over the porch of the tiny New England bookstore called Island Books is a faded sign with the motto "No Man Is an Island; Every Book Is a World." A.J. Fikry, the irascible owner, is about to discover just what that truly means.
A.J. Fikry's life is not at all what he expected it to be. His wife has died, his bookstore is experiencing the worst sales in its history, and now his prized possession, a rare collection of Poe poems, has been stolen. Even the books in his store have stopped holding pleasure for him. These days, A.J. can only see them as a sign of a world that is changing too rapidly. And then a mysterious package appears at the bookstore. It's a small package, but large in weight. It's that unexpected arrival that gives A.J. the opportunity to make his life over, the ability to see everything anew. It doesn't take long for the locals to notice the change overcoming him or for a determined sales rep named Amelia to see her curmudgeonly client in a new light. The wisdom of all those books again become the lifeblood of A.J.'s world and everything twists into a version of his life that he didn't see coming. As surprising as it is moving, The Storied Life of A.J. Fikry is an unforgettable tale of transformation and second chances, an irresistible affirmation of why we read and why we love.
I love when I find a quick read that leaves an impact on me, and that is exactly what The Storied Life of A.J. Fikry has done! It was charming and adorable and it made me feel so warm and cozy.  You can tell that the author loves books and anything bookish, and this book truly read like a love letter to book lovers.  As soon as I saw the words ARC and galley, I was instantly won over.  The book is set in a bookstore so you know I was destined to love it!
The characters were all very interesting and dynamic, and it was a joy getting to know them.  I loved reading about A.J. Fikry's character development and seeing how his life is slowly enriched.  I really thought that Maya was a sweet character and I was happy we got to see her childhood, but there were things that she said that I thought sounded like they were said by a character way older than her and it took me out of the story a little bit.  
The Storied Life of A.J. Fikry ended up being a charming yet heartbreaking book that deals with life after grief.  If you loved A Man Called Ove I think that you will also really love this book! I will now read every book by Gabrielle Zevin.
"You know everything you need to know about a person from the answer to the question, What is your favorite book?"
"We aren't the things we collect, acquire, read. We are, for as long as we are here, only love. The things we loved. The people we loved. And these, I think these really do live on"
"I can promise you books and conversation and all my heart."