Vox by Christina Dalcher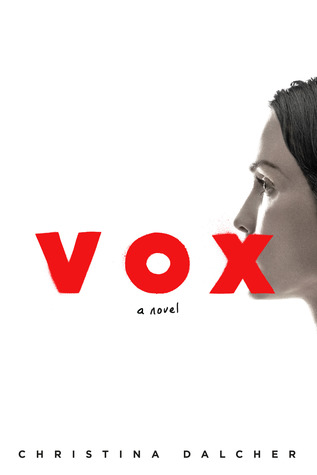 Release Date: August 21st, 2018
Set in an America where half the population has been silenced, VOX is the harrowing, unforgettable story of what one woman will do to protect herself and her daughter.
On the day the government decrees that women are no longer allowed more than 100 words daily, Dr. Jean McClellan is in denial–this can't happen here. Not in America. Not to her.
This is just the beginning.
Soon women can no longer hold jobs. Girls are no longer taught to read or write. Females no longer have a voice. Before, the average person spoke sixteen thousand words a day, but now women only have one hundred to make themselves heard.
But this is not the end.
For herself, her daughter, and every woman silenced, Jean will reclaim her voice.
The Writing
Christina Dalcher is obviously a talented writer, as you will see from the quotes that I will share later on. This is one of those books that you will not want to put down because the story flows so well and you will need to know what happens. Dalcher creates a word that is so claustrophobic that you as a reader physically feel it.
The Characters
There were characters that I thought were really dynamic and interesting, and characters I felt were flat. I thought it was interesting to be in the head of our main character, Jean, and seeing her navigate the situation she was in was definitely compelling. I also enjoy her colleagues! I wish we had a better understanding of her husband and her son. As much as I enjoyed Jean, I disagreed with some decisions she made that I won't share because it would be a spoiler. I wish there was a moment where she had more conflicting feelings about what she was doing!
The Story
The plot of this book is what intrigued me the most! The average woman speaks more than 20,000 words a day, and in this book they are only allowed 100 words. I felt so claustrophobic and frustrated just reading this book! I can not remember a time where the plot of a book made me so angry. I could not imagine what it would be like if I were every actually in that situation. This is one of those books that will make you extremely uncomfortable, and that is it's purpose. It is very effective!
The Ending
I have mixed feelings about the ending! It seemed to wrap up too quickly and in a way that I felt was too neat and a little too far-fetched.
"One thing I learned from Jackie: you can't protest what you don't see coming."
"There's a resistance?" The word sounds sweet as I say it.
"Honey, there's always a resistance."
"My fault started two decades ago, the first time I didn't vote, the umpteen times I told Jackie I was too busy to go on one of her marches or make posters or call my congressmen."
Vox is an interesting novel and I am glad that I read it. Just sitting here typing this review and thinking about the story is making my blood boil! I think that is a huge credit to Christina Dalcher's writing. Even though there were things I would change about the ending, I still enjoyed the journey. This book is extremely political, so if that isn't your thing than I would avoid this one. Vox is most definitely a book for people who enjoyed The Handmaid's Tale.
Thank you to Penguin Random House Canada for sending me a copy of Vox in exchange for an honest review.