Bad Blood: Secrets and Lies in a Silicon Valley Startup by John Carreyrou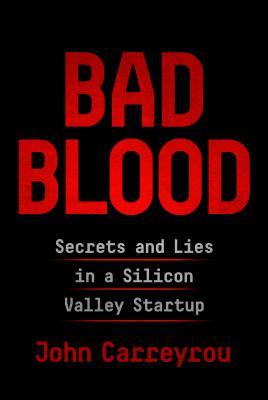 The full inside story of the breathtaking rise and shocking collapse of Theranos, the multibillion-dollar biotech startup, by the prize-winning journalist who first broke the story and pursued it to the end, despite pressure from its charismatic CEO and threats by her lawyers. 
In 2014, Theranos founder and CEO Elizabeth Holmes was widely seen as the female Steve Jobs: a brilliant Stanford dropout whose startup "unicorn" promised to revolutionize the medical industry with a machine that would make blood testing significantly faster and easier. Backed by investors such as Larry Ellison and Tim Draper, Theranos sold shares in a fundraising round that valued the company at more than $9 billion, putting Holmes's worth at an estimated $4.7 billion. There was just one problem: The technology didn't work.
A riveting story of the biggest corporate fraud since Enron, a tale of ambition and hubris set amid the bold promises of Silicon Valley.
If there is one non-fiction novel that I have read this year that I would recommend to absolutely everyone it is Bad Blood.  This is a story that I think everyone would be fascinated by regardless of the kind of books that you normally read.  If you read primarily fiction I still think you will enjoy this book because it is so ridiculous that it almost seems like fiction.
John Carreyrou is a journalist for The Wall Street Journal and that is quite apparent throughout the novel.  He presents all the facts in a way that is captivating and well written. There was not a second where I felt bored.  Carreyrou managed to gain the trust of and interview many people who worked for the company and it was interesting to get all of that insider knowledge.
I want to keep this review as short and sweet as possible because if you have not heard of Theranos and the scandal surrounding the company, I think it is best to go in to this book with as little knowledge as possible.  The events that take place throughout the book, and the important and intelligent people who were fooled by Elizabeth Holmes is quite shocking.  This is a story that I will continue to follow.  I am completely fascinated by it!
"We turned to my questions about the Edison. How many blood tests did Theranos perform on the device? That too was a trade secret, they said. I felt like I was watching a live performance of the Theater of the Absurd."
"He wore white designer shirts with puffy sleeves, acid-washed jeans, and blue Gucci loafers. His shirts' top three buttons were always undone, causing his chest hair to spill out and revealing a thin gold chain around his neck. A pungent scent of cologne emanated from him at all times."
Boy Erased: A Memoir by Garrard Conley
A beautiful, raw and compassionate memoir about identity, love and understanding.
 
The son of a Baptist pastor and deeply embedded in church life in small town Arkansas, as a young man Garrard Conley was terrified and conflicted about his sexuality.
When Garrard was a nineteen-year-old college student, he was outed to his parents, and was forced to make a life-changing decision: either agree to attend a church-supported conversion therapy program that promised to "cure" him of homosexuality; or risk losing family, friends, and the God he had prayed to every day of his life. Through an institutionalized Twelve-Step Program heavy on Bible study, he was supposed to emerge heterosexual, ex-gay, cleansed of impure urges and stronger in his faith in God for his brush with sin. Instead, even when faced with a harrowing and brutal journey, Garrard found the strength and understanding to break out in search of his true self and forgiveness.
By confronting his buried past and the burden of a life lived in shadow, Garrard traces the complex relationships among family, faith, and community. At times heart-breaking, at times triumphant, this memoir is a testament to love that survives despite all odds.
I always find it so brave when someone is willing to share their experiences in such an honest and real way.  I found that this is what Garrard Conley accomplished with his memoir.  He talks about his life growing up knowing he was different and his experience at a program that practices conversion therapy.  He does a wonderful job making the reader feel the emotions that he felt at that time. I saw another reviewer say that even though the author came across some really despicable people during this period of his life, he managed to humanize them.  I completely agree with this and that says a lot about the kind of amazing person that Conley obvious is.  Conley has always wanted to be a writer and that is apparent in Boy Erased.  He tells his story is a way that is surprisingly beautiful given the horrors he is sharing.
The epilogue is what stood out the most to me and really drove home the fact that these programs have had and continue to have devastating affects on those who attend them.  I really hope that the book and the movie, which comes out later this year and stars Nicole Kidman and Russell Crowe, start an important conversation about conversion therapy and just how deplorable and archaic they are.
"There is a mystery in this, a minor apocalypse somewhere between what these two men once knew of themselves- a holding on to something that, in turn, refused to let them go- and I long to know it, like the old prophets." 
"When I first read the Harry Potter books and learned about the lightning bolt scar on Harry's forehead, I thought, Of course. Of course love worked that way. Of course it left its mark on the beloved. This secret mark protected you, kept you safe from harm, reminded you of who you were. All it took was the smallest symbol and you were safe."
The Invention of Nature: Alexander Von Humboldt's New World by Andrea Wulf
The acclaimed author of Founding Gardeners reveals the forgotten life of Alexander von Humboldt, the visionary German naturalist whose ideas changed the way we see the natural world—and in the process created modern environmentalism. Alexander von Humboldt (1769–1859) was an intrepid explorer and the most famous scientist of his age. In North America, his name still graces four counties, thirteen towns, a river, parks, bays, lakes, and mountains. His restless life was packed with adventure and discovery, whether he was climbing the highest volcanoes in the world or racing through anthrax-infected Siberia or translating his research into bestselling publications that changed science and thinking. Among Humboldt's most revolutionary ideas was a radical vision of nature, that it is a complex and interconnected global force that does not exist for the use of humankind alone.
Now Andrea Wulf brings the man and his achievements back into focus: his daring expeditions and investigation of wild environments around the world and his discoveries of similarities between climate and vegetation zones on different continents. She also discusses his prediction of human-induced climate change, his remarkable ability to fashion poetic narrative out of scientific observation, and his relationships with iconic figures such as Simón Bolívar and Thomas Jefferson. Wulf examines how Humboldt's writings inspired other naturalists and poets such as Darwin, Wordsworth, and Goethe, and she makes the compelling case that it was Humboldt's influence that led John Muir to his ideas of natural preservation and that shaped Thoreau's Walden.
With this brilliantly researched and compellingly written book, Andrea Wulf shows the myriad fundamental ways in which Humboldt created our understanding of the natural world, and she champions a renewed interest in this vital and lost player in environmental history and science.
I think I have fallen in love with Alexander Von Humboldt! I have been thinking about this book and this incredible man ever since I finished it last week. The Invention of Nature was recommended to me because I enjoyed Lab Girl by Hope Jahren so much.  It sounded interesting and I expected to enjoy the experience but I did not anticipate absolutely loving this book and giving it five stars! 
Andrea Wulf is a fantastic writer, and while it was apparent that a LOT of research went in to this book, there was never a moment where I felt bored or I felt as though we were just given fact after fact. She brought Alexander Von Humboldt to life and she told his story is a way that I think he himself would be quite pleased with. 
If you are like me, you probably know nothing or very little about Alexander Von Humboldt and it is such a shame that history has forgotten about him.  He had such a great influence on not only fellow scientists such as Charles Darwin, but also on writers like Henry David Thoreau.  He also had very progressive thoughts on climate change and slavery. It was a joy to experience the world through his perspective.
If you are at all interested in science and nature I would HIGHLY recommending picking this one up.  Even if that is not usually your thing I still think you will find this book enjoyable.  It is so beautifully written, and it is hard to not to fall for Humboldt! I also just found out that Andrea Wulf is releasing a graphic novel in 2019 about Alexander Von Humboldt and his adventures! I can not wait!
"Humboldt 'read' plants as others did books – and to him they revealed a global force behind nature, the movements of civilizations as well as of landmass. No one had ever approached botany in this way." 
"Without a diversity of opinion, the discovery of truth is impossible."
"Humboldt wrote that nature had to be experienced through feelings"