The majority of the books that I read are over 300 pages, but coincidently, I have read five books under 200 pages in the last two months. This has taught me something about myself and that is that I prefer books that are a little bit longer! I want my characters to be more fleshed out and I want more time with them and their story. Not to say that I didn't enjoy these five books, because there were things I loved about every single one of them, but I always found myself at the end of the book thinking "I wish that was longer!" Does anyone else feel that way? I would love to know!
All Systems Red (The Murderbot Diaries #1) by Martha Wells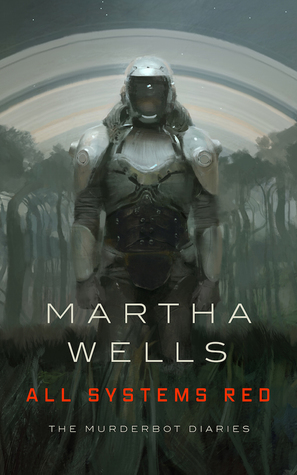 # of Pages: 114
In a corporate-dominated spacefaring future, planetary missions must be approved and supplied by the Company. Exploratory teams are accompanied by Company-supplied security androids, for their own safety.
But in a society where contracts are awarded to the lowest bidder, safety isn't a primary concern.
On a distant planet, a team of scientists are conducting surface tests, shadowed by their Company-supplied 'droid — a self-aware SecUnit that has hacked its own governor module, and refers to itself (though never out loud) as "Murderbot." Scornful of humans, all it really wants is to be left alone long enough to figure out who it is.
But when a neighboring mission goes dark, it's up to the scientists and their Murderbot to get to the truth.
I never thought that I could connect so much to a robot! There was something about Murderbot that was relatable and oddly charming. I loved hearing their inner thoughts and antidotes. I was not expecting to ever read about an introverted robot who just want to be left alone to watch television, but I am so glad that I did! I found it to be fast-paced and I enjoyed the fact that there was an element of mystery throughout the story. The plot was fun, although not very original, and I was on the edge of my seat wondering what was going on. There was also some interesting questions raised about what it means to be human, and about free will. I have come to realize that I enjoy novels that explore those topics. I did not particular care or not care for any of the side characters and maybe that was the whole point- the story is all about Murderbot! This book has made me want to find more books that are lighter SciFi, particularly involving robots. I have mixed feelings about the ending but I am looking forward to reading the next book in the series!
Mem by Bethany C. Marrow
# of Pages: 184
Set in the glittering art deco world of a century ago, MEM makes one slight alteration to history: a scientist in Montreal discovers a method allowing people to have their memories extracted from their minds, whole and complete. The Mems exist as mirror-images of their source ― zombie-like creatures destined to experience that singular memory over and over, until they expire in the cavernous Vault where they are kept.
And then there is Dolores Extract #1, the first Mem capable of creating her own memories. An ageless beauty shrouded in mystery, she is allowed to live on her own, and create her own existence, until one day she is summoned back to the Vault.
I found Mem to be an extremely original story that raised a lot of ethical questions that had my mind reeling. Much like All Systems Red, Mem explores the topics of humanity and free will. What I particularly liked about Mem is that it raises the question "just because something can be done, does that mean that it should?" What I found particularly special about this book, is that the answers to these questions are not obvious and it is really left up to the reader to decide what they feel is right. I have found myself contemplating these questions quite frequently since I finished Mem over a month ago. In my mind, that is a sure sign of an amazing book. I do have to say that I was not a fan of the romance at all. There was so chemistry and there was something about it that made me feel uncomfortable. If you loved Never Let Me Go by Kazua Ishiguro as much as I did than I highly recommend picking this one up! I am so looking forward to reading what Bethany C. Morrow writes next.
Convenience Store Woman by Sayaka Murata
# of Pages: 176
Keiko Furukura had always been considered a strange child, and her parents always worried how she would get on in the real world, so when she takes on a job in a convenience store while at university, they are delighted for her. For her part, in the convenience store she finds a predictable world mandated by the store manual, which dictates how the workers should act and what they should say, and she copies her coworkers' style of dress and speech patterns so that she can play the part of a normal person. However, eighteen years later, at age 36, she is still in the same job, has never had a boyfriend, and has only few friends. She feels comfortable in her life, but is aware that she is not living up to society's expectations and causing her family to worry about her. When a similarly alienated but cynical and bitter young man comes to work in the store, he will upset Keiko's contented stasis—but will it be for the better?
Convenience Store Woman has one the most quirky and memorable characters that I have ever read. It was really interesting to live in her head for 176 pages. I think a lot of us can relate to Keiko's struggles in some way. I know that I have felt like I was on the outside looking in and I have acted a certain way in an attempt to fit in. Keiko takes that to a whole new level in a way that I did not agree with but in some ways completely understood. There were so many moments that made me feel uncomfortable, but it is apparent that that was the authors intention. The more time that passes since I read Convenience Store woman and the more that I think about it, the more I realize just how much I enjoyed it. It is one of those books that makes you think "What did I just read?" but as you sit with it for awhile you come to realize just how brilliant it truly is. This book has one of the most satisfying endings that I have read in a very long time. I found myself cheering her on!
River of Teeth by Sarah Gailey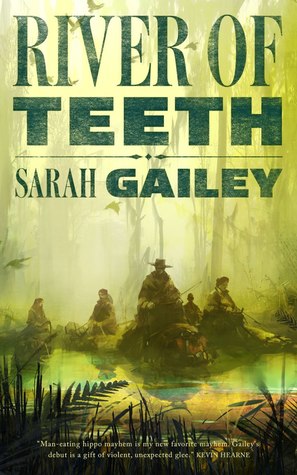 # of Pages: 114
In the early 20th Century, the United States government concocted a plan to import hippopotamuses into the marshlands of Louisiana to be bred and slaughtered as an alternative meat source. This is true.
Other true things about hippos: they are savage, they are fast, and their jaws can snap a man in two.
This was a terrible plan.
Contained within this volume is an 1890s America that might have been: a bayou overrun by feral hippos and mercenary hippo wranglers from around the globe. It is the story of Winslow Houndstooth and his crew. It is the story of their fortunes. It is the story of his revenge.
River of Teeth has one of the most original plots that I have read! It is a Western novel but instead of horses there are hippos. That truly made for an epic and gruesome story. It was a fun and completely wild ride! I will say that I did not connect to the characters and because of that, I did not care when something happened to them. I wish we received more background information on all the characters and how they know each other. This cast of characters are thrown together and I never quite understood how they came together and what there past with one another was. I really appreciated the romance, and that one of the characters was non-binary, though I can not speak to how good the representation is. I would have loved more focus on their relationship! There was also a lot of humour throughout the story, which I think is to be expected! We are talking about killer hippos here!! River of Teeth reminded me just how much I enjoy novels about alternative history!
Letters to a Young Poet by Rainer Maria Rilke
# of Pages: 114
These have been called the most famous and beloved letters of the 20th century. Rainer Maria Rilke himself said that much of his creative expression went into his correspondence, and here he touches upon subjects that will interest writers, artists, and thinkers. Letters to a Young Poet is a classic that should be read by everyone who dreams of expressing themselves creatively. This luminous translation offers inspiration to all people who seek to know and express their inner truth. This edition features a new foreword by Kent Nerburn, author of Small Graces and Letters to My Son.
Although this is a short book, there are so many important lessons to be learned throughout it. It is a book that I would recommend to everyone, and I think should be required reading. I wish it was a book that I would have read when I was younger.I know nothing about Rainer Maria Rilke, but his beautiful letters have inspired me to learn more about who he was. I think the best way to review this would be by simply sharing some of the insights from Rilke:
"Perhaps all the dragons in our lives are princesses who are only waiting to see us act, just once, with beauty and courage. Perhaps everything that frightens us is, in its deepest essence, something helpless that wants our love."
"Believe in a love that is being stored up for you like an inheritance, and have faith that in this love there is a strength and a blessing so large that you can travel as far as you wish without having to step outside it."
"Don't be too quick to draw conclusions from what happens to you; simply let it happen. Otherwise it will be too easy for you to look with blame… at your past, which naturally has a share with everything that now meets you."