Starfish by Akemi Dawn Bowman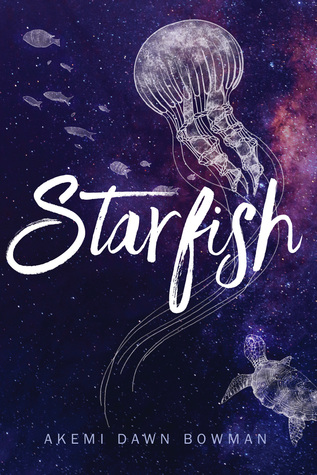 Kiko Himura has always had a hard time saying exactly what she's thinking. With a mother who makes her feel unremarkable and a half-Japanese heritage she doesn't quite understand, Kiko prefers to keep her head down, certain that once she makes it into her dream art school, Prism, her real life will begin.
But then Kiko doesn't get into Prism, at the same time her abusive uncle moves back in with her family. So when she receives an invitation from her childhood friend to leave her small town and tour art schools on the west coast, Kiko jumps at the opportunity in spite of the anxieties and fears that attempt to hold her back. And now that she is finally free to be her own person outside the constricting walls of her home life, Kiko learns life-changing truths about herself, her past, and how to be brave.
Mom doesn't show up.
Wow! Over I year ago I wrote a blog post with my five star predictions and Starfish was on the list.  Even though I knew I would love this book I could not begin to imagine just how much it would affect me.
Starfish is an own voices novel which is so evident when you are reading the book.  You can feel how much the author understand what is it like to be biracial and to deal with social anxiety.  This has got to be some of the best mental health representation in all of literature. As May is Mental Health Awareness Month, this is the perfect time to pick up this book.
Starfish touches on social anxiety, racism, narcissist parents, failure, first love, sexual abuse, etc. and it does so in a way that feels so authentic and honest. I think many readers will feel seen and heard by this novel in a way that they haven't before.  I can not believe that this is Bowman's debut novel- it is brilliant!
I thought that the romance was sweet but I appreciate that it was simply a subplot.  This is a book about Kiko finding and fighting for herself, not about her finding love.  It does not fall in to the trap that I have seen many other YA mental health novels fall in to0- Kiko's problems do not suddenly go away because she finds love.
As I have mentioned before, I love when a novel include art in someway, whether it is painting (found in Starfish), music, writing, whatever.  There is something about characters who are passionate about the arts that I relate to and appreciate reading about in books.
There are so many layers to this book that I haven't even touched on because if I did this review would be never ending.  It is something you will have to discover for yourself!
Yes! Please, please, please read this book! It is so underrated and I would love for it to get the recognition that it deserves.  Starfish was published the same year as The Hate U Give and I think it was overshadowed by it, which is a shame.
I can not wait to read more from Akemi Dawn Bowman.  If her next book is anything like Starfish she will become an auto-buy author for me.
Have you read Starfish? What did you think?
I would love any recommendations you have for books with great mental health representation.