Top 5 Tuesday is hosted by the wonderful Shanah @ Bionic Book Worm.
I love that this month is all about Harry Potter! This week is all about Ravenclaws.  I know many of you are probably part of this house, because from what I can tell many readers are!
Here are the Ravenclaw traits that Shanah shared:
They are analytical, intelligent, logical yet impractical, curious, inquisitive, creative, witty, wise, interested in understanding things, cynics, fond of  intellectual discussion, introspective, independent, wordy, and self entertaining. They observe rather than participate, are fond of learning for the sake of learning, and good at school (or really anything that they have an interest in!)
Alice's Adventures in Wonderland by Lewis Carroll
There is something about Alice that makes me think that she is a Ravenclaw.  She is definitely curious and inquisitive. She reminds me of Luna Lovegood in a lot of ways. I also think the book will appeal to Ravenclaws with the dreamy atmosphere, the puzzles, and the different cast of characters.
The Adventures of Sherlock Holmes by Arthur Conan Doyle
I saw that Benedict Cumberbatch is a Ravenclaw, which made me think that there is no way that Sherlock himself isn't one as well! He fits all of the characters that Shanah shared- curious, intelligent, cynical, etc. The books are also perfect for Ravenclaws who enjoy solving puzzles and trying to work out whodunit.
Matilda by Roald Dahl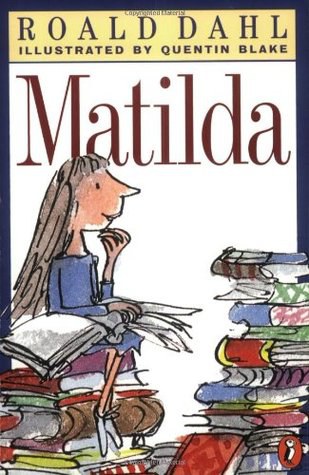 I mean is this one too on the nose? Is anyone more of a Ravenclaw than Matilda? I think Ravenclaws will very much relate to her and her passion for learning and reading.
Every Heart a Doorway by Seanan McGuire
I think that Every Heart a Doorway will appeal to Ravenclaws for many of the same reasons as Alice's Adventures in Wonderland, but I just had to mention it.  It is about what happens to children after they return from a place like Wonderland, and it is utterly fascinating.
And Then There Were None by Agatha Christie
I truly think that any thriller/mystery novel has the potential to appeal to Ravenclaws because there is a puzzle to be solved, but I think Christie is the queen of the whodunit and Ravenclaws would love her.  And Then There Were None is my favourite of hers that I read so far and it was brilliant.  I did not see the end coming at all, but I think a Ravenclaw just might or they will at least love the challenge,
Do you agree with my choices? What book do you think every Ravenclaw should read? I think that it is interesting that I chose so many classics for Ravenclaws!