I did not read a lot of YA novels in 2018, and I would like for that to change in the new year! There are a few YA novels that I am very much anticipating and putting this list together had reminded me just how much I enjoy reading YA.  Let me know in the comments any YA 2019 releases you are looking forward to!
With the Fire on High by Elizabeth Acevedo
With her daughter to care for and her abuela to help support, high school senior Emoni Santiago has to make the tough decisions, and do what must be done. The one place she can let her responsibilities go is in the kitchen, where she adds a little something magical to everything she cooks, turning her food into straight-up goodness. Still, she knows she doesn't have enough time for her school's new culinary arts class, doesn't have the money for the class's trip to Spain — and shouldn't still be dreaming of someday working in a real kitchen. But even with all the rules she has for her life — and all the rules everyone expects her to play by — once Emoni starts cooking, her only real choice is to let her talent break free.
Release Date: May 9th, 2019
I can not stop talking about how exciting I am for With the Fire on High! I absolutely adored The Poet X and I have high hopes for Acevedo's next book.  How stunning is that cover? I love that the book focuses on a love of cooking- something that I also enjoy and am always looking for in books!
Fierce Fragile Hearts by Sara Barnard
Fierce Fragile Hearts is the stunning companion novel to Sara Barnard's YA bestseller Beautiful Broken Things. It is about leaving the past behind, the friends who form your future, and learning to find love, in all its forms.
Two years after a downward spiral took her as low as you can possibly go, Suzanne is starting again. Again. She's back in Brighton, the only place she felt she belonged, back with her best friends Caddy and Rosie. But they're about to leave for university. When your friends have been your light in the darkness, what happens when you're the one left behind?
Release Date: February 7th, 2019
I have not yet read anything by Sara Barnard, but I have heard amazing things about her books. I am hoping to read the first book in the series, Beautiful Broken Things, and then pick up this one! I enjoy coming of ages stories that focus on female friendships, and this one seems to fit the bill!
Queenie by Candice Carty-Williams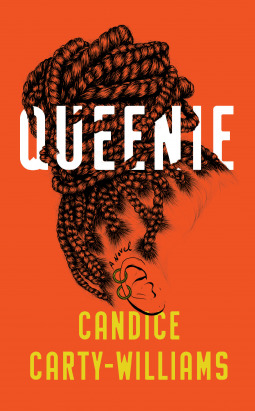 Queenie Jenkins is a 25-year-old Jamaican British woman living in London, straddling two cultures and slotting neatly into neither. She works at a national newspaper, where she's constantly forced to compare herself to her white middle class peers. After a messy break up from her long-term white boyfriend, Queenie seeks comfort in all the wrong places…including several hazardous men who do a good job of occupying brain space and a bad job of affirming self-worth.
As Queenie careens from one questionable decision to another, she finds herself wondering, "What are you doing? Why are you doing it? Who do you want to be?"—all of the questions today's woman must face in a world trying to answer them for her.
Release Date: March 19th, 2019
There are already some early reviews for Queenie and they have all been glowing!  It has been compared to both Bridget Jones Diary and Americanah, which is an interesting and something that I definitely want to read!
Romanov by Nadine Brandes
The history books say I died.
They don't know the half of it.
Anastasia "Nastya" Romanov was given a single mission: to smuggle an ancient spell into her suitcase on her way to exile in Siberia. It might be her family's only salvation. But the leader of the Bolshevik army is after them . . . and he's hunted Romanov before.
Nastya's only chances of survival are to either release the spell, and deal with the consequences, or enlist help from Zash, the handsome soldier who doesn't act like the average Bolshevik. Nastya's never dabbled in magic before, but it doesn't frighten her as much as her growing attraction for Zash. She likes him. She thinks he might even like her . . .
That is, until she's on one side of a firing squad . . . and he's on the other.
Release Date: May 7th, 2019
I am fascinated by the Romanov's and I am hoping to also read a few non-fiction novels about them in 2019.  Any recommendations would be greatly appreciated! This book sounds like an interesting retelling, and I can not resist that cover!
Opposite of Always by Justin A. Reynolds
Jack Ellison King. King of Almost.
He almost made valedictorian.
He almost made varsity.
He almost got the girl . . .
When Jack and Kate meet at a party, bonding until sunrise over their mutual love of Froot Loops and their favorite flicks, Jack knows he's falling—hard. Soon she's meeting his best friends, Jillian and Franny, and Kate wins them over as easily as she did Jack. Jack's curse of almost is finally over.
But this love story is . . . complicated. It is an almost happily ever after. Because Kate dies. And their story should end there. Yet Kate's death sends Jack back to the beginning, the moment they first meet, and Kate's there again. Beautiful, radiant Kate. Healthy, happy, and charming as ever. Jack isn't sure if he's losing his mind. Still, if he has a chance to prevent Kate's death, he'll take it. Even if that means believing in time travel. However, Jack will learn that his actions are not without consequences. And when one choice turns deadly for someone else close to him, he has to figure out what he's willing to do—and let go—to save the people he loves.
Release Date: March 12th, 2019
As soon as I saw that Opposite of Always was blurbed by both Becki Albertalli and Angie Thomas, I knew it was a book that I needed to read!  This is another book that has fantastic early reviews. The time travel twist definitely intrigues me!
Descendant of the Crane by Joan He
Tyrants cut out hearts. Rulers sacrifice their own
Princess Hesina of Yan has always been eager to shirk the responsibilities of the crown, but when her beloved father is murdered, she's thrust into power, suddenly the queen of an unstable kingdom. Determined to find her father's killer, Hesina does something desperate: she engages the aid of a soothsayer—a treasonous act, punishable by death… because in Yan, magic was outlawed centuries ago.
Using the information illicitly provided by the sooth, and uncertain if she can trust even her family, Hesina turns to Akira—a brilliant and alluring investigator who's also a convicted criminal with secrets of his own. With the future of her kingdom at stake, can Hesina find justice for her father? Or will the cost be too high?
Release Date: April 2nd, 2019
I was instantly intrigued by both the title and the cover- so stunning! After reading and love The Poppy War this year, I would like to read more Chinese-inspired fantasy novels and that is exactly what this book is! I also love the updates that they author gives on Goodreads.  I am very much looking forward to reading it!
That is it! As you can see, I tend to prefer contemporary YA that has some heart, with the occasional stand-alone fantasy!  If there are any YA books coming out in 2019 that you think should be on my radar please let me know!
What YA books are you most looking forward to in 2019?