My goal at the beginning of the year was to review every book that I read and I was doing so well but fell behind during the summer! I am now going to try to play catch-up. Spoiler- I absolutely loved all three of these books!
The Poppy War by R.F. Kaung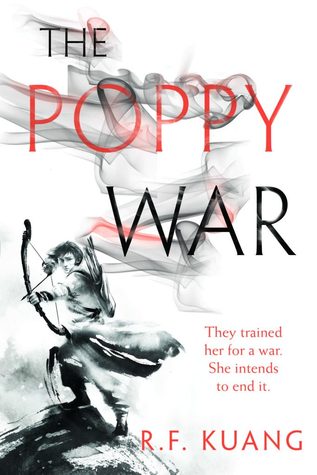 When Rin aced the Keju, the Empire-wide test to find the most talented youth to learn at the Academies, it was a shock to everyone: to the test officials, who couldn't believe a war orphan from Rooster Province could pass without cheating; to Rin's guardians, who believed they'd finally be able to marry her off and further their criminal enterprise; and to Rin herself, who realized she was finally free of the servitude and despair that had made up her daily existence. That she got into Sinegard, the most elite military school in Nikan, was even more surprising.
But surprises aren't always good.
Because being a dark-skinned peasant girl from the south is not an easy thing at Sinegard. Targeted from the outset by rival classmates for her color, poverty, and gender, Rin discovers she possesses a lethal, unearthly power—an aptitude for the nearly-mythical art of shamanism. Exploring the depths of her gift with the help of a seemingly insane teacher and psychoactive substances, Rin learns that gods long thought dead are very much alive—and that mastering control over those powers could mean more than just surviving school.
For while the Nikara Empire is at peace, the Federation of Mugen still lurks across a narrow sea. The militarily advanced Federation occupied Nikan for decades after the First Poppy War, and only barely lost the continent in the Second. And while most of the people are complacent to go about their lives, a few are aware that a Third Poppy War is just a spark away . . .
Rin's shamanic powers may be the only way to save her people. But as she finds out more about the god that has chosen her, the vengeful Phoenix, she fears that winning the war may cost her humanity . . . and that it may already be too late.
I loved The Poppy War so much that I voted it as the best fantasy novel of the year for the Goodreads Choice Awards, and that category has some stiff competition! Circe and The Year of One were also nominated and while I enjoyed both of them very much, The Poppy War was something special.  If you are like me and you enjoy fantasies set at magical boarding schools than this is the book for you.  I thought the magic was original and well thought out.  It was interesting to learn all of the history of this world and that it is based on the Second Sino-Japanese War. I will mention that this is a book about war so it explores some dark theme.
I enjoyed the main character, which is not always the case for me in fantasy novels.  I appreciated that she fought to get where she was and things are not just handed to her.  She is in no way 'the chosen one.' I went through all of the emotions with her and I could actually feel my heart racing when things would get intense!
Do not let the size of this book intimidate you! I was completely engrossed in the story and could not put it down.  I almost wish it was longer! I am counting down the days until May 2nd, the date when the second book, The Dragon Republic, is being released!
"I have become something wonderful, she thought. I have become something terrible. Was she now a goddess or a monster? Perhaps neither. Perhaps both." 
"Great danger is always associated with great power. The difference between the great and the mediocre is that the great are willing to take the risk." 
"But the boy already had a god of his own. And the gods were selfish." 
My Lady Jane by Cythnia Hand, Brodi Ashton, and Jodi Meadows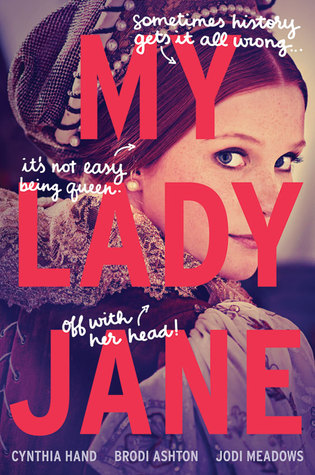 Edward (long live the king) is the King of England. He's also dying, which is inconvenient, as he's only sixteen and he'd much rather be planning for his first kiss than considering who will inherit his crown…
Jane (reads too many books) is Edward's cousin, and far more interested in books than romance. Unfortunately for Jane, Edward has arranged to marry her off to secure the line of succession. And there's something a little odd about her intended…
Gifford (call him G) is a horse. That is, he's an Eðian (eth-y-un, for the uninitiated). Every day at dawn he becomes a noble chestnut steed—but then he wakes at dusk with a mouthful of hay. It's all very undignified.
The plot thickens as Edward, Jane, and G are drawn into a dangerous conspiracy. With the fate of the kingdom at stake, our heroes will have to engage in some conspiring of their own. But can they pull off their plan before it's off with their heads?
If you go in to this book knowing that it is speculative fiction and should not be taken seriously, I think you will love it! I highly recommend the audiobook.  It is narrated by Katherine Kellgren, who sadly has since passed away, and she does an incredible job. She brings the characters to life and the voices that she uses fit the characters perfectly.
I thought My Lady Jane was hilarious and by the time I was finished my cheeks hurt from smiling. It is very lighthearted and downright silly but not vapid. Both the characters and the plot are very well-developed and I formed an attachment to each of them. They each had depth and are very memorable.  If I was forced to pick a favourite character it would be have to be Jane.  I loved that she always had her face in a book and did not follow any of the expectations of women at that time.
I want to read more books like this one that take a tragic moment in history and completely turn it on its head.  I have not yet read the second novel, My Plain Jane, because I have been hearing mixed things about it.  If you have read it I would love to hear what you thought in the comments.
"She delighted in the smell of the ink, the rough feel of the paper between her fingers, the rustle of sweet pages, the shapes of letters before her eyes." 
"Because he was English and that's what the English do under stress: they drink tea."
"What my wife desires–and what you should have guessed, had you paid attention–is bookcases. And books, of course, to fill them. Not more decorations or useless items. She wants books." 
Scythe by Neal Shusterman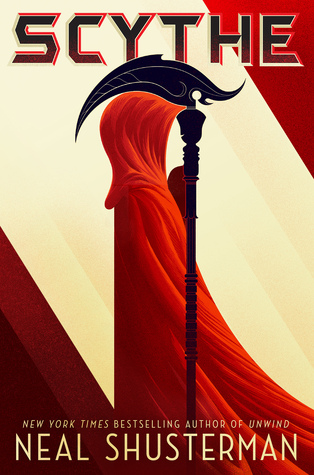 Thou shalt kill.
A world with no hunger, no disease, no war, no misery. Humanity has conquered all those things, and has even conquered death. Now scythes are the only ones who can end life—and they are commanded to do so, in order to keep the size of the population under control.
Citra and Rowan are chosen to apprentice to a scythe—a role that neither wants. These teens must master the "art" of taking life, knowing that the consequence of failure could mean losing their own.
Scythe was so hyped that I thought there was no way it could possibly be as good as everyone says that it is! Spoiler-it is a good as everyone says it is! I was not expecting it to raise so many ethical questions and to get my mind really with questions about death and our future.  It was interesting because this is a future that is not so unbelievable. The world was very well developed and I was intrigued by the politics as well.
Scythe has one of the best villains that I have ever read.  He is pure evil, but at the same time you can kind of understand his motivation and how he got to be so power-hungry.  There is a certain scene involving fire that I thought was pretty epic!
Scythe reminded me why I used to love dystopian fiction and how much potential there is in the genre.  Since finishing it, I have added so many dystopian novels to my TBR and I am open to any recommendations.  Scythe is a YA gem and I think that it is a novel that pretty much anyone, no matter what age or interests, can find value in.
"Hope in the shadow of fear is the world's most powerful motivator." 
"Everyone is guilty of something, and everyone still harbors a memory of childhood innocence, no matter how many layers of life wrap around it. Humanity is innocent; humanity is guilty, and both states are undeniably true." 
"Human nature is both predictable and mysterious; prone to great and sudden advances, yet still mired in despicable self-interest."