WWW Wednesday is hosted by Sam @ Taking on a World of Words! All you have to do is answers the following three questions:
What are you currently reading?
What did you recently finish reading?
What do you think you'll read next?
Currently Reading-
We Have Always Lived in the Castle by Shirley Jackson
I have never read anything by Shirley Jackson and I have always heard such amazing things about her books.  Look at this cover!! Perfect book to get me in to the Halloween spirit.  I am about two hours in to the audiobook and it is very creepy. Enjoying it so far!
The Humans by Matt Haig
I have read one other book by Matt Haig, How To Stop Time, and unfortunately, I was disappointed in it.  I follow Matt Haig on twitter and think he is pretty amazing so I want to fall in love with his writing.  I am only a few chapters in to The Humans but I can already tell it is going to be a good one. It is so clever!
Just Finished-
Transcription by Kate Atkinson
This was my first Kate Atkinson and now I need to read everything she has written.  Her characters are very realistic and flawed.  I appreciate that she is able to create characters who are in no way perfect, but remain likeable.  I also loved the twist on a spy novel, and that fact that the story is told during different time periods.  This was a very original WWII novel.
You by Caroline Kepnes
I do not think a book has ever gotten under my skin quite like You has.  Just sitting here writing this brings a chill down my spine.  The story is written in second person, which was very effective.  I need to read more books like that! I highly recommend the audiobook for this one.  The narrator absolutely brings this twisted character to life!
The Tattooist of Auschwitz by Heather Morris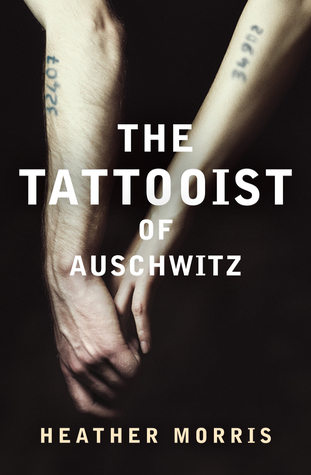 I talked about this book in my First Impression Friday post and I predicted that it was going to be a five star read, and I was very much correct.  I have read many WWII fiction novels and this one stands out among the rest.  There is something really special about it.  The love story that develops brings hope in an often hopeless situation.  I also really loved that this is based on a true story.  I hope someone turns this book in to a movie!
Small Spaces by Katherine Arden
I knew that Katerine Arden wouldn't fail me! Small Spaces is one of the best middle grade novels that I have read in years.  It is well-paced and wonderfully creepy.  I think I have developed a new fear of scarecrows!
Reading Next–
Sawkill Girls by Claire Legrand
I have been seeing this book everywhere and I am definitely intrigued! It is a horror novel that seems to be very diverse, which is refreshing because you do not see that often in the horror/thriller genre.
Have you read any of these books? What did you think?
Thank you to Penguin Random House Canada for sending me a copy of  Transcription and to Harper Collins Canada for The Tattooist of Auschwitz in exchange for an honest review.