Top 5 Tuesday is hosted by the wonderful Shanah @ Bionic Book Worm.  This week's topic is so interesting! I love getting the chance to talk about characters who I love.  This ended up being trickier than I imagined because there are so many characters I adore but do not necessary think would make the best of friends!
Juliet Ashton (The Guernsey Literary Potato Peel Pie Society)
I instantly connected to Juliet Ashton, and I can not quite explain why.  I love that she loves books and they are such a big part of her life.  I love that she is compassionate and is willing to take risks.  There is just something about her that draws people to her, and it is quite apparent that she would make an excellent friend.
Rachel Chu (Crazy Rich Asians)
Rachel Chu is so classy and down to earth.  There is something about her that makes me think should would be an amazing friend.  She is ethical and in no way a pushover.  I love that she is able to stand her ground while also remaining respectful.  She could also set me up with one of Nicholas' friends or family members which is an added bonus!
Lara Jean (To All the Boys I've Loved Before)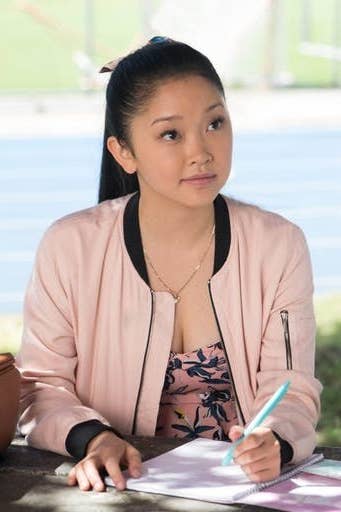 I think I would have been great friends with Lara Jean when I was in high school.  I think a lot of us bookish people relate to her in many ways.  I also love baking, so I can just imagines us baking together while talking about books and laughing about our day.  I also adore her family so it would be great to be close to them as well!
Louisa Clark (Me Before You)
There is something so charming and endearing about Louisa Clark. While I had problems with Me Before You, it was Louisa who stood out to me and I connected with.  She is quirky and marches to the beat of her own drum.  I think as a friend should would really inspiring me in a lot of ways, and she would just be plain fun to goof around with!
Elizabeth Bennet (Pride and Prejudice)
I think no one will be surprised to see Elizabeth Bennet on my list, but I had to! I just adore her! While she is very independent, she is a great friend to Charlotte and an amazing sister.  She is intelligent and emphatic so I think we would have amazing conversations.  She is someone I would go to when I want an honest opinion.