Today is my birthday!! It is also the day my giveaway ends and I have chosen a random winner. Congratulations Richard @ The Humpo Show!! I have sent you an email with all the info. Thank you so much to everyone who entered and for making my first year of blogging amazing!
What better way to celebrate my birthday than a book tag?
BIRTHDAY CAKE: A BOOK WITH A PLOT THAT SEEMS CLICHE, BUT YOU ADORE IT ANYWAY
The Sisterhood of the Travelling Pants by Ann Brashares
The idea behind these books is kind of cheesy- I mean a pair of pants that magically fits four friends of all different body types? Sounds a bit ridiculous! That is what I thought before I read them when I was twelve, but I fell in love with this series and I truly credit it for igniting my love of reading.
PARTY GUESTS: YOUR MOST ANTICIPATED BOOK RELEASE FOR THIS YEAR
The Next Person You Meet in Heaven by Mitch Albom
The Five People You Meet in Heaven is one of my favourites books! I have read it many times and I always gain a lot from it. When I heard there was a sequel I almost screamed from excitement! I will definitely be buying and reading it on release day!
BIRTHDAY PRESENTS: A BOOK THAT SURPRISED YOU WITH HOW MUCH YOU LOVED IT
Far From the Tree by Robin Benway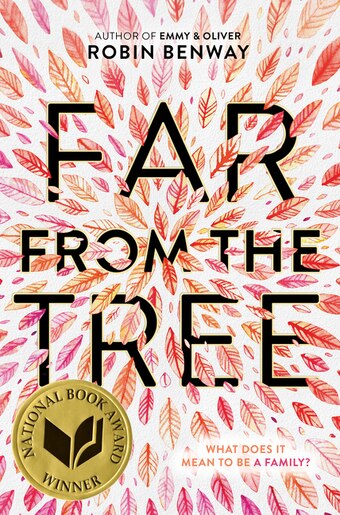 I will admit that Far From the Tree was a complete cover buy for me! I knew very little about it but I saw that the tagline was "What does is mean to be a family?"and that was enough for me to read it! I was not expecting to fall in love with these characters and have it end up being one of my favourite books of last year.
"HAPPY BIRTHDAY" SONG: A BOOK THAT CERTAINLY DESERVED ALL THE HYPE IT GOT
Simon vs. the Homo Sapiens Agenda by Becky Albertalli
I avoided reading this book for the longest time because I figured there was no way that it could possibly live up to the hype! I finally caved because I wanted to read it before seeing the movie, and I LOVED IT! This book is just as sweet and charming as everyone says that it is!
HAPPY MUSIC: A BOOK WITH SOME VERY BEAUTIFUL AND TRULY MEMORABLE QUOTES
Eleanor Oliphant is Completely Fine by Gail Honeyman
This book had so many endearing moments and moments that made me laugh out loud! I am just going to share a few of my favourite quotes with you!
"When the silence and the aloneness press down and around me, crushing me, carving through me like ice, I need to speak aloud sometimes, if only for proof of life."
"If someone asks you how you are, you are meant to say FINE. You are not meant to say that you cried yourself to sleep last night because you hadn't spoken to another person for two consecutive days. FINE is what you say."
"You can't have too much dog in a book."
GETTING OLDER: A BOOK THAT YOU READ A LONG TIME AGO? BUT YOU THINK YOU WOULD APPRECIATE MORE IF YOU READ IT AS A MORE MATURE READER
Frankenstein by Mary Shelley
I read Frankenstein in high school and I absolutely hated it! It was for a class that I despised, and I teacher I didn't connect with, so I wonder if I went in to the book with the wrong attitude. I do not think I payed much attention to the nuances and messages of the novel. I am definitely curious to see what I would think of it if I read it today!
SWEET BIRTHDAY MEMORIES: A BOOK THAT KEPT YOU INCREDIBLY HAPPY DURING A SAD OR DEMANDING PERIOD OF YOUR LIFE
Cannery Row by John Steinbeck
Yes this book again! It is my birthday so how could I not use it as an excuse to talk about my favourite book!? Cannery Row is the book that I turn to when I need to recharge. Some times just reading a few of my favourite quotes will help. There is one quote in particular that always makes me think and I reflect on quite often.
"It has always seemed strange to me…The things we admire in men, kindness and generosity, openness, honesty, understanding and feeling, are the concomitants of failure in our system. And those traits we detest, sharpness, greed, acquisitiveness, meanness, egotism and self-interest, are the traits of success. And while men admire the quality of the first they love the produce of the second."