I do not tend to read a lot of Non-Fiction and that is something that I am hoping to change this year! I thought it might inspire me to pick it up more often if I looked back on all of the non fiction books that I have read and loved. I am not going to include WWII non fictions books on this list because I have read enough of those that I think they deserve a post all on their own!
Scrappy Little Nobody- Anna Kendrick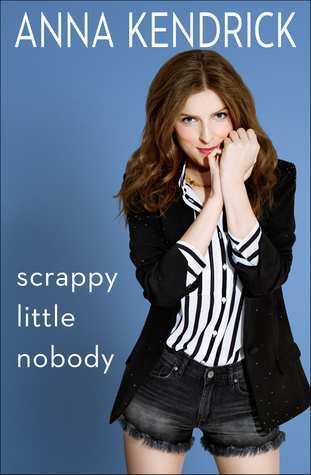 I adore Anna Kendrick and all of her quirkiness! Her personality really shines through her writing. Even though she is a huge celebrity, she came across as completely relatable! I learnt some things about her that I didn't know, and ultimately is was a fun and quick read.
Hemingway in Love: His Own Story- A.E. Hotchner
Hemingway is an interesting man who led an interesting life. I have read and enjoyed the majority of his books so it was enlightening to learn more about the man behind such great novels. Hemingway was friends with the author so it was nice to get A.E. Hotchner's perspective. This book main focus is on Hemingway's marriages and all the mistakes that he made, and the decisions that he regrets.
The Glass Castle- Jeannette Walls
The Glass Castle is the book that opened up the world of memoirs to me. The way that the author tells the story of her childhood makes it feel almost like a fiction novel. She has a powerful and magical writing style, and her story is one that every one should read. I have yet to watch the movie because I am nervous that it will not hold a candle to the book.
I Am I Am I Am- Maggie O'Farrell
I Am I Am I Am is my most recent non-fiction read, and the book that inspired this post! Maggie O'Farrell tells her life story through her near death experiences, and I thought that was so unique! Some of the brushes with death were more intense than others, but each of them taught her something and had an impact on her life. The last chapter had me in tears!
Scar Tissue- Anthony Keidis
A friend recommended Scar Tissue to me, and I wasn't sure if I was going to like it, but she was insistent that I read it! I enjoy The Red Hot Chili Pepper's but never really knew or cared to know much about them! I am so glad that my friend pretty much forced this book on me because it is one that I still think about. I found it to be very raw and enlightening. It definitely made me appreciate his music that much more.
The Midwife: A Memoir of Birth, Joy, and Hard Times- Jennifer Worth
I love the show Call the Midwife, so of course I had to read the book that inspired the TV show! I learnt a lot from it, but there was still the sense of humour and fun that is present in the show. It is also beautifully written, and I want to share the following quote with you so you can see how amazing the writing is.
"Now and then in life, love catches you unawares, illuminating the dark corners of your mind, and filling them with radiance. Once in awhile you are faced with a beauty and a joy that takes your soul, all unprepared, by assault."
I'll See You Again- Jackie Hance
I have to warn you that this book is absolutely devastating. Jackie Hance lost her three children in a car accident, and she describes what that day was like and how she has been coping. There were times where it was very moving, and times where it was very frustrating and you just wanted to scream "life is so not fair!" It then becomes a story about hope, and how life can start anew.
Moonlight on Linoleum: A Daughter's Memoir- Terry Helwig
I read Moonlight on Linoleum because I was looking for a book that was similar to The Glass Castle, and I loved it. It has a very similar feeling to The Glass Castle, but it stand on its own. It shines a light on the power of sisterhood, and it is beautiful. I really became invested in her story and her family!
A Stolen Life- Jaycee Dugard
I have read a lot of books written by strong, incredible women, but I would be hard-pressed to find a more inspiring woman than Jaycee Dugard. If you do not know who she is, she was kidnapped at the age of 11 and was freed with her daughters 18 years later. She goes in to detail about her experience, and it is difficult to read. What she has been able to overcome is truly inspiring.
A Long Way Gone: Memoirs of a Boy Soldier- Ismael Beah
A Long Way Gone is another book that is both heartbreaking and inspiring. Ishmael Beah was a child soldier in Sierra Leone and he goes in to great detail about what that experience was like for him. It is amazing to see where he is now, and the man that he has become. His memoir was truly eye-opening.
Diary of a Player: How My Musical Heroes Made a Guitar Man Out of Me- Brad Paisley
I love country music, and I particularly adore Brad Paisley. I picked up this book kind of on a whim but was surprised my how much I enjoyed it! Paisley is just so charming and I loved reading about his life. The story about how he met his wife, actress Kimberly Williams from Father of the Bride, is particularly adorable!
Stories I Only Tell My Friends- Rob Lowe
I love Rob Lowe! Look at that face! He is 25 years older than me but that has never stopped me from crushing on him. He has also lead an interesting life, and I loved getting to know some of the behind the scene stuff from his movies and his life in Hollywood.
The Last Lecture- Randy Pausch
I read the entirety of The Last Lecture through tears! This is Randy Rausch last lecture after his discovers that he has pancreatic cancer. It is so powerful, and I often turn to this book when I need reassurance or inspiration. Here are just a few of my favourite quotes:
"Experience is what you get when you didn't get what you wanted. And experience is often the most valuable thing you have to offer."

"The key question to keep asking is, Are you spending your time on the right things? Because time is all you have. "

"Look, I'm going to find a way to be happy, and I'd really love to be happy with you, but if I can't be happy with you, then I'll find a way to be happy without you."
Tuesdays With Morrie- Mitch Albom
Tuesdays With Morrie is one of those book that people say everyone should read before they die, and I think they say that for good reason. It is about Mitch Albom reconnecting with an old professor, Morrie, who has been diagnosed with ALS. They decide to have one last class together- they meet every Tuesday and Morrie teaches him about life. It is another book with life lessons that I turn to when I feel like I have lost my way. Here are just a few quotes I love:
"Accept who you are; and revel in it."

"Death ends a life, not a relationship."

"You see, you closed your eyes. That was the difference. Sometimes you cannot believe what you see, you have to believe what you feel. And if you are ever going to have other people trust you, you must feel that you can trust them, too–even when you're in the dark. Even when you're falling."
A House in the Sky- Amanda Lindhout
Amanda Lindhout tells her harrowing story of being held hostage for 460 days in Somalia. What she went through is truly horrific, and her resilience is inspiring. She also talks about her childhood, and the decisions that she made that lead to her ending up in Somalia in the first place. At the end of the day it is the story of the power of the mind!
Wow just writing this post has reminded me how much I enjoy non-fiction, and apparently I really enjoy memoirs! I would love to know if you have read any of these books and what you thought about them!
I am extremely motivated to read more non-fiction, and I would love to hear your recommendations!