I found this tag on the blog Beverley A Baird, and I cannot believe that this is my first time doing a New Year's related tag!
Happy New Year's Eve! I know that many of us are excited to see 2020 in the rearview mirror. There are no guarantees for 2021, but I am hoping to take the lessons that 2020 taught me into the new year. This blog has been a great distraction for me this year, and I have had so much fun connecting with other readers.
1. How many books are you planning to read in 2021?
I always set my Goodreads goal to 52, so a book a week. I usually read over 100 books a year, but I never want to put too much pressure on my reading. If 2020 has taught us anything, it is that things don't always go as you planned. That is why I have no specific number in mind!
2. Name 5 books that you didn't get to this past year but want to make a priority in 2020.
So many! I will talk more about this is a future post, but the five that instantly came to mind her Beloved by Toni Morrison, The House in the Cerulean Sea by TJ Klune, Jade City by Fonda Lee, A Curse So Dark and Lonely by Brigid Kimmerer, and The Library at Mount Char by Scott Hawkins.
3. What genre do you want to read more of?
SciFi and horror! SciFi is one of my favourite genres, but I neglected it in 2020. There are so many incredible science fiction novels coming out in 2021, that I have a feeling 2021 is going to be the year of SciFi for me- can't wait!
Something that I discovered in 2020 was that I actually do enjoy horror. It is a genre that I never really explored because I am such a chicken when it comes to horror movies, but it turns out that I love scary novels. I am so excited to dive deeper into horror in 2021.
4. Name 3 not-related-to-book goals for 2021.
Be better at staying in touch with friends.
Learn how to edit videos for YouTube.
Find more creative outlets.
5. What's a book you have had forever and are determined to read?
I am just embarrassed at this point. I have been saying I have wanted to read American Gods since I started my blog, and it has been on my shelves for even longer than that.
6. One word that you're hoping 2021 will be.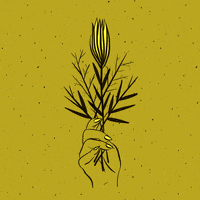 Bloom
Instagram | Twitter | Goodreads