I have talked about The Storygraph in the past, but the website keeps getting better and better! They have now included more monthly stats, so I thought it would be fun to start sharing those in my wrap ups. Let me know what you think!
Read
9 books, 2,546 pages
Mood
Pace
Page Number
Fiction/Nonfiction
Genres
Star Ratings
Why Fish Don't Exist: A Story of Loss, Love, and the Hidden Order of Life by Lulu Miller
David Starr Jordan was a taxonomist, a man possessed with bringing order to the natural world. In time, he would be credited with discovering nearly a fifth of the fish known to humans in his day. But the more of the hidden blueprint of life he uncovered, the harder the universe seemed to try to thwart him. His specimen collections were demolished by lightning, by fire, and eventually by the 1906 San Francisco earthquake—which sent more than a thousand of his discoveries, housed in fragile glass jars, plummeting to the floor. In an instant, his life's work was shattered.
Many might have given up, given in to despair. But Jordan? He surveyed the wreckage at his feet, found the first fish he recognized, and confidently began to rebuild his collection. And this time, he introduced one clever innovation that he believed would at last protect his work against the chaos of the world.
When NPR reporter Lulu Miller first heard this anecdote in passing, she took Jordan for a fool—a cautionary tale in hubris, or denial. But as her own life slowly unraveled, she began to wonder about him. Perhaps instead he was a model for how to go on when all seemed lost. What she would unearth about his life would transform her understanding of history, morality, and the world beneath her feet.
Part biography, part memoir, part scientific adventure, Why Fish Don't Exist reads like a fable about how to persevere in a world where chaos will always prevail.
Why Fish Don't Exist reminded me why I love nature writing so much, especially if it is blended with memoir. I have talked about this book a lot since I read it earlier in the month, and I really thought that it was compelling. It was interesting to see Lulu Miller's views of David Starr Jordan change as she did more and more research about him. This is one of those books that would lead to some important discussions and I have personally since read a lot of articles about Jordan and his time at Stanford.
What My Mother and I Don't Talk About edited by Michele Filgate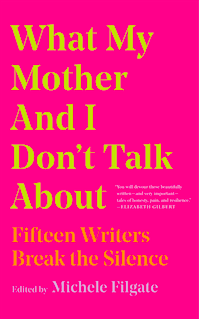 As an undergraduate, Michele Filgate started writing an essay about being abused by her stepfather. It took her more than a decade to realize what she was actually trying to write: how this affected her relationship with her mother. When it was finally published, the essay went viral, shared on social media by Anne Lamott, Rebecca Solnit, and many others. The outpouring of responses gave Filgate an idea, and the resulting anthology offers a candid look at our relationships with our mothers.
While some of the writers in this book are estranged from their mothers, others are extremely close. Leslie Jamison writes about trying to discover who her seemingly perfect mother was before ever becoming a mom. In Cathi Hanauer's hilarious piece, she finally gets a chance to have a conversation with her mother that isn't interrupted by her domineering (but lovable) father. André Aciman writes about what it was like to have a deaf mother. Melissa Febos uses mythology as a lens to look at her close-knit relationship with her psychotherapist mother. And Julianna Baggott talks about having a mom who tells her everything.
As Filgate writes, "Our mothers are our first homes, and that's why we're always trying to return to them." There's relief in breaking the silence. Acknowledging what we couldn't say for so long is one way to heal our relationships with others and, perhaps most important, with ourselves.
I love reading about mother/child relationships within fiction, so it was interesting to read a collection of essays from authors about their personal relationships with their mothers. Know matter how close you are to your mom, that relationship is complicated. I appreciated how vulnerable each of the authors who contributed to this collection were. I was exposed to so many new authors and I have added many of their full length novels to my TBR.
In a world broken by war, a team of young warriors is willing to sacrifice everything to save what they love.
The Karensa Federation has conquered a dozen countries, leaving Mara as one of the last free nations in the world. Refugees flee to its borders to escape a fate worse than death—transformation into mutant war beasts known as Ghosts, creatures the Federation then sends to attack Mara.
The legendary Strikers, Mara's elite fighting force, are trained to stop them. But as the number of Ghosts grows and Karensa closes in, defeat seems inevitable.
Still, one Striker refuses to give up hope.
Robbed of her voice and home, Talin Kanami knows firsthand the brutality of the Federation. Their cruelty forced her and her mother to seek asylum in a country that considers their people repugnant. She finds comfort only with a handful of fellow Strikers who have pledged their lives to one another and who are determined to push Karensa back at all costs.
When a mysterious prisoner is brought from the front, Talin senses there's more to him than meets the eye. Is he a spy from the Federation? Or could he be the weapon that will save them all?
I have really enjoyed all of the Marie Lu books I have read, but Skyhunter is definitely my favourite so far. I cannot wait until the next book in the series comes out! The highlight of this book was the found family trope, and it had the perfect balance between action and character development. Marie Lu's books normally get a lot of attention, but I don't see enough people talking about this one!
There's Someone Inside Your House by Stephanie Perkins
Love hurts…
Makani Young thought she'd left her dark past behind her in Hawaii, settling in with her grandmother in landlocked Nebraska. She's found new friends and has even started to fall for mysterious outsider Ollie Larsson. But her past isn't far behind.
Then, one by one, the students of Osborne Hugh begin to die in a series of gruesome murders, each with increasingly grotesque flair. As the terror grows closer and her feelings for Ollie intensify, Makani is forced to confront her own dark secrets.
There's Someone Inside Your House was a fun teen slasher novel that you cannot take too seriously. It was extremely fast-paced and had an interesting mix of murder and romance, but I was definitely entertained. If you are looking for a good distraction, this could be the perfect book for you, especially if you are a fan of movies like I Know What You Did Last Summer.
Hamnet by Maggie O'Farrell
Drawing on Maggie O'Farrell's long-term fascination with the little-known story behind Shakespeare's most enigmatic play, HAMNET is a luminous portrait of a marriage, at its heart the loss of a beloved child.

Warwickshire in the 1580s. Agnes is a woman as feared as she is sought after for her unusual gifts. She settles with her husband in Henley street, Stratford, and has three children: a daughter, Susanna, and then twins, Hamnet and Judith. The boy, Hamnet, dies in 1596, aged eleven. Four years or so later, the husband writes a play called Hamlet.

Award-winning author Maggie O'Farrell's new novel breathes full-blooded life into the story of a loss usually consigned to literary footnotes, and provides an unforgettable vindication of Agnes, a woman intriguingly absent from history.
I know I am not the only one who loves any sort of Shakespeare retelling, so it was interesting to get some insight into the inspiration behind Hamlet. I knew nothing about Shakespeare's family before picking up this book, so if you have any book recommendations that focus on that I would love to hear them! Hamnet was so beautifully written and moving- even though I knew what was coming, it made me very emotional and I had tears in my eyes by the end.
Transcendent Kingdom by Yaa Gyasi
Gifty is a fifth-year candidate in neuroscience at Stanford School of Medicine studying reward-seeking behavior in mice and the neural circuits of depression and addiction. Her brother, Nana, was a gifted high school athlete who died of a heroin overdose after a knee injury left him hooked on OxyContin. Her suicidal mother is living in her bed. Gifty is determined to discover the scientific basis for the suffering she sees all around her.

But even as she turns to the hard sciences to unlock the mystery of her family's loss, she finds herself hungering for her childhood faith and grappling with the evangelical church in which she was raised, whose promise of salvation remains as tantalizing as it is elusive. Transcendent Kingdom is a deeply moving portrait of a family of Ghanaian immigrants ravaged by depression and addiction and grief–a novel about faith, science, religion, love. Exquisitely written, emotionally searing, this is an exceptionally powerful follow-up to Gyasi's phenomenal debut.
Although Yaa Gyasi has written only two novels, she has become an autobuy author for me. Both of her books are ones that have stayed with me and I continue to think about. I really appreciated the science versus religion theme within Transcendent Kingdom and it's discussion on mental health and addiction. I thought that Gifty was a compelling main character and it was interesting to see how her childhood affected her adulthood. I need to read more books with female main characters in STEM!
Faking Under the Mistletoe by Ashley Shepherd
Olivia Langley is the human embodiment of Christmas cheer, and she has absolutely no problem spreading it around for all to hear.
Christmas sweaters? She has twenty. Christmas cookies? She'll take three dozen. Christmas movies? Yeah, she's seen them all.
So it's no surprise when she's put in charge of Loveridge & McGowan's holiday festivities. Secret Santas? Yep. Ice skating? Of course. Holiday trivia? Duh. Christmas-themed bar crawl? That's one big jingle bell hell yes.
Kissing her boss at a Christmas tree lighting in front of his ex-girlfriend? Well… it is the season of giving.
And Olivia does not come with a gift receipt. No exchanges. No returns. No refunds. All sales are final.
In an effort to ungrinch the grinchiest man she's ever met, Olivia enlists herself, Santa's Executive Helper, to scheme up a plan that includes sleigh rides, snow days, and one too many mistletoe kisses, which certainly gets Asher's tinsel in a tangle.
She's pretty sure that she sleighed this whole fake dating thing.
Well… until she realizes there's nothing fake about her feelings for Asher, and suddenly tangled tinsel, unsolicited Christmas trees, and celebrity heartthrobs are the least of her worries.
I have talked about this book a lot recently, but if you are going to read one holiday-related romance this year make it Faking Under the Mistletoe. It has two of my favourite tropes in romance- faking dating and hate-to-love. It is also really Christmasy! The perfect book to get you into the spirit.
Wrapped Up in You by Talia Hibbert
William Reid is nothing special, except for his billion-dollar acting career and his, you know, face. (Apparently, it's a good one.) Winning 'Sexiest Man Alive' was nice, but this Christmas, he has more important goals in mind… like finally winning over his best friend's little sister, the super-smart and kinda-scary Abbie Farrell.
When a blizzard leaves Will and Abbie alone at Grandma Farrell's house (if bunking with 27 pets counts as 'alone'), it's the perfect opportunity to pull off a Christmas miracle. Convincing clever, frosty Abbie to give Will a chance will take more than mistletoe, but hiding his lifelong crush on her is no longer an option.
A sweet novella from Talia Hibbert. It made me realize how much I appreciate the friends-to-lovers trope. Despite knowing each other since childhood, these two characters have some miscommunications and past hurt that they have to work through. I appreciated how that part of the story was handled. Also, I will read any romance involving a celebrity!
A Thousand Ships by Natalie Haynes
In A Thousand Ships, broadcaster and classicist Natalie Haynes retells the story of the Trojan War from an all-female perspective.
This was never the story of one woman, or two. It was the story of all of them…
In the middle of the night, Creusa wakes to find her beloved Troy engulfed in flames. Ten seemingly endless years of brutal conflict between the Greeks and the Trojans are over, and the Greeks are victorious. Over the next few hours, the only life she has ever known will turn to ash . . .
The devastating consequences of the fall of Troy stretch from Mount Olympus to Mount Ida, from the citadel of Troy to the distant Greek islands, and across oceans and sky in between. These are the stories of the women embroiled in that legendary war and its terrible aftermath, as well as the feud and the fatal decisions that started it all…
Powerfully told from an all-female perspective, A Thousand Ships gives voices to the women, girls and goddesses who, for so long, have been silent.
A Thousand Ships is officially one of my best books of the year. I have read quite a few Greek myth retellings, but no book has made me want to read The Iliad and The Odyssey as much as this one has- and that is a big deal because it is not something I have ever considered reading. I am currently researching the best translation. There are so many characters in this book and I appreciate hearing all of their perspectives. There are also chapters titled "The Trojan Women", which reads almost like a chorus. I am much more familiar with Achilles story, so it was interesting to delve more into what happens after the Trojan War, though the story does jump back and forth in time. I will be posting a full review soon!
November seemed to fly by! I read some truly incredible books this month- even a few new all time favourites!
What was the best book you read this month?
Instagram | Twitter | Goodreads