#TisTheReadathon starts tomorrow and ends on Christmas day, so I wanted to share my TBR with you. You can find all of the details about this readathon on Phoebe's (Read and Wright) Instagram page. She also posted some recommendations for each of the prompts on her blog.
I will also be sharing a few recommendations for the prompts, if I have any.
Holiday Rom Com
Two inns, one town, and there's not enough room for the both of them.
Add in a reindeer-ish donkey, a Christmas competition, and a rivalry to end all rivalries and you're bound to end up in disaster, right?
Finn Mayberry has enough on his plate trying to keep his Grandparents inn afloat. The last thing he needed was some California state of mind starlet bulldozing into his town and throwing up a five-star resort right next to his family's inn.
But, now she's here and he can't get her out of his town or his head.
Freya Anderson took one look at the snowcapped mountains of Hollyridge and fell in love. She's finally here and ready to take on the task of proving to her father that she can handle running Alpine.
She never expected to make enemies with the sinfully delicious lumberjack of a man who runs the inn next door. He's moody, impossible and completely off limits.
There can only be one winner, but you know what they say. All is fair in love and… Jingle Wars?
Jingle Wars sounds like it has all the Christmas spirit that I look for in a Christmas romance. I want my holiday reads to scream Christmas! Also, this is the cutest cover and I love that it is a hate-to-love story between competing hotel owners. I think it is going to be adorable.
Recommendations: Faking Under the Mistletoe by Ashley Shepherd, In a Holidaze by Christina Lauren, Royal Holiday by Jasmine Guillory
Winter Thriller/Mystery
Vermont, 1950. There's a place for the girls whom no one wants–the troublemakers, the illegitimate, the too smart for their own good. It's called Idlewild Hall. And in the small town where it's located, there are rumors that the boarding school is haunted. Four roommates bond over their whispered fears, their budding friendship blossoming–until one of them mysteriously disappears. . . .
Vermont, 2014. As much as she's tried, journalist Fiona Sheridan cannot stop revisiting the events surrounding her older sister's death. Twenty years ago, her body was found lying in the overgrown fields near the ruins of Idlewild Hall. And though her sister's boyfriend was tried and convicted of murder, Fiona can't shake the suspicion that something was never right about the case.
When Fiona discovers that Idlewild Hall is being restored by an anonymous benefactor, she decides to write a story about it. But a shocking discovery during the renovations will link the loss of her sister to secrets that were meant to stay hidden in the past–and a voice that won't be silenced. . .
The Sun Down Motel was my favourite mystery novel of the year, so I am excited to read something else from Simone St. James. Some readers have told me that The Broken Girls is even better! I love a mystery set at a boarding school, and I already know that the author does an amazing job with paranormal stories.
Recommendations: Murder on the Orient Express by Agatha Christie, Still Life by Louise Penny
A Holiday Classic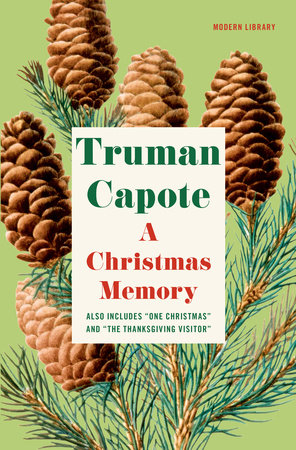 First published in 1956, this much sought-after autobiographical recollection of Truman Capote's rural Alabama boyhood has become a modern-day classic. We are proud to be reprinting this warm and delicately illustrated edition of A Christmas Memory–"a tiny gem of a holiday story" (School Library Journal, starred review). Seven-year-old Buddy inaugurates the Christmas season by crying out to his cousin, Miss Sook Falk: "It's fruitcake weather!" Thus begins an unforgettable portrait of an odd but enduring friendship between two innocent souls–one young and one old–and the memories they share of beloved holiday rituals.
How stunning is this edition of A Christmas Memory!? I am going to have to track down a copy. I have this weird fascination with Truman Capote, so I am surprised that I have not read this yet. I am very much looking forward to it!
Recommendations: A Christmas Carol by Charles Dickens, Little Women by Louise May Alcott
Middle Grade Holiday Story
It's wintertime at Greenglass House. The creaky smuggler's inn is always quiet during this season, and twelve-year-old Milo, the innkeepers' adopted son, plans to spend his holidays relaxing. But on the first icy night of vacation, out of nowhere, the guest bell rings. Then rings again. And again. Soon Milo's home is bursting with odd, secretive guests, each one bearing a strange story that is somehow connected to the rambling old house. As objects go missing and tempers flare, Milo and Meddy, the cook's daughter, must decipher clues and untangle the web of deepening mysteries to discover the truth about Greenglass House—and themselves.
There are so many middle grade wintery/holiday stories that I want to read, but I have never actually picked one up. Part of what intrigues me so much about Greenglass Hotel is the cover- so stunning. This is another book set at a hotel, so this is a bit of a theme for this readathon. I just love that setting!
YA Holiday Story
The average person makes 35,000 decisions every single day. That's about 34,999 too many for Paige Collins, who lives in debilitating fear of making the wrong choice. The simple act of picking an art elective is enough to send her into a spiral of what-ifs. What if she's destined to be a famous ceramicist but wastes her talent in drama club? What if there's a carbon monoxide leak in the ceramics studio and everyone drops dead? (Grim, but possible!)
That's why when Paige is presented with two last-minute options for Christmas vacation, she's paralyzed by indecision. Should she go with her best friend (and longtime crush) Fitz to his family's romantic mountain cabin? Or should she accompany her mom to New York, a city Paige has spent her whole life dreaming about?
Just when it seems like Paige will crack from the pressure of choosing, fate steps in — in the form of a slippery grocery store floor — and Paige's life splits into two very different parallel paths. One path leads to New York where Paige falls for the city . . . and the charms of her unexpected tour guide. The other leads to the mountains where Paige might finally get her chance with Fitz . . . until her anxiety threatens to ruin everything.
However, before Paige gets her happy ending in either destiny, she'll have to face the truth about her struggle with anxiety — and learn that you don't have to be "perfect" to deserve true love.
I am reading One Way or Another for a buddy read on Instagram, and I cannot wait! I read 10 Blind Dates with this same group last year and was surprised by how much I adored it. The premise of this was sounds so fun! I also really want to read The Afterlife of Holly Chase by Cynthia Hands, so I am hoping I will have time to get to that one too.
Recommendations: 10 Blind Dates by Ashley Elston
Winter in the Title
Kelley Quinn is the owner of Nantucket's Winter Street Inn and the proud father of four, all of them grown and living in varying states of disarray. Patrick, the eldest, is a hedge fund manager with a guilty conscience. Kevin, a bartender, is secretly sleeping with a French housekeeper named Isabelle. Ava, a school teacher, is finally dating the perfect guy but can't get him to commit. And Bart, the youngest and only child of Kelley's second marriage to Mitzi, has recently shocked everyone by joining the Marines.
As Christmas approaches, Kelley is looking forward to getting the family together for some quality time at the inn. But when he walks in on Mitzi kissing Santa Claus (or the guy who's playing Santa at the inn's annual party), utter chaos descends. With the three older children each reeling in their own dramas and Bart unreachable in Afghanistan, it might be up to Kelley's ex-wife, nightly news anchor Margaret Quinn, to save Christmas at the Winter Street Inn.
Before the mulled cider is gone, the delightfully dysfunctional Quinn family will survive a love triangle, an unplanned pregnancy, a federal crime, a small house fire, many shots of whiskey, and endless rounds of Christmas caroling, in this heart-warming novel about coming home for the holidays.
Can you believe I have never read a book with "winter" in the cover? Or a book by Elin Hilderbrand? I keep meaning to pick up one of her books because they are all so beloved, so I figured why not start with her Christmas series. I have heard amazing things about this entire series, and I love that the books are short.
Snow on the Cover
Charles Dickens is not feeling the Christmas spirit. His newest book is an utter flop, the critics have turned against him, relatives near and far hound him for money. While his wife plans a lavish holiday party for their ever-expanding family and circle of friends, Dickens has visions of the poor house. But when his publishers try to blackmail him into writing a Christmas book to save them all from financial ruin, he refuses. And a serious bout of writer's block sets in.
Frazzled and filled with self-doubt, Dickens seeks solace in his great palace of thinking, the city of London itself. On one of his long night walks, in a once-beloved square, he meets the mysterious Eleanor Lovejoy, who might be just the muse he needs. As Dickens' deadlines close in, Eleanor propels him on a Scrooge-like journey that tests everything he believes about generosity, friendship, ambition, and love. The story he writes will change Christmas forever.
A Christmas Carol is my favourite Christmas story, so I love the idea of a story about how it came to be. The premise reminds me of the movie The Man Who Invented Christmas, which I loved.
Recommendations: Last Christmas in Paris by Hazel Gaynor and Heather Webb, Faking Under the Mistletoe by Ashley Shepherd
Holiday Palooza
Once Upon an Eid is a collection of short stories that showcases the most brilliant Muslim voices writing today, all about the most joyful holiday of the year: Eid!
Eid: The short, single-syllable word conjures up a variety of feelings and memories for Muslims. Maybe it's waking up to the sound of frying samosas or the comfort of bean pie, maybe it's the pleasure of putting on a new outfit for Eid prayers, or maybe it's the gift-giving and holiday parties to come that day. Whatever it may be, for those who cherish this day of celebration, the emotional responses may be summed up in another short and sweet word: joy. The anthology will also include a poem, graphic-novel chapter, and spot illustrations.
I meant to read this anthology when it came out in May, but I am happy that I have saved it for this time of year. Once Upon an Eid has incredible reviews and ratings on Goodreads, which is so rare for an anthology. So many readers I trust have loved it. I am planning to read a story every night!
Instagram | Twitter | Goodreads