Since Top Five Tuesday is on a break this week, I thought this would be a good opportunity to tell you about five books I really would like to read this spring. As you know, I am not someone who can follow a TBR, but surely I can commit to these five books. Right?!
The Editor by Steven Rowley
Goodreads Summary– After years of trying to make it as a writer in 1990s New York City, James Smale finally sells his novel to an editor at a major publishing house: none other than Jacqueline Kennedy Onassis. Jackie–or Mrs. Onassis, as she's known in the office–has fallen in love with James's candidly autobiographical novel, one that exposes his own dysfunctional family. But when the book's forthcoming publication threatens to unravel already fragile relationships, both within his family and with his partner, James finds that he can't bring himself to finish the manuscript.
Jackie and James develop an unexpected friendship, and she pushes him to write an authentic ending, encouraging him to head home to confront the truth about his relationship with his mother. Then a long-held family secret is revealed, and he realizes his editor may have had a larger plan that goes beyond the page…
Steven Rowley wrote Lily and the Octopus, which I heard great things about but I am too scared to read anything involving pets. Did you know that Jackie O was an editor for two years? I had no idea! I appreciate fiction books that are based on some truth. I am so intrigued to see the how the author portrays Jackie O. This book sounds like loads of fun and I always appreciate getting a behind the scenes look in to the publishing industry.
The Lady from the Black Lagoon: Hollywood Monster and the Lost Legacy of Milicent Patrick by Mallory O'Meara
Goodreads Summary– As a teenager, Mallory O'Meara was thrilled to discover that one of her favorite movies, The Creature from the Black Lagoon, featured a monster designed by a woman, Milicent Patrick. But for someone who should have been hailed as a pioneer in the genre there was little information available. For, as O'Meara soon discovered, Patrick's contribution had been claimed by a jealous male colleague, her career had been cut short and she soon after had disappeared from film history. No one even knew if she was still alive.
As a young woman working in the horror film industry, O'Meara set out to right the wrong, and in the process discovered the full, fascinating story of an ambitious, artistic woman ahead of her time. Patrick's contribution to special effects proved to be just the latest chapter in a remarkable, unconventional life, from her youth growing up in the shadow of Hearst Castle, to her career as one of Disney's first female animators. And at last, O'Meara discovered what really had happened to Patrick after The Creature's success, and where she went.
I really enjoy nonfiction titles like this one where the author has a very unique and personal interested in the topic or person they are researching. I am such a chicken when it comes to horror, and yet it intrigues me. I listened to O'Meara talking about her book on the podcast What to Read Next and it was her passion that compelled me to add this book to my TBR. Sounds fascinating!
Space Opera by Catherynne M. Valente
Goodreads Summary- A century ago, the Sentience Wars tore the galaxy apart and nearly ended the entire concept of intelligent space-faring life. In the aftermath, a curious tradition was invented—something to cheer up everyone who was left and bring the shattered worlds together in the spirit of peace, unity, and understanding.
Once every cycle, the civilizations gather for the Metagalactic Grand Prix—part gladiatorial contest, part beauty pageant, part concert extravaganza, and part continuation of the wars of the past. Instead of competing in orbital combat, the powerful species that survived face off in a competition of song, dance, or whatever can be physically performed in an intergalactic talent show. The stakes are high for this new game, and everyone is forced to compete.
This year, though, humankind has discovered the enormous universe. And while they expected to discover a grand drama of diplomacy, gunships, wormholes, and stoic councils of aliens, they have instead found glitter, lipstick, and electric guitars. Mankind will not get to fight for its destiny—they must sing.
Space Opera was nominated for a 2019 Hugo Award for Best Novel. I would like to read everything on this list but this is the one that intrigues me the most. It just sounds like so much fun. Beauty pageant in space? YES PLEASE. This is exactly my kind of SciFi and I am not wait to read it.
The Secret History by Donna Tartt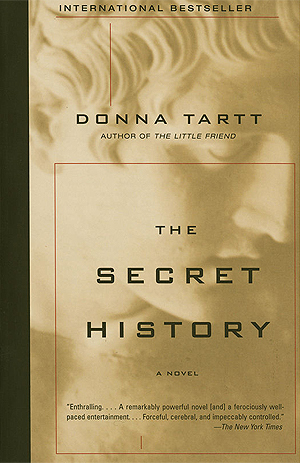 Goodreads Summary- Under the influence of their charismatic classics professor, a group of clever, eccentric misfits at an elite New England college discover a way of thinking and living that is a world away from the humdrum existence of their contemporaries. But when they go beyond the boundaries of normal morality they slip gradually from obsession to corruption and betrayal, and at last – inexorably – into evil.
Now, this might be cheated because I am technically currently reading The Secret History. I am very much enjoying it, but keep getting distracted by other books. This book is a little denser and its quite long but I know if I just sat down and put the time in to it I would really love it. The cast of characters are all very mysterious and I am excited to see where the story is going!
An Unkindness of Magicians by Kat Howard
Goodreads Summary- There is a dark secret that is hiding at the heart of New York City and diminishing the city's magicians' power in this fantasy thriller by acclaimed author Kat Howard.
In New York City, magic controls everything. But the power of magic is fading. No one knows what is happening, except for Sydney—a new, rare magician with incredible power that has been unmatched in decades, and she may be the only person who is able to stop the darkness that is weakening the magic. But Sydney doesn't want to help the system, she wants to destroy it.
Sydney comes from the House of Shadows, which controls the magic with the help of sacrifices from magicians.
The Unkindness of Magicians is a couple years old now but I have been seeing it a lot on Booktube recently. Fantasy can really be hit or miss for me but this one sounds right up my alley. It sounds a bit dark, which I always appreciate. There is also something about fantasy novels set in New York that works for me.
Have you read any of these books or are they on your TBR? What books are you most excited to read this Spring?