Top 5 Tuesday is hosted by the wonderful Shanah @ Bionic Book Worm.
I always think that I am not a huge fan of romance novels, but when I sit down and think about it there are so many romance books I have read and loved. I love reading about a slow burn romance, especially if it has the trope enemies to lovers (I just started The Unhoneymooners by Christina Lauren- it has this trope!!) . I do not talk about romance novels very often so I am happy that this week's topic is allowing me to highlight a few of my favourites.
The Hating Game by Sally Thorne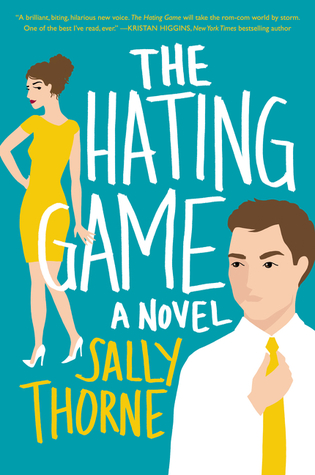 I have a feeling The Hating Game will be on many lists this week, and it will deserve to be there. This is the epitome of the enemies to lovers trope. I absolutely devoured this book and loved every single second of it. If you love books with great banter, this is the book for you.
The Bride Test by Helen Hoang
I also loved The Kiss Quotient by the same author, but something about The Bride Test stood out to me. I loved watching the two characters try to navigate each other's very different personalities. They truly grow to love and respect one another over time. I loved hearing both of their perspectives. Make sure to check it out when it comes out in May!
A Walk to Remember by Nicholas Sparks
Nicholas Spark's novels are like a palette cleanser for me. You know what you are going to get when you read one of his novels, and that is what I appreciate about them. They are always adorable and heartbreaking! A Walk to Remember is probably by favourite of his novels. I also adore the movie.
Pride and Prejudice by Jane Austen
Duh! This will always be my favourite romance. It is like the classic enemies to lovers novel. I always say that I would want Mr. Darcy for myself, but truthfully, I adore him with Elizabeth Bennet. One of my favourite romantic quotes comes from the mouth of Mr Darcy: "If, however, your feelings have changed, I will have to tell you: you have bewitched me, body and soul, and I love, I love, I love you. I never wish to be parted from you from this day on." Swoon!
Tin Man by Sarah Winman
This book is not your typical romance. I would actually classify it more as an almost romance. It is about two friends who love each other but never take the leap. It is such a beautiful book, and very bittersweet. There were moments where it absolutely wrecked me.