WWW Wednesday is hosted by Sam @ Taking on a World of Words! All you have to do is answers the following three questions:
What are you currently reading?
What did you recently finish reading?
What do you think you'll read next?
Currently Reading-
So You've Been Publicly Shamed by Jon Ronson
I only have about 50 pages left in this book, and I have found it to be very interesting.  Jon Ronson interviews people who have been publicly shamed, particularly on Twitter, and how it affected their lives, what they have learned, and why some people were shamed more than others.  He also does some self-reflecting on the times he shamed people online, and I found that to be very compelling.  It is a very interesting look at today's culture as well as the history and affects of shaming.
The Feather Thief by Kirk Wallace Johnson
I am about a third of the way through the audiobook for The Feather Thief and I am really enjoying it! Who knew that fly fishing could be this interesting!? I love that Johnson including some history about not only fly fishing, but also about the birds whose feathers are being used.  He talks about how these birds ended up in the British Museum of Natural History in the first place.  It is all very fascinating and I am just getting to the part about the thief himself, so looking forward to learning more!
The Water Cure by Sophie Macintosh
I just started this book because I realized I was currently reading any fiction! (I have not yet finished Serious Moonlight.  I am taking a break from it, but I will come back to it soon!) So far, I am very much enjoying the writing style, and the atmosphere is very dark. I can't wait to see where the story goes!
Just Finished- 
Peter and Alice by John Logan
I watched Jen Campbell's video about the best books she read in the last five years, and one of the books she mentioned was actually a play called Peter and Alice.  Now, I am not someone who reads plays. but I was instantly intrigued.  The woman who inspired Alice's Adventures in Wonderland and the man who inspired Peter Pan once met in real life, and this play is how John Logan imagined that interaction went.  It was so beautiful and surprisingly devastating.   I really wish I was able to see the play! Here is a trailer:
If you know of any other plays similar to this one I would love some recommendations!
No Exit by Taylor Adams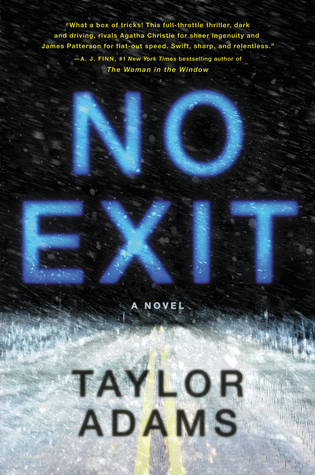 On Monday, I included No Exit in a post about books I recently added to my TBR.  The fact that I am already finished it will tell you just how much of a page turner it was.  That said, I have very mixed feelings about it.  I think I was looking for more mystery and less gore.  I am not usually sensitive to violence but I found it pretty graphic.  I think I wanted a little more character development, and a little less action.  That is definitely a 'me' thing though! I also felt that it kind of dragged at some points but I kept reading to see what happens in the end.  My favourite part was probably the epilogue!
Reading Next–
The Dreamers
I am not quite sure what I will be in the mood for next, but I know I want to pick up The Dreamers ASAP! It has been everywhere lately and I am very much intrigued by the concept. I enjoyed reading dystopian/Sci-fi novels this time of year!
Have you read any of these books? What did you think?