There are so many adult fiction novels coming out in 2019 that I am excited about so this list is barely touching the surface! I want to share just a few of them with you and hopefully add to your TBRs.  I have tried to choose books from a range of genres. Let me know in the comments which 2019 adult fiction books you are most excited about!
Normal People by Sally Rooney
At school Connell and Marianne pretend not to know each other. He's popular and well-adjusted, star of the school football team, while she is lonely, proud and intensely private. But when Connell comes to pick his mother up from her job at Marianne's house, a strange and indelible connection grows between the two teenagers—one they are determined to conceal.
A year later, they're both studying at Trinity College in Dublin. Marianne has found her feet in a new social world while Connell hangs at the sidelines, shy and uncertain. Throughout their years at university, Marianne and Connell circle one another, straying toward other people and possibilities but always magnetically, irresistibly drawn back together. And as she veers into self-destruction and he begins to search for meaning elsewhere, each must confront how far they are willing to go to save the other.
Release Date: April 16th, 2019
Normal People has been out for awhile in the UK, and it was even nominated for The Manbooker Prize.  So many British booktubers who I love and respect have raved about this book.  I am hoping to read her first novel, Conversations With Friends, at the beginning of 2019!
The Bride Test (The Kiss Quotient #2) by Helen Hoang
Khai Diep has no feelings. Well, he feels irritation when people move his things or contentment when ledgers balance down to the penny, but not big, important emotions—like grief. And love. He thinks he's defective. His family knows better—that his autism means he just processes emotions differently. When he steadfastly avoids relationships, his mother takes matters into her own hands and returns to Vietnam to find him the perfect bride.
As a mixed-race girl living in the slums of Ho Chi Minh City, Esme Tran has always felt out of place. When the opportunity arises to come to America and meet a potential husband, she can't turn it down, thinking this could be the break her family needs. Seducing Khai, however, doesn't go as planned. Esme's lessons in love seem to be working…but only on herself. She's hopelessly smitten with a man who's convinced he can never return her affection.
With Esme's time in the United States dwindling, Khai is forced to understand he's been wrong all along. And there's more than one way to love.
Release Date: May 7th, 2019
I absolutely loved The Kiss Quotient and I was thrilled to see that Helen Hoang had written another book! I get the impression that The Bride Test is more of a companion novel than an actual sequel.  It sounds like it is going to be adorable!
Black Leopard, Red Wolf by Marlon James
Tracker is known far and wide for his skills as a hunter: "He has a nose," people say. Engaged to track down a mysterious boy who disappeared three years earlier, Tracker breaks his own rule of always working alone when he finds himself part of a group that comes together to search for the boy. The band is a hodgepodge, full of unusual characters with secrets of their own, including a shape-shifting man-animal known as Leopard.
As Tracker follows the boy's scent–from one ancient city to another; into dense forests and across deep rivers–he and the band are set upon by creatures intent on destroying them. As he struggles to survive, Tracker starts to wonder: Who, really, is this boy? Why has he been missing for so long? Why do so many people want to keep Tracker from finding him? And perhaps the most important questions of all: Who is telling the truth, and who is lying?
Release Date: February 5th, 2019
First of all, how stunning is that cover!? The early reviews for Black Leopard, Red Wolf have been fantastic, and I am very much looking forward to it. It sounds like Marlon James creates a very unique world and apparently the book is pretty dark, which I am into…
Here and Now and Then by Mike Chen
To save his daughter, he'll go anywhere—and any-when…
Kin Stewart is an everyday family man: working in I.T., trying to keep the spark in his marriage, struggling to connect with his teenage daughter, Miranda. But his current life is a far cry from his previous career…as a time-traveling secret agent from 2142.
Stranded in suburban San Francisco since the 1990s after a botched mission, Kin has kept his past hidden from everyone around him, despite the increasing blackouts and memory loss affecting his time-traveler's brain. Until one afternoon, his "rescue" team arrives—eighteen years too late.
Their mission: return Kin to 2142 where he's only been gone weeks, not years, and where another family is waiting for him. A family he can't remember.
Torn between two lives, Kin is desperate for a way to stay connected to both. But when his best efforts threaten to destroy the agency and even history itself, his daughter's very existence is at risk. It'll take one final trip across time to save Miranda—even if it means breaking all the rules of time travel in the process.
Release Date: January 29th, 2019
This is another book that has amazing early reviews, and I am thrilled that I do not have to wait that long to get my hands on it.  I am really in to time travel when it is done well, and, from what I can tell, Here and Now and Then will deliver. 
The Nickel Boys by Colson Whitehead
As the Civil Rights movement begins to reach the black enclave of Frenchtown in segregated Tallahassee, Elwood Curtis takes the words of Dr. Martin Luther King to heart: He is "as good as anyone." Abandoned by his parents, but kept on the straight and narrow by his grandmother, Elwood is about to enroll in the local black college. But for a black boy in the Jim Crow South in the early 1960s, one innocent mistake is enough to destroy the future. Elwood is sentenced to a juvenile reformatory called The Nickel Academy, whose mission statement says it provides "physical, intellectual and moral training" so the delinquent boys in their charge can become "honorable and honest men."
In reality, The Nickel Academy is a grotesque chamber of horrors, where the sadistic staff beats and sexually abuses the students, corrupt officials and locals steal food and supplies, and any boy who resists is likely to disappear "out back." Stunned to find himself in such a vicious environment, Elwood tries to hold on to Dr. King's ringing assertion "Throw us in jail and we will still love you." His friend Turner thinks Elwood is worse than naive, that the world is crooked and the only way to survive is to scheme and avoid trouble.
The tension between Elwood's ideals and Turner's skepticism leads to a decision whose repercussions will echo down the decades. Formed in the crucible of the evils Jim Crow wrought, the boys' fates will be determined by what they endured at The Nickel Academy.
Based on the real story of a reform school in Florida that operated for one hundred and eleven years and warped the lives of thousands of children, The Nickel Boys is a devastating, driven narrative that showcases a great American novelist writing at the height of his powers.
Release Date: July 16th, 2019
The Nickel Boys is probably my most anticipated novel of the year! I absolutely loved Colson Whitehead's The Underground Railroad when I read in at the beginning of the year. I will read anything that he writes.  This sounds like it is going to be a very difficult but powerful read.
The Dragon Republic (The Poppy War #2) by R.F. Kaung
In the aftermath of the Third Poppy War, shaman and warrior Rin is on the run: haunted by the atrocity she committed to end the war, addicted to opium, and hiding from the murderous commands of her vengeful god, the fiery Phoenix. Her only reason for living is to get revenge on the traitorous Empress who sold out Nikan to their enemies.
With no other options, Rin joins forces with the powerful Dragon Warlord, who has a plan to conquer Nikan, unseat the Empress, and create a new Republic. Rin throws herself into his war. After all, making war is all she knows how to do.
But the Empress is a more powerful foe than she appears, and the Dragon Warlord's motivations are not as democratic as they seem. The more Rin learns, the more she fears her love for Nikan will drive her away from every ally and lead her to rely more and more on the Phoenix's deadly power. Because there is nothing she won't sacrifice for her country and her vengeance.
Release Date: August 6th, 2019
You probably know by now just how much I loved The Poppy War and I am thrilled that we are already getting the sequel! I was so worried that it was going to be a longer wait, as can tend to happen with fantasy.  I can not wait to see where the story goes and to be back in this world with Rin and the rest of the dynamic characters!
The Priory of the Orange Tree by Samantha Shannon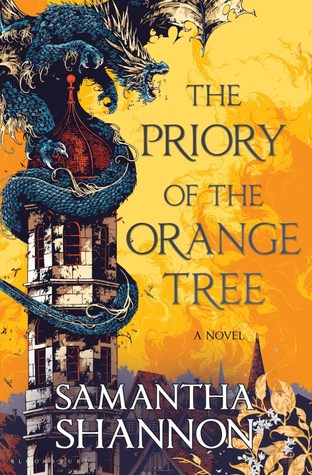 A world divided.
A queendom without an heir.
An ancient enemy awakens.
The House of Berethnet has ruled Inys for a thousand years. Still unwed, Queen Sabran the Ninth must conceive a daughter to protect her realm from destruction—but assassins are getting closer to her door.
Ead Duryan is an outsider at court. Though she has risen to the position of lady-in-waiting, she is loyal to a hidden society of mages. Ead keeps a watchful eye on Sabran, secretly protecting her with forbidden magic.
Across the dark sea, Tané has trained all her life to be a dragonrider, but is forced to make a choice that could see her life unravel.
Meanwhile, the divided East and West refuse to parley, and forces of chaos are rising from their sleep.
Release Date: February 26th, 2019
I have heard great things about Samantha Shannon's novels, and I hope to read The Bone Season in 2019 as well.  I have been seeing The Priory of the Orange Tree absolutely everywhere and everyone is loving it! There is something about this book that calls to me and I have high hopes for it.
That is it! I would love to know if any of these are on your list! Are there any books that I missed that you are excited for? Let me know!