Five Feet Apart by Rachael Lippincott, Mikki Daughtry, & Tobias Iaconis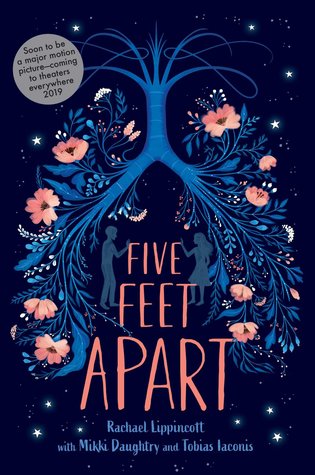 Can you love someone you can never touch?
Stella Grant likes to be in control—even though her totally out of control lungs have sent her in and out of the hospital most of her life. At this point, what Stella needs to control most is keeping herself away from anyone or anything that might pass along an infection and jeopardize the possibility of a lung transplant. Six feet apart. No exceptions.
The only thing Will Newman wants to be in control of is getting out of this hospital. He couldn't care less about his treatments, or a fancy new clinical drug trial. Soon, he'll turn eighteen and then he'll be able to unplug all these machines and actually go see the world, not just its hospitals.
Will's exactly what Stella needs to stay away from. If he so much as breathes on Stella she could lose her spot on the transplant list. Either one of them could die. The only way to stay alive is to stay apart. But suddenly six feet doesn't feel like safety. It feels like punishment.
What if they could steal back just a little bit of the space their broken lungs have stolen from them? Would five feet apart really be so dangerous if it stops their hearts from breaking too?
Five Feet Apart is unique in that it is actually a book that has been adapted from the script of the movie by the same name, which is coming out in next year. The movie stars Cole Sprouse and Haley Lu Richardson, and here is the trailer:
I am always weary about novels focusing on sick characters, but, when Simon and Schuster Canada sent me an egalley, I was intrigued! Five Feet Apart had the potential to have too many tropes (sicklit, brooding love interest, insta-love) to turn me off, but it all came together and worked for me.
The strongest part of this novel is the characters. I instantly felt a connection to each and everyone of them, which made reading about their struggles with CF that much more difficult to read about. The relationship did feel a bit rushed, but, under the circumstances, it felt realistic. I really adored all of the side characters, who each had their own personalities and added to the charm of the story.
I also really appreciated that social
I have seen some reviews saying that this is a The Fault in Our Stars wannabee, and I have to say that I disagree. I think it is natural to compare the two because they both deal with sick teenagers who fall in love, but that is where the similarities end in my opinion. Five Feet Apart follows two teenagers with CF who can not come within six feet of each other, which is difficult to do when you are falling in love. I thought it was powerful, moving, and heartbreaking.
"Human touch, we need that touch from the one we love almost as much as we need air to breathe. I never understood that until I couldn't have it. This is my life with cystic fibrosis."
"I'm tired of living without really living."
"I hope my life wasn't for nothing,"
I would recommend Five Feet Apart, but be prepared and have a box of tissues at the ready. This is a book that you will not be able to put down, and will be sad when it ends. I love when I feel such a connection to characters in a novel!
Thank you to Simon and Schuster Canada for sending me an eARC in exchange for an honest review.