# of Books Read: 8
# of Pages Read: 
Favourite Book(s) of the Month: The Tattooist of Auschwitz
You by Caroline Kepnes
If you want to read this book I HIGHLY suggest you listen to the audiobook! The narrator completely embodies this twisted character and it messes with your mind.  This is one of the creepiest books that I have ever read and I was absolutely riveted. I need to watch the TV series ASAP!
Transcription by Kate Atkinson
This was my first Kate Atkinson novel and I completely understand why people speak so highly of her writing.  This woman knows how to write a character! I still find it hard to believe that Juliet Armstrong isn't a real person.  I appreciated that this is a different perspective on WWII.  It can be slow at times but the character development was incredible.
The Tattooist of Auschwitz by Heather Morris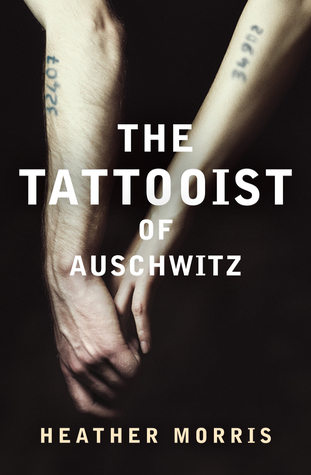 READ THIS BOOK! It has been a long time since a book has made me this emotional.  It has reminded me why I love WWII fiction so much.  This book was devastating but it still had moments of hope.  It is one of my favourite love stories and it is made even better because it is based on a true story.
Small Spaces by Katherine Arden
This book has showed me that I need to read more middle grade! Please give me your recommendations in the comments.  This book was beautifully written, original, and really spooky! I now have a fear of scarecrows…
We Have Always Lived in the Castle by Shirley Jackson
I finally read Shirley Jackson and I really enjoyed it! It is very atmospheric and gave me goosebumps.  You never truly know what is going on and I still have a lot of questions.  I love when books can pull that off!
Sawkill Girls by Claire Legrand
This book was dark and truly gave me nightmares! I really appreciated that this book features a cast of diverse strong women who realize that they have to work together.  There were a few things I didn't quite get and took me out of the story, but overall I am happy I read it and would recommend it.
The Grownup by Gillian Flynn
I do not know what it is about Gillian Fynn but I always end up giving her books average ratings.  The Grownups is very short and I thought it was interesting but there was nothing special about it.
The Humans by Matt Haig
This book was really great! There were times I thought it was a bit heavy handed with its message but I was still charmed by it.  I love the idea of an alien inhabited a human body and learning to appreciate what it means to be human.  It was interesting to see the world though the eyes of the main character.  If you are looking for something charming and a little bit different I would suggest picking up The Humans.
I always plan to read spooky books in October but I never actually follow through with it.  I am happy that I managed to read a few creepy books this year! It was a great way to get in to the Halloween spirit! I did start to feel a slump coming on near the end of the month, but that always happens to me this time of year because things start to get really busy and I am distracted.  I hope I still get some reading done in November!
What was the best book that you read in October?