I look forward to fall every year! I love the curling up with a good book and a warm drink.  I really am a seasonal reader.  This time of year I tend to enjoy books that are atmospheric, Gothic, and have a paranormal, historical, or mystery element.  These are just a few of the books that I have read in the last few years that I think would be perfect to read this Fall!
Rules of Magic by Alice Hoffman
The Rules of Magic is my favourite book involving witches.  There is something very magical about this novel but it is still grounded in reality.  This is very much a character-driven novel, and is focused on sibling relationships.  The setting and the magical realism makes it a perfect Fall read.  It is one I am hoping to reread myself!
And Then There Were None by Agatha Christie
Any Agatha Christie novel would be perfect for Fall! Her novels are so mysterious and atmospheric. They are very much whodunits which I tend to gravitate towards this time of year. And Then There None is my favourite of her novels that I have read so far, but they are all great.  She has the best endings! I never see them coming!
Six of Crows by Leigh Bardugo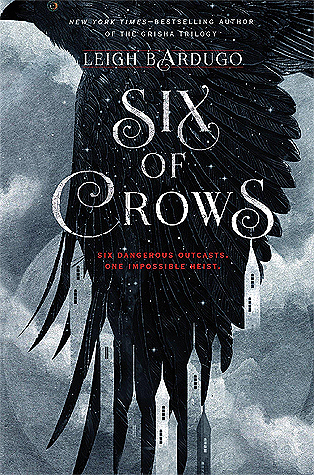 There is something about the setting and themes of Six of Crow that makes it a great Fall read.  The story itself is pretty dark, as are the characters. I also think that there is something about fantasy novels that make them perfect for these chilly months.
I'll Be Gone in the Dark by Michelle McNamara
Any true crime books make for great Fall reads.  This time of year I love books that are page-turners but are also leave you feeling a little bit scared of the dark.  I have not read a lot of true crime, but it is a genre that I am really getting in to.  I'll Be Gone in the Dark is my favourite so far, it is so well-researched and downright creepy!
Stalking Jack the Ripper
This recommendation is probably obvious! It is a book about Jack the Ripper so of course it is a Fall read.  It is very dark, mysteries, and gory.  There is also a great romance, but it is not at the center of the story.  I can not wait to continue with the rest of the series.
The Essex Serpent by Sarah Perry
I have never read a book that is quite like The Essex Serpent.  It is so Gothic and incredibly atmospheric that it almost feels heavy.  I can not even put in to words how this book made me feel but it is the perfect feeling to experience during the Fall. Sarah Perry's writing is so descriptive, and I can not wait for her new book, Melmoth.
The Thirteenth Tale by Diane Setterfield
I think that books about books are great to read in the Fall.  It is also historical, Gothic, and has an element of mystery.  The is pretty much everything that I look for in a book.  I would actually love to reread this one soon!  Diane Setterfield has a new book coming out next year called Once Upon a River and it already has amazing reviews.  I cant wait!
The Blood of Eden Series
This is my favourite paranormal series and I talk about it so often on my blog! It is about vampires so I don't think I even have to explain why it instantly makes me think of Fall.
A Great and Terrible Beauty by Libba Bray
This book takes place in a boarding school, and it is both historical and fantasy.  It is another one that is described as Gothic.  There is a great atmosphere and setting to this book and very memorable characters.  It has been years since I have read it but it feels like it was yesterday.  I also think that The Diviners by Libba Bray would be a great book to read now!
These are just a few of my Fall recommendations! I would love to know what type of books that you enjoying reading this time of year, or if you are even a seasonal reader.