# of Books Read: 16
# of Pages Read: 5,862
Favourite Book(s) of the Month: The Invention of Nature, A Long Way to a Small Angry Planet, My Lady Jane, and Born a Crime
A Little Life by Hanya Yanagihara
I do not think I have ever had such mixed opinions about a book. There was so much that I loved about it, especially the characters and the writing, but I had a few problems with it as well. There were some things that I found unrealistic and stopped me from completely connecting to the story. These four friends all becomes extremely famous/successful in their fields which I was a bit ridiculous. I also thought it was too long and could have been seriously edited down. There was also a lot that I thought was realistic, like the friendships and how we can become enablers even though we have the best intentions. There is so much that I could say about this one but that is for another time!
When Breathe Becomes Air by Paul Kalanithi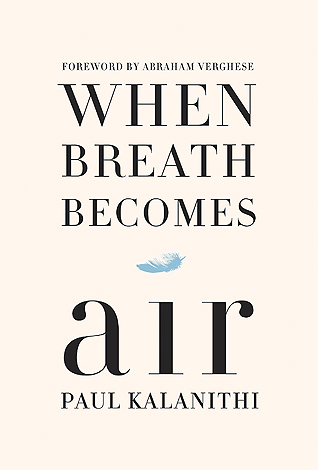 I am so glad that I finally read When Breathe Becomes Air. Paul Kalanithi was an excellent doctor but also an incredible writer. I was moved by his story and it saddens me that we will never be able to read the great novels that I know he would have written. The epilogue made me a blubbery mess and just thinking about it now brings tears to my eyes.
Boy Erased by Garrard Conley
As more time has passed since I read this book, I have come to appreciate even more. I appreciate the fact that Garrard Conley had the courage to share his story and shine a light on a practice that I can not believe is still going on. He is also a really talented writer so I am looking forward to reading whatever he publishes in the future. I can not wait to see this movie, and I will be sure to bring tissues with me!
One True Loves by Taylor Jenkins Reid
I hate to say this because of how much I love The Seven Husbands of Evelyn Hugo, but I was disappointed by this book. I had a hard time connecting to the main character and I could not wrap my head around a lot of the decisions that she made. This is another case where the love triangle just did not work from me. She makes one love interest seem perfect, and the other one is a bit of a jerk so it is obvious who the author wants the readers to be rooting for. I also didn't think that the issue that they are dealing with could have been resolved over the course of a weekend. The writing is compelling though and I will try another Taylor Jenkins Reid novel!
The Invention of Nature: Alexander Von Humbolt's New World by Andrea Wulf
I went in to this book not expecting much because I have never heard of Alexander Von Humboldt and this is definitely outside of my comfort zone. I ended up absolutely loving this book! One of my favourites of the year, and one of the best non-fiction novels that I have ever read. The writing is excellent and Andrea Wulf put so much research in to this book. Even though it was evident that it was well-researched, it was never dull! I also just adore Alexander Von Humdoldt and his forward thinking.
A Long Way to a Small Angry Planet by Becky Chambers
I am always nervous when a book is so hyped, but I can confidently say that The Long Way to a Small Angry Planet deserves all of the love that it gets. The world that Becky Chambers creates is so unique and diverse, and I love that she created different cultures and behaviours for each of the different species of beings. I was not expecting this book to be as charming as it was, and the relationship between the characters was the highlight for me. There is also a great sense of humour, and a lot of moments that left me in tears. I can not wait to continue on with the series!
The Kiss Quotient by Helen Hoang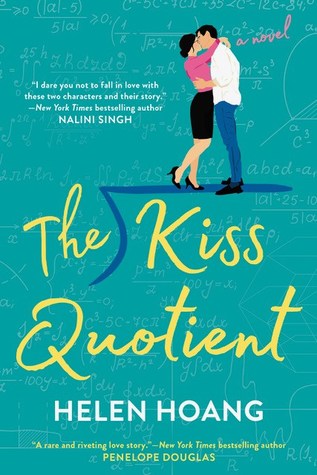 This book was so adorable!! I loved the two main characters and it was a joy to read their love story develop. I so appreciated that neither of the characters were cookie cutter, and they each had their own quirks and charms. There were definitely moments where I had second-hand embarrassment, but that was the whole point. I found myself tearing up near the end just because I was so happy!
Little Fires Everywhere by Celeste Ng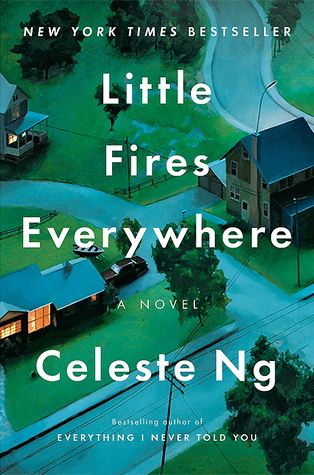 Sadly, I was let down by Little Fires Everywhere! I have come to the realization that I just do not connect with Celeste Ng's characters despite the fact that she is a talented writer. I wish that her characters had more depth! I really enjoy the part where we learned some of the backstory of one of the characters, Mia, and I wish we had gotten more of that. Mia ended up being the only character that I liked and I think that is because I knew more of her story and therefore, understood her motivations. I never understood why the other characters were acting the way that they were. I thought some of their actions were too extreme and unrealistic!
Scythe by Neal Shusterman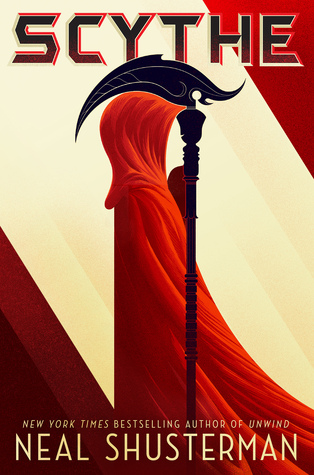 I absolutely loved Scythe! I have heard so many amazing things about it for years but never got around to actually reading it until now. If this book is on your TBR please read it now! The world-building was incredible and completely believable. I can see a time where this could actually happen! I had no idea that this book would make me so emotional. I also really enjoyed that we got the perspective of not only the two main characters, but we also were given journals entries from other Scythes present in the story. One of my favourite parts of the story was actually the villain. I actually could understand his motivations, which is not something I find in a lot of books! That ending though!! I am looking forward to reading the rest of the series!
The Storied Life of A.J. Fikry by Gabrielle Zevin
I have been saying that The Storied Life of A.J. Fikry is a love letter to book lovers and I stand by that! There are so many bookish references and it is set in a bookstore so it made my book-loving heart feel so warm! This is a book that was very bittersweet, but ultimately I was very much charmed by it. My only complaint is that I did not think that the six year old spoke or acted like a six year old, and that pulled me out of the story a little bit. The cast of characters in this story are so unique and each had their own voice. If you loved A Man Called Ove than you need to read this one!
The Clothing of Books
by

Jhumpa Lahiri
I do not have a lot to say about this because it is such a short essay! The author talks about the importance of book design, and she makes a lot of great points that I had never considered before. I think it is definitely worth the read if book design is something you are at all interested in.
My Lady Jane by Cynthia Hand, Brodi Ashton, and Jodi Meadows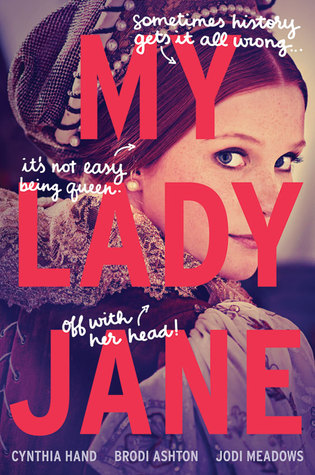 Reading My Lady Jane was one of the most fun experiences I have ever had while reading a book. I actually listened to the audiobook and it was incredible! Katherine Kellgren was the narrator and she made the book for me. She was perfectly sarcastic when she needed to be and perfectly nailed the sense of humour. I was so sad to hear that she passed away earlier this year. If you are looking for a book that is just plain fun, and you are okay with a book that completely derails from actual historical facts, than I think you will love My Lady Jane.
Ghosts of the Tsunami: Death and Life in Japan's Disaster Zone
by

Richard Lloyd Parry
Wow this book was so heartbreaking! The author interviews those affected by the Tsunami that occurred in March, 2011. His focuses on what went wrong during the evacuation of an elementary school where only 4 of the seventy-eight students that were there that day survived. Richard LLoyd Parry speaks to parents who lost their children that day and how devastating it has been for them and their families. There were mistake made at the school that day and these parents are determined to find out what happened during the last moments of the children's lives. My heart ached the entire time I was reading this book, but I was also moved by their resilience.
The Poppy War by R.F. Kuang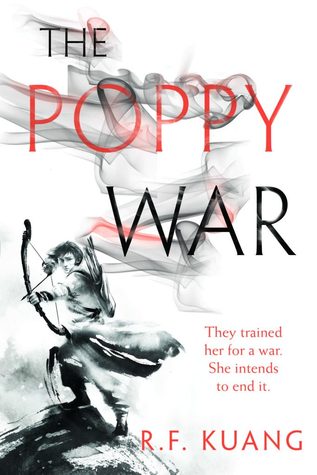 It is rare for me to read high fantasy, but there was something about The Poppy War that was calling me. I am so glad that I decided to pick it up because it was epic! What I really appreciated about this book was the fact that even though there was a lot of action, there was also a lot of character development. I was so invested in these characters so there were many moments where my heart was racing because I was so nervous for them! The world-building was beyond fantastic, as was the writing. I loved that there was no romance and it was more about the character forming friendships for the first time. This is a book about war, so there are moments where it is very graphic. I hope the wait isn't too long for the next book!
Born a Crime by Trevor Noah
Born a Crime was fantastic! Trevor Noah talks about a lot of series topics like the apartheid, domestic abuse, race, etc but he also manages to make the book humourous and warm. This is a memoir that I will think about often and will probably reread in the future. I really enjoyed hearing about his relationship with his mother. He also has an interesting thoughts on what it is like to be an outsider. If you do not read a lot of memoirs, I think Born a Crime is a great way to fall in the love with the genre.
The Hitchhiker's Guide to the Galaxy by Douglas Adams
I am happy that I have finally read this cult classic because I will now understand the many references that are often made about it. I finally understand what a babel fish is and the why so many people have the number 42 tattooed on themselves, and that feels great! I have some mixed feelings because while I thought there were some funny moments, I just don't think this book is my sense of humour. I listened to the audiobook narrated by Stephen Fry and he was absolutely fantastic.
This has been a really interesting reading month for me. I have found some new favourites, but there were also more disappointing books than usual! I am still happy that I read all of these books because many of them have been on my TBR for quite awhile now!
What was the best book that you read in August?