Happy Canada Day to all my fellow Canadians! I hope the weather is amazing where you are and that you can spend the day celebrating our beautiful country! Last year I wrote a post similar to this one talking about my favourite books written by Canadians. I have read a few great books written by Canadians since then that I just had to do this again! Putting this list together has made me realize I need to read more books by Canadians so I would love your suggestions. I am also going to share a few of the books written by Canadians that are on my TBR!
Books I Read and Loved
The Lonely Hearts Hotel by Heather O'Neill
The Lonely Hearts Hotel was the best book that I read last year! The writing is spectacular, the characters are memorable, and Montreal is the perfect backdrop to this the story of Pierrot and Rose. I have raved about it so many times now that I will spare you! You can find my review here. Just know that it is one of the most atmospheric novels that I have ever read.
The Boat People by Sharon Bala
The Boat People was an eye opening book for me, and it was intriguing to read about the experience of refugees from three different perspectives. I was not expecting to learn so much and I was ignorant to all the politics that goes on behind the scenes. The Boat People had the potential to be very dry and even dull but it wasn't! The writing is excellent and I also enjoyed the characters. I highly recommend this one and here is a link to my review if you want to know more!
Heart Berries: A Memoir by Terese Marie Mailhot
Terese Marie Mailhot is a First Nations Canadian and Heart Berries is her memoir. She is such a strong woman and this is one of the bravest memoirs that I have ever read. She has such a unique writing style that almost reads like a stream of consciousness which takes awhile to get used to, but once you do you realize how raw and honest the author itsbeing. It feel like she has bared her soul on to the page. Here is my review if you want to read more of my thoughts!
Chasing the Wind by C.C. Humphreys
I finished Chasing the Wind last week and it was just plain fun and entertaining! There was so much action and it was great to read about a badass female pilot right before WWII. If you are looking to get in to historical fiction, I think Chasing the Wind is a good place to start. It is not too heavy or dragged down with too many details, but there are still a lot of great historical references. If you are a fan of heist, than you need to pick this one up!
Books on My TBR
Saints and Misfits by S.K. Ali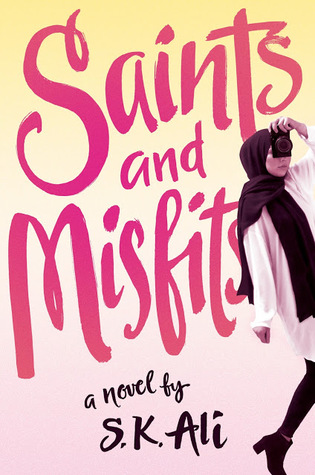 There are three kinds of people in my world:

1. Saints, those special people moving the world forward. Sometimes you glaze over them. Or, at least, I do. They're in your face so much, you can't see them, like how you can't see your nose.

2. Misfits, people who don't belong. Like me—the way I don't fit into Dad's brand-new family or in the leftover one composed of Mom and my older brother, Mama's-Boy-Muhammad.

Also, there's Jeremy and me. Misfits. Because although, alliteratively speaking, Janna and Jeremy sound good together, we don't go together. Same planet, different worlds.

But sometimes worlds collide and beautiful things happen, right?

3. Monsters. Well, monsters wearing saint masks, like in Flannery O'Connor's stories.

Like the monster at my mosque.

People think he's holy, untouchable, but nobody has seen under the mask.

Except me.
The Amateurs by Liz Harmer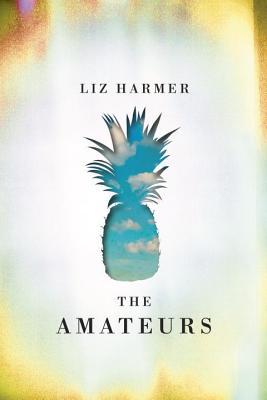 PINA, the largest tech company in the world, introduces a product called port. These ports offer space-time travel powered by nostalgia and desire. Want to go back to when your relationship was blossoming? To when your kids were small, or when your parents met? To Elizabethan England? To 1990s Seattle? Easy. Step inside the port with a destination in mind, and you will be transported. But there is a catch: it's possible that you cannot come back. And the ports are incredibly seductive, drawing in those with weaker wills…
Nearly everyone buys the ports, and soon, nearly everyone is gone. Those who are left attempt to sort out how to survive in this world nearly devoid of humans. Animals are increasing in numbers, roads are degrading, the Internet is down, and gasoline is running out. The survivors are also left with numerous unguarded ports, which are as mysterious as they are threatening.
In this world we follow a motley crew camped out in the abandoned mansions and stately church of a former steel-town that has seen its own share of collapse and growth. The group of about thirty adults and children are looting and surviving on what food they can find. But the harsh winter is fast approaching–do they make the choice to head south as a group, or wait to see if their loved ones will return through the ports?
The Handmaid's Tale by Margaret Atwood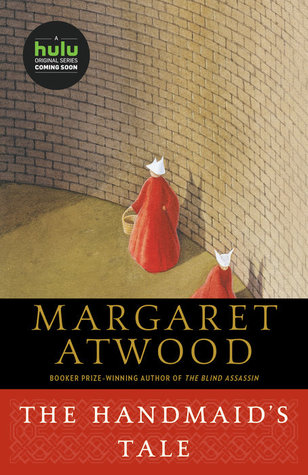 Offred is a Handmaid in the Republic of Gilead. She may leave the home of the Commander and his wife once a day to walk to food markets whose signs are now pictures instead of words because women are no longer allowed to read. She must lie on her back once a month and pray that the Commander makes her pregnant, because in an age of declining births, Offred and the other Handmaids are valued only if their ovaries are viable. Offred can remember the years before, when she lived and made love with her husband, Luke; when she played with and protected her daughter; when she had a job, money of her own, and access to knowledge. But all of that is gone now…
Vi by Kim Thuy
The youngest of four children and the only girl, Vi was given a name that meant "precious, tiny one," destined to be cosseted and protected, the family's little treasure.
Daughter of an enterprising mother and a wealthy and spoiled father who never had to grow up, the Vietnam war tears their family asunder. While Vi and many of her family members escape, her father stays behind, and her family must fend for themselves in Canada.
While her mother and brothers put down roots, life has different plans for Vi. As a young woman, she finds the world opening up to her. Taken under the wing of Ha, a worldly family friend and diplomat lover, Vi tests personal boundaries and crosses international ones, letting the winds of life buffet her. From Saigon to Montreal, from Suzhou to Boston to the fall of the Berlin Wall, she is witness to the immensity of the world, the intricate fabric of humanity, the complexity of love, the infinite possibilities before her. Ever the quiet observer, somehow she must find a way to finally take her place in the world.
An Ocean of Minutes by Thea Lim
America is in the grip of a deadly flu. When Frank gets sick, his girlfriend Polly will do whatever it takes to save him. She agrees to a radical plan—time travel has been invented in the future to thwart the virus. If she signs up for a one-way-trip into the future to work as a bonded labourer, the company will pay for the life-saving treatment Frank needs. Polly promises to meet Frank again in Galveston, Texas, where she will arrive in twelve years.

But when Polly is re-routed an extra five years into the future, Frank is nowhere to be found. Alone in a changed and divided America, with no status and no money, Polly must navigate a new life and find a way to locate Frank, to discover if he is alive, and if their love has endured.
I am so proud and blessed to be a Canadian and I want to get better at supporting Canadian authors! What is your favourite book written by a Canadian?