The Beauty That Remains by Ashley Woodfolk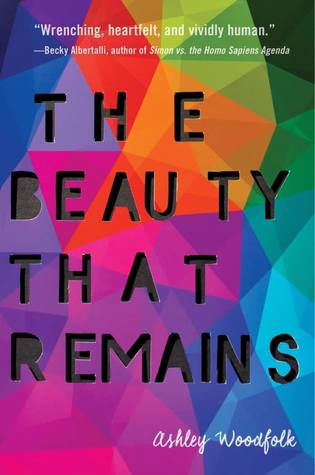 Goodreads Summary– Music brought Autumn, Shay, and Logan together. Death wants to tear them apart.
Autumn always knew exactly who she was—a talented artist and a loyal friend. Shay was defined by two things: her bond with her twin sister, Sasha, and her love of music. And Logan always turned to writing love songs when his love life was a little less than perfect.
But when tragedy strikes each of them, somehow music is no longer enough. Now Logan can't stop watching vlogs of his dead ex-boyfriend. Shay is a music blogger struggling to keep it together. And Autumn sends messages that she knows can never be answered.
Despite the odds, one band's music will reunite them and prove that after grief, beauty thrives in the people left behind.
The Writing
Ashley Woodfolk has written a beautiful debut novel. Her writing is very simple and completely readable, yet memorable. She did a wonderful job of giving each of the characters a unique voice. I really appreciated that there was mixed media like emails and blog posts throughout the story. I am so excited to see what she writes in the future. I wanted to share one quote that really stood out to me:
"Everything is different without you here. Especially me. But I'm starting to think that maybe that's okay."
The Characters
It is rare that I am invested in each of the characters equally, but that is the case for this book! They are each going through their own grief and it was refreshing to see that they each handled it in different ways. They felt like real people, and I was deeply attached to them and rooting for them. There was also a lot of diversity which was nice to see.
The Story
I love that the story has a focus on the healing power of music. I think a lot of people can relate to turning to music in times of sadness and grief. The characters are all connected through not only their loss, but their love of music. The Beauty That Remains is a story that is going to stay with me for years to come. It has become an all time favourite YA contemporary novel, right up there with I'll Give You the Sun!
Simon vs. The Homo Sapien's Agenda by Becky Albertalli
Goodreads Summary– Sixteen-year-old and not-so-openly gay Simon Spier prefers to save his drama for the school musical. But when an email falls into the wrong hands, his secret is at risk of being thrust into the spotlight. Now Simon is actually being blackmailed: if he doesn't play wingman for class clown Martin, his sexual identity will become everyone's business. Worse, the privacy of Blue, the pen name of the boy he's been emailing, will be compromised.
With some messy dynamics emerging in his once tight-knit group of friends, and his email correspondence with Blue growing more flirtatious every day, Simon's junior year has suddenly gotten all kinds of complicated. Now, change-averse Simon has to find a way to step out of his comfort zone before he's pushed out—without alienating his friends, compromising himself, or fumbling a shot at happiness with the most confusing, adorable guy he's never met.
The Writing
I need to read everything that Becky Albertalli writes! I love that this story had a sense of humour. I was not expecting to laugh out loud! She has a great way of making me cry one minute, and have me laughing the next. This is another story that uses mixed media in a really effective way. The emails between Simon and Blue might have been my favourite part of the story. They were so charming and it was fun to see the relationship develop over time.
The Characters
These characters are what made the story! I adored every single one! Simon is quirky and sweet and it was amazing to see his story unfold. His friends were also incredible and I am looking forward to reading more about them in her other books. I was not expecting to fall in love with Simon's parents but I did. It was refreshing to see supportive but also flawed parents in a YA novel.
The Story
The story is charming and sweet and gave me all of the feels. I have a smile on my face right now just thinking about it! I also enjoyed the mystery element of trying to figure out who Blue was. The ending was really satisfying as well!
The Female of the Species by Mindy McGinnis
Goodreads Summary– A contemporary YA novel that examines rape culture through alternating perspectives.
Alex Craft knows how to kill someone. And she doesn't feel bad about it.
Three years ago, when her older sister, Anna, was murdered and the killer walked free, Alex uncaged the language she knows best—the language of violence. While her own crime goes unpunished, Alex knows she can't be trusted among other people. Not with Jack, the star athlete who wants to really know her but still feels guilty over the role he played the night Anna's body was discovered. And not with Peekay, the preacher's kid with a defiant streak who befriends Alex while they volunteer at an animal shelter. Not anyone.
As their senior year unfolds, Alex's darker nature breaks out, setting these three teens on a collision course that will change their lives forever.
The Writing
Mindy McGinnis' writing is perfect for this kind of dark and intense story. Her writing style is raw and gripping. I wrote down a number of quotes and insights from this book but there is one that stands out to me:
"You can love someone down to their core and they can love you right back just as hard, and if you traded diaries you'd learn things you never suspected. There's a part of everyone deep down inside of them not meant for you. And the sooner you learn that, the easier your life is gonna be."
The Characters
These characters are flawed and unpredictable, but they remain likeable, which I think is a credit to McGinnis' writing and storytelling. I appreciated how complex and human all of the characters are. One of my favourite parts of the book was watching Alex and Peekay's friendship develop. Alex does not trust easily and it was amazing to read about her slowly opening up. I was not a huge fan of Alex and Jack's relationship. It felt unnatural to me. I do not believe that Alex would jump in to a serious relationship as quickly as she did.
The Story
This story is incredibly hard to read. There are trigger warnings for murder, rape, child pornography, animal cruelty, substance abuse. I think McGinnis' handled these topics in a realistic and insightful way but even so, I know that this will not be a story for everyone. People are put in situations like this every single day and it is important that we shine a light on them. I loved the fact that the main character, Alex, did not brush what happened to her sister under the rug and does not let people get away with something that she feels is inappropriate.
I have not read a lot of YA books this year but I have been very happy with the books that I have read. The Beauty That Remains, Simon vs. the Homo Sapien's Agenda, and The Female of the Species are three of the best YA contemporary books that I have ever read.