WWW Wednesday is hosted by Sam @ Taking on a World of Words! All you have to do is answers the following three questions:
What are you currently reading?
What did you recently finish reading?
What do you think you'll read next?
Currently Reading-
Wild Beauty by Anna-Marie McLemore– I know that last week I said I planned to read Britt-Marie Was Here but something exciting happened! I was sent my first physical arcs from Raincoast Books! They sent me my most anticipated book of the year- Wild Beauty! They also sent me a couple other books I am excited about, so while I still plan to read Britt-Marie this month, I am making my arcs a priority. Look how beautiful this cover is! I have also read so many great reviews!
Recently Finished-
Stalking Jack the Ripper by Kerri Maniscalco– This book was soooo good! I was not expecting to love this book as much as I do. I even included Thomas as one of my book boyfriends in my Top Ten Tuesday post yesterday! I will be picking up the sequel, Hunting Prince Dracula, asap! Perfect books for this time of year.
Everything I Never Told You by Celeste Ng– I don't know what I expected when I picked up this book, but I definitely wasn't expecting it to be so heartbreaking and dark. I had this heavy feeling in my chest the whole time I was reading it. I am having a hard time sorting out my feelings about this book. It has definitely messed with me a little bit. I am hoping to write a full review soon, and hopefully I can put my feelings in to words!
Reading Next-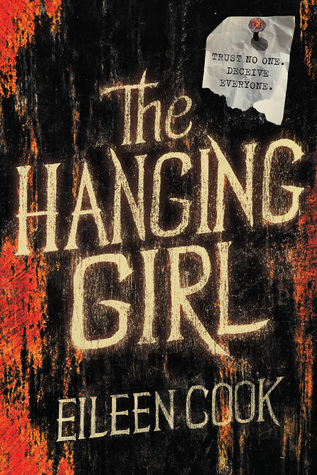 The Hanging Girl by Eileen Cook– This is another arc that Raincoast Books sent to me- and it is signed! I have heard a lot of great things about her other book, With Malice, so I am really excited to read this one. Seems like it is going to be a great read for fall!
Have you read any of these books? What did you think? I would love to know what you are currently reading!