Happy spring everyone! I am so ready for warmer weather and to be able to read outside. I have already started some spring cleaning, so I knew this was the perfect tag for me.
1. The struggle of getting started: a book/book series that you have struggled to begin because of its size.
The Sleep in a Sea of Stars is 873 pages! I have the audiobook, which is over 32 hours long. That is such a huge commitment! I am intrigued by the premise, so it is one I would like to get to eventually. It is just a matter of when I will make time for it!
2. Cleaning out the closet: a book and/or book series you want to unhaul.
I have already unhauled all of my Rainbow Rowell books- they are just not for me!
3. Opening windows and letting fresh air in: a book that was refreshing.
I think what was so refreshing about Honey Girl was that at its heart it is a coming of age story, but our main character, Grace, is 29 years old. I think it is so normal to not know what makes you happy at that age, or at any age, and it was nice to read a book that focused on that journey. The writing was also really beautiful and I just want everyone to read it!
4. Washing out sheet stains: a book you wish you could rewrite a certain scene in.
The twist in The Wives really bothered me. There was so much potential with this story and the author could have gone is a hundred different directions, but the twist felt like a copout to me.
5. Throwing out unnecessary knick-knacks: a book in a series that you didn't feel was necessary.
Don't get me wrong, I love this series; however, I do feel like P.S. I Still Love You fell prey to middle book syndrome!
6. Polishing the doorknobs: a book that had a clean finish.
I think that a lot of standalones that I read have what I would consider a clean finish, but The House in the Cerulean Sea was the first that came to mind! We need for standalone fantasies!
7. Reaching to dust the fan: a book that tried too hard to relay a certain message.
I have always felt that The Catcher in the Rye was so heavy-handed with its messaging to the point that it was annoying! That said, I haven't read it since high school, so you never know if I would change my mind upon a reread.
8. The tiring yet satisfying finish of spring cleaning: a book series that was tiring yet satisfying to get through.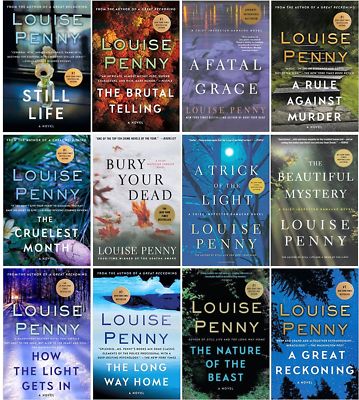 I am cheating on this one because I am so terrible at finishing series! Most of the series are read are actually trilogies and I haven't found them tiring. So instead, I am talking about a series that I have started and would be thrilled if I was able to catch up on, and that is The Inspector Gamache series by Louise Penny. There are so many books in the series and it seems never-ending, but I am determine to read it!
YouTube | Instagram | Twitter | Goodreads