There is nothing I love more than recommending books- I mean, isn't that what this entire blog is about?! So, when I saw that Ellyn @ allonsythornraxx created this tag I was thrilled. I will take any excuse I can to recommend as many books to you as possible.
Thank the person who nominated you
Answer all the questions down below
Pingback to the creator: Ellyn @ Allonsythornraxx
Nominate 5+ bloggers to do this tag
A Book From One of Your Favourite Genres
The History of Bees by Maja Lunde
My favourite genres these days are probably historical fiction and SciFi. So, I decided to recommend a novel that is the perfect combination of both genres! The History of Bees is told in three timelines- one in the past, one in the present, and one in the future. The historical elements are extremely interesting as we learn about the importance of bees and what they need to thrive. The future timeline is where things get frightening- it is a world without bees and the effect that their extinction has on the world. It is a sobering thought as it could be our future.
A Short Book
The Test by Sylvain Neuvel
I was thrilled to see that The Test was nominated for Best Science Fiction in the Goodreads Choice Awards. I was torn between voting for it or Recursion by Blake Crouch, but The Test won my vote in the end. It is such a powerful story for a book that is only 108 pages. It took a turn I was not expecting and really made me think. Sylvain Neuvel is one of my favourite authors and this little book perfectly demonstrates why.
A Book-to-Screen Adaptation
Crazy Rich Asians by Kevin Kwan
Crazy Rich Asians is probably my favourite book-to-screen adaptation in recent years. This is one of those rare cases where I think the movie is actually better than the book. Don't get me wrong, I enjoyed the book- it was fun, vibrant, and appealed to my love of good gossip. The movie just managed to take it up a notch!
A Book Out of Your Comfort Zone
Beyond the Point by Claire Gibson
Historical fiction is very much in my comfort zone, but everything about Beyond the Point makes it the kind of book that I would never pick up on my own. I have a buddy read on Bookstagram to thank for putting this book into my hands! It is very rare that I am drawn to historical fiction set in the early 2000s- I guess I can just not wrap my head around the fact that that time period is now consider historical! Also, military fiction is not my thing. So, I was complete caught off guard by how much I connected to this story and how much I learned from it. One of the best and most realistic looks at female friendships!
A Book Series
The Kiss Quotient by Helen Hoang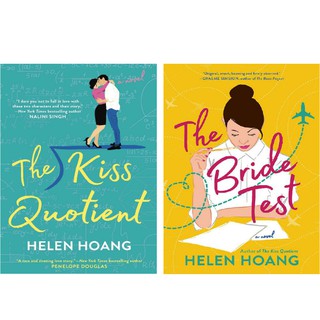 I have said it many times before, but I am terrible at completely series. However, give me a romance series and I will devour every single book! I think I like them because I know I will not be left with a cliffhanger. There are quite a few romance series I adore, but none quite like The Kiss Quotient. There are only two books out at the moment but both are so strong and swoon-worthy. I love that, although they can standalone, there are connections between all of the books.
A Standalone
The Book Woman of Troublesome Creek by Kim Michele Richardson
How do you even begin to choose one standalone? I love so many! I decided to pick The Book Woman of Troublesome Creek because it is one of my favourite books of the year and I do not talk about it as much as it deserves. It is one of those books that I would feel comfortable recommending to everyone. It is a charming, yet heartbreaking, story that is based on real events and a real family.
A Book You Don't Talk About Enough
The Painted Girls by Cathy Marie Buchanan
I read The Painted Girls years ago and it is a book that has stayed with me. I do not know why it does not come up more often on my blog! It is set in Paris in the last 1800s- an era that is fascinating to me, especially in terms on the treatment of women. I thought that The Painted Girls was one of the best looks at sisterhood that I have ever read. It also highlights the different paths that we can take in life.
Your "Staple" Book
Never Let Me Go by Kazuo Ishiguro
I have quite a few books that I would consider "staples", but I think the one I have recommended the most and that people would associate with me is Never Let Me Go. There was something about it that has left a lasting impression on me and I want everyone in my life to experience it.
Book(s) That Got You Into Reading
The Outsiders by SE Hinton & The Sisterhood of the Travelling Pants by Ann Brashares
I read both these books around the same age, and they each taught me something very different about books and reading. The Outsiders taught me that books could break your heart, and The Sisterhood of the Travelling Pants showed me what is what like to see yourself reflected in a book. Both of those things worked together to spark my love of reading.