I am constantly added books to my TBR and I thought it might be interesting to talk about why I want to read them. I also get a secret joy out of adding more books to your TBRs!
Let Me Hear a Rhyme by Tiffany D. Jackson
Not only is the cover for Let Me Hear a Rhyme AMAZING, but the story inside sounds just a wonderful and impactful. It is about three teens who do everything they can to make their friend who was murdered in to a famous rapper. I really love hard-hitting YA contemporary novels, especially if music is important to the story.
Pride, Prejudice, and Other Flavors by Sonali Dev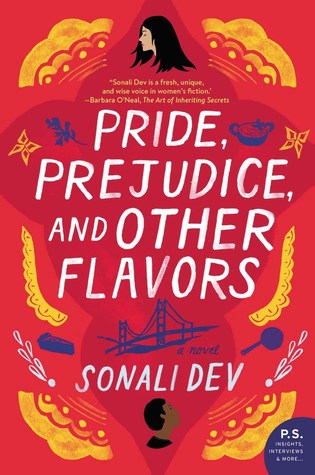 A diverse retelling of Pride and Prejudice? Yes, please! I have seen a lot of glowing reviews for Pride, Prejudice, and Other Flavors and I can not wait to read it. It is exactly the kind of book I am in the mood for right now.
The Right Swipe by Alisha Rai
Can you tell I have been in a contemporary mood lately? The Right Swipe is an adult contemporary romance that sounds really charming and the early reviews for it have been excellent. I can not wait for it to release in July!
I Miss You When I Blink by Mary Laura Philpott
I have really been in to essay collections lately and I have heard great things about I Miss You When I Blink. It is Philpott's memoir about her life after she accomplished all of her goals. Where does she go from here? I am definitely intrigued!
From Scratch: A Memoir of Love, Sicily, and Finding Home
Reese Witherspoon's book club picks can be hit or miss for me but her May book, From Scratch, caught my attention. This quote from the synopses on Goodreads is what really sold me on it:
Her story is about loss, but it's really about love found. Her story is about travel, but it's really about finding a home. It is about food, but it's really about chasing flavor as an act of remembrance.
I actually finished the audiobook this morning and it was beautiful. Many tears shed. Will talk more about it in another post.
The Italian Teacher by Tom Rachman
I know next to nothing about The Italian Teacher but I bought it simply because of the gorgeous cover and the fact that I love books set in Italy. Shallow reasons to buy a book? Sure, but I am intrigued nonetheless!
The Water Dance
I am ashamed to admit that I have yet to read anything by Ta-Nehisi Coates, even though I am desperate to read Between the World and Me. The Water Dancer is his newest book and is set to release in September. Here is a quote from Goodreads:
This is the dramatic story of an atrocity inflicted on generations of women, men, and children—the violent and capricious separation of families—and the war they waged to simply make lives with the people they loved.
I Was Anastasia by Ariel Lawhon
I have seen some mixed reviews for I Was Anastasia but I am still curious about it. I love the idea of a fiction novel based on Anastasia Romanov. It is not something I have read before and I plan to go in to this one an open mind!
What book have you most recently added to your TBR? Have you read any of these books?