I have rediscovered my love for non-fiction in 2018, and I am so excited to be participating in Non-Fiction November! Non Fiction November is a month-long celebration hosted by Kim at Sophisticated Dorkiness, Julie at JulzReads, Sarah at Sarah's Book Shelves, Katie at Doing Dewey, and Rennie at What's Nonfiction.  Each week you will find a discussion on one of there blogs and you will be able to link up your own post to each of those.  There are instagram challenges as well!
I do not normally do TBRs but I thought it would be fun to share a few of the non fiction books I have my eye on.  Obviously I will not read all of these, but they are some the books that I am going to choose from this month! Look out for a lot of non fiction themed posts this month!
Calypso by David Sedaris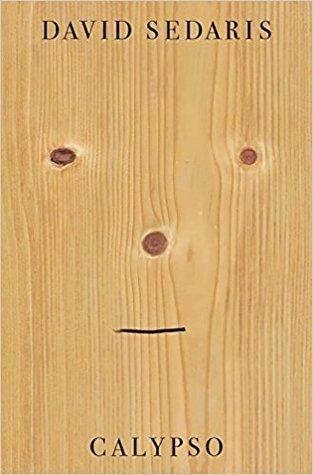 "This is beach reading for people who detest beaches, required reading for those who loathe small talk and love a good tumor joke."
I am currently listening to Calypso on audiobook and it is narrated by David Sedaris.  I am completely enjoying the experience so far! Sedaris is an incredible story teller.  I love the getting little snippets of his life.  This is the first of his books that I have read so I will definitely look in to his other ones.  Any suggestions?
Killers of the Flower Moon: The Osage Murders and the Birth of the FBI by David Grann
"A true-life murder mystery about one of the most monstrous crimes in American history."
I have also started this book already and I am intrigued.  I can not believe that I have never heard about this before! I have really been in to true crime lately and this books has the potential to become a new favourite in the genre.  It is a wild story so far!
Indianapolis: The True Story of the Worst Sea Disaster in U.S. Naval History and the Fifty-Year Fight to Exonerate an Innocent Man by Lynn Vincent and Sara Vladic
"A sweeping saga of survival, sacrifice, justice, and love, Indianapolis stands as both groundbreaking naval history and spellbinding narrative—and brings the ship and her heroic crew back to full, vivid, unforgettable life. It is the definitive account of one of the most remarkable episodes in American history."
How good does that sound?? I have heard some great things about this book and it has amazing reviews on Goodreads.  I read a lot of WWII fiction, but surprisingly not a lot of non-fiction! I would love any recommendations for WWII non-fiction novels!
It Ended Badly: 13 of the Worst Breakups in History by Jennifer Wright
 "It Ended Badly is for anyone who's ever loved and lost and maybe sent one too many ill-considered late-night emails to their ex, reminding us that no matter how badly we've behaved, no one is as bad as Henry VIII."
I read that quote and I knew I had to read it.  I have not heard a lot about this book but I saw that it was about breakups and I instantly added it to my TBR! I am just nosy like that!
The Boys in the Boat: Nine Americans and Their Epic Quest for Gold at the 1936 Berlin Olympics by Daniel James Brown
"The Boys in the Boat is an irresistible story about beating the odds and finding hope in the most desperate of times—the improbable, intimate story of nine working-class boys from the American west who, in the depths of the Great Depression, showed the world what true grit really meant."
I have never had any particular interest in rowing but this book caught my eye.  I love books that remain hopeful in a hopeless situation.  I am realizing there is a lot of historical non-fiction on this list but that is just what I am in the mood for!
The Cooking Gene: A Journey through African-American Culinary History in the Old South by Michael W. Twitty
"As he takes us through his ancestral culinary history, Twitty suggests that healing may come from embracing the discomfort of the Southern past. Along the way, he reveals a truth that is more than skin deep—the power that food has to bring the kin of the enslaved and their former slaveholders to the table, where they can discover the real America together."
I love food and I am intrigued by books that talk about the history of food and how it brings people together. This book sounds very powerful.  I would love any recommendations of non-fiction books with similar themes!
Meg, Jo, Beth, Amy: The Story of Little Women and Why It Still Matters by Anne Boyd Rioux
"In gauging its current status, Rioux shows why Little Women remains a book with such power that people carry its characters and spirit throughout their lives."
I love Little Women and I am excited to see why it still matters, because it definitely still matters to me! These characters are special to me and I am looking forward reading what the author has to say about them.
How Not to Be a Boy by Robert Webb
"Hilarious and heartbreaking, How Not To Be a Boy explores the relationships that made Robert who he is as a man, the lessons we learn as sons and daughters, and the understanding that sometimes you aren't the Luke Skywalker of your life – you're actually Darth Vader."
I have heard so many wonderful things about Robert Webb's memoir and the subject matter really interests me.  The preconceived expectations of masculinity can be very damaging!
Braiding Sweetgrass: Indigenous Wisdom, Scientific Knowledge, and the Teaching of Plants
"For only when we can hear the languages of other beings are we capable of understanding the generosity of the earth, and learning to give our own gifts in return."
I truly know nothing about this book but I am a member of Book Riot's Epic Insiders and so many people in the slack are raving about it.  I have read a few books dealing with plants and nature lately and I have really enjoyed them.
Conspiracy: Peter Thiel, Hulk Hogan, Gawker, and the Anatomy of Intrigue by Ryan Holiday
"In Holiday's masterful telling of this nearly unbelievable conspiracy, informed by interviews with all the key players, this case transcends the narrative of how one billionaire took down a media empire or the current state of the free press. It's a study in power, strategy, and one of the most wildly ambitious–and successful–secret plots in recent memory."
I was recommended Conspiracy after reading and absolutely loving Bad Blood.  It is supposed to be a wild ride and I am really looking forward to it.
The Radium Girls: The Dark Story of America's Shining Women
"The Radium Girls fully illuminates the inspiring young women exposed to the "wonder" substance of radium, and their awe-inspiring strength in the face of almost impossible circumstances. Their courage and tenacity led to life-changing regulations, research into nuclear bombing, and ultimately saved hundreds of thousands of lives…"
I have heard that this book is absolutely amazing but also devastating.  I know I am going to have to mentally prepare myself for it! Every single one of my friends who have read it have rated it five stars!
The Girl Who Smiles Beads: A Story of War and What Comes After
"The Girl Who Smiled Beads captures the true costs and aftershocks of war: what is forever destroyed; what can be repaired; the fragility of memory; the disorientation that comes of other people seeing you only as broken–thinking you need, and want, to be saved. But it is about more than the brutality of war. It is about owning your experiences, about the life we create: intricately detailed, painful, beautiful, a work in progress. "
This book had a lot of buzz when it first came out earlier this year and I have been wanting to read it every since.  It sounds very powerful and while also inspiring.
The Rise and Fall of the Dinosaurs: A New History of a Lost World
"…thrilling accounts of some of the remarkable findings he and his colleagues have made, including primitive human-sized tyrannosaurs; monstrous carnivores even larger than T. rex; and paradigm-shifting feathered raptors from China. "
I was never really in to dinosaurs as a kid but lately I have been fascinated by them.  The extent of my knowledge of them comes from movies like Jurassic Park, so I am looking forward to becoming more educated about them.
These are just a few of the non-fiction novels that I have on my TBR and I hope to get to a few of them this month.  Are you participating in Non-Fiction November? What are your favourite non-fiction novels?