I have decided to start doing monthly non-bookish favourites. I think it is fun to talk about things other than books on this blog every once in awhile, and I figured this was a great way to do it! I will talk about all of the movies, TV shows, music, food, etc. I loved during the month.
Movies
Their Finest (which I watched on Canadian Netflix) was such a joy.
In 1940, a married woman and a screenwriter develop a growing attraction while working together on a propaganda film about the evacuation of Allied troops from Dunkirk, France.
After watching and loving the movie Dunkirk last year, it was really interesting to see what was happening during that time from another perspective. I also know that I am not the only one who adores Sam Claflin and he was brilliant in this one!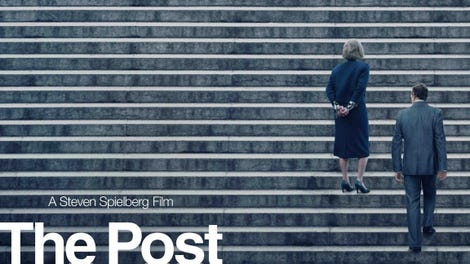 The Post is a Steven Spielberg film starring Meryl Streep and Tom Hanks, so it was pretty much a guarantee that I was going to love this and I absolutely did.
Katharine Graham is the first female publisher of a major American newspaper — The Washington Post. With help from editor Ben Bradlee, Graham races to catch up with The New York Times to expose a massive cover-up of government secrets that spans three decades and four U.S. presidents. Together, they must overcome their differences as they risk their careers — and very freedom — to help bring long-buried truths to light.
I knew absolutely nothing about The Pentagon Papers so I learnt quite a bit from this movie, and it was riveting! People in the theater I was in actually clapped when it was over- it was just that good!
TV Shows
I binge-watched Manhunt: Unabomber. It was addicting and kept me at the edge of my seat. The cast was excellent, and it deserves more recognition.
This miniseries tells the story of the FBI's hunt for the Unabomber in the 1990s. Agent Jim "Fitz" Fitzgerld, a fresh-faced criminal profiler with the agency, faces an uphill battle in tracking the infamous criminal but also has to fight against the bureaucracy of the Unabom Task Force (UTF), of which he is a part. Although Fitz pioneers the use of forensic linguistics, others in the UTF dismiss his maverick ideas and new approaches. Ultimately, though, his new techniques help him identify and capture the Unabomber.
Grace and Frankie is probably my favourite still running show, and season four did not disappoint! I watched it all in one night! Grace and Frankie are just as hilarious as ever and I loved that we see them interacting more with Sol and Robert this season. That definitely makes for some interesting dynamics! It was also great to watch Breanna again- I flipping love her!
For as long as they can recall, Grace and Frankie have been rivals. Their one-upmanship comes crashing to a halt, however, when they learn that their husbands have fallen in love with each other and want to get married. As everything around the ladies is coming apart, the only thing they can really rely on is each other.
Music
Perfect- Ed Sheeran ft Andrea Bocelli
Ed Sheeran has a beautiful voice and I love the song Perfect. I did not think he could improve on it until he teamed up with Andrea Bocelli! This new version is absolutely breathtaking. My dad is Italian and we listened to Bocelli growing up so I have that connection to him as well. Even if you are not a fan of Ed sheeran, I encourage you to give this song a listen.
Sick Boy- The Chainsmokers
I have loved every song by The Chainsmokers so why should this latest song be any exception.
Baking
These cookies are delicious! The inside is full of chocolaty goodness! They were gone quickly, and I have a feeling I will be asked to make them again really soon. I have shared the recipe with a few friends and it seems as though they have been a huge hit in their homes as well!
Before my Nonna passed away she always made an Italian orange cake that we all loved. Unfortunately, we never had the recipe so it has been years since we have been able to enjoy our favourite cake. I have decided to go on the hunt in an attempt to find that recipe. This is not exactly the same cake that she made but it is pretty darn close and got the seal of approval from my dad! It is light and delicious!
Random
My brother's girlfriend works at Sephora and bought me this palette for Christmas. She knows that I loved the Too Faced Chocolate Bar palettes, and I think that this one might be my favourite. The colours are stunning and extremely pigmented. I have been able to make some pretty gorgeous looks so far.
Starbucks' Swell Bottle (Liberty London)
I am a little late to this party, but I finally bought myself a Swell water bottle. One of my resolutions for the year is to drink more water, and this has really helped with that. I found this bottle on sale (because I would not pay $55 for a water bottle) and I love it. I was so happy to find one with a print that I love!
This might me completely random. but I wanted to talk about it anyway. I sometimes have trouble sleeping, and I truly think that this has been helpful for me. It is a blend of Lavender, Vetivert and Chamomile and it smells wonderful. It is definitely calming and helps me relax.
I would love to know if you have watched/listened to/tried any of these things! If you have posted something similar to this please link it in the comments. I would love to read it! Or just share some of your favourite non bookish things in the comments!