It has been awhile since I participated in Top Ten Tuesday, but I am finally finding a balance that allows me to focus more energy on my blog. I say this every single time that I share a TBR, but I am terrible at sticking to them. I know that all of my fellow mood readers will understand this. However, as I have mentioned, I am trying to be more intentional in my reading, and I would love to stick as close to this TBR as possible.
Stamped from the Beginning: The Definitive History of Racist Ideas in America by Ibram X. Kendi
Americans like to insist that they are living in a post-racial, color-blind society. In fact, racist thought is alive and well; it has simply become more sophisticated and more insidious. And as award-winning historian Ibram X. Kendi argues in Stamped from the Beginning, racist ideas in America have a long and lingering history, one in which nearly every great American thinker is complicit.
In this deeply researched and fast-moving narrative, Kendi chronicles the entire story of anti–Black racist ideas and their staggering power over the course of American history. Stamped from the Beginning uses the lives of five major American intellectuals to offer a window into the contentious debates between assimilationists and segregationists and between racists and anti-racists. From Puritan minister Cotton Mather to Thomas Jefferson, from fiery abolitionist William Lloyd Garrison to brilliant scholar W. E. B. Du Bois to legendary anti–prison activist Angela Davis, Kendi shows how and why some of our leading pro-slavery and pro–civil rights thinkers have challenged or helped cement racist ideas in America.
As Kendi provocatively illustrates, racist thinking did not arise from ignorance or hatred. Racist ideas were created and popularized in an effort to defend deeply entrenched discriminatory policies and to rationalize the nation's racial inequities in everything from wealth to health. While racist ideas are easily produced and easily consumed, they can also be discredited. In shedding much–needed light on the murky history of racist ideas, Stamped from the Beginning offers tools to expose them—and in the process, reason to hope.
Melanatedreader is hosting a buddy read of Stamped from the Beginning on Bookstagram from June 19th to July 20th. I will be participating! The audiobook is available for free on Spotify for anyone who is interested in joining in. I am looking forward to the discussions that will be started from having read this book. I also have the remixed version that is narrated by Jason Reynolds.
The Subtweet by Vivek Shraya
Everyone talks about falling in love, but falling in friendship can be just as captivating. When Neela Devaki's song is covered by internet-famous artist Rukmini, the two musicians meet and a transformative friendship begins. But as Rukmini's star rises and Neela's stagnates, jealousy and self-doubt creep in. With a single tweet, their friendship implodes, one career is destroyed, and the two women find themselves at the center of an internet firestorm.

Celebrated multidisciplinary artist Vivek Shraya's second novel is a stirring examination of making art in the modern era, a love letter to brown women, an authentic glimpse into the music industry, and a nuanced exploration of the promise and peril of being seen.
This has got to be one of my favourite covers ever! The Subtweet came out in April of this year, and I haven't heard a lot about it, but the description instantly caught my attention. "Everyone talks about falling in love, but falling in friendship can be just as captivating." That is all I needed to read to add it on to my TBR. There is nothing I love more than books about friendship, and the fact that social media plays a role in the story is just a bonus. Vivek Shraya is also a Canadian author, and if you recognize her name it may be because her memoir I'm Afraid of Men was very popular a few years ago- I hope to get to that one soon as well!
The Broken Earth Trilogy by N.K. Jemisin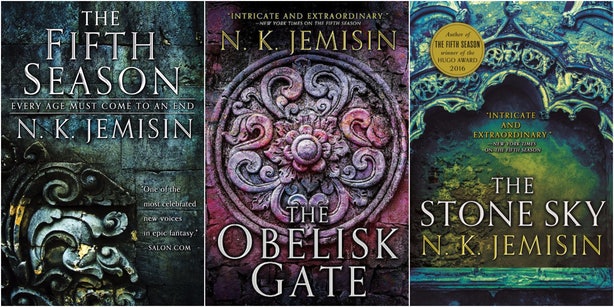 This is the way the world ends. Again.
Three terrible things happen in a single day. Essun, a woman living an ordinary life in a small town, comes home to find that her husband has brutally murdered their son and kidnapped their daughter. Meanwhile, mighty Sanze — the world-spanning empire whose innovations have been civilization's bedrock for a thousand years — collapses as most of its citizens are murdered to serve a madman's vengeance. And worst of all, across the heart of the vast continent known as the Stillness, a great red rift has been been torn into the heart of the earth, spewing ash enough to darken the sky for years. Or centuries.
Now Essun must pursue the wreckage of her family through a deadly, dying land. Without sunlight, clean water, or arable land, and with limited stockpiles of supplies, there will be war all across the Stillness: a battle royale of nations not for power or territory, but simply for the basic resources necessary to get through the long dark night. Essun does not care if the world falls apart around her. She'll break it herself, if she must, to save her daughter.
I finally purchased the boxed set of The Broken Earth trilogy and I am impatiently waiting for it to get here. I know that I am going to want to dive into this world right away. It is rare for me to be this excited about a fantasy series, but this one has all the makings to be something that I absolutely adore. I don't think I have ever seen a bad review! It is at the point where I am putting off picking up a physical book because I know that these will be here soon.
The Extraordinaries by TJ Klune
Some people are extraordinary. Some are just extra. TJ Klune's YA debut, The Extraordinaries, is a queer coming-of-age story about a fanboy with ADHD and the heroes he loves.
Nick Bell? Not extraordinary. But being the most popular fanfiction writer in the Extraordinaries fandom is a superpower, right?
After a chance encounter with Shadow Star, Nova City's mightiest hero (and Nick's biggest crush), Nick sets out to make himself extraordinary. And he'll do it with or without the reluctant help of Seth Gray, Nick's best friend (and maybe the love of his life).
The Extraordinaries just sounds plain fun and adorable! I was lucky enough to receive an ALC from Libro fm, and I cannot wait to get to it. I am so intrigued by the superhero twist to this story. The Extraordinaries comes out July 14th, but the early reviews have all been positive. It has been described as a delight and one of the funniest books people have ever read- that is certainly something I am looking for!
The Mothers by Brit Bennett
Set within a contemporary black community in Southern California, Brit Bennett's mesmerizing first novel is an emotionally perceptive story about community, love, and ambition. It begins with a secret.

"All good secrets have a taste before you tell them, and if we'd taken a moment to swish this one around our mouths, we might have noticed the sourness of an unripe secret, plucked too soon, stolen and passed around before its season."

It is the last season of high school life for Nadia Turner, a rebellious, grief-stricken, seventeen-year-old beauty. Mourning her own mother's recent suicide, she takes up with the local pastor's son. Luke Sheppard is twenty-one, a former football star whose injury has reduced him to waiting tables at a diner. They are young; it's not serious. But the pregnancy that results from this teen romance—and the subsequent cover-up—will have an impact that goes far beyond their youth. As Nadia hides her secret from everyone, including Aubrey, her God-fearing best friend, the years move quickly. Soon, Nadia, Luke, and Aubrey are full-fledged adults and still living in debt to the choices they made that one seaside summer, caught in a love triangle they must carefully maneuver, and dogged by the constant, nagging question: What if they had chosen differently? The possibilities of the road not taken are a relentless haunt.

In entrancing, lyrical prose, The Mothers asks whether a "what if" can be more powerful than an experience itself. If, as time passes, we must always live in servitude to the decisions of our younger selves, to the communities that have parented us, and to the decisions we make that shape our lives forever.
I recently read and loved Brit Bennett's latest novel, The Vanishing Half, and thought it was fantastic- one of the best books I have read so far in 2020. I quickly purchased her debut novel, and I am very much looking forward to reading it. I already know that I love Bennett's writing, so I have a good feeling about The Mothers. I think that she may just become an auto buy author for me.
How to Write an Autobiographical Novel: Essays by Alexander Chee
How to Write an Autobiographical Novel is the author's manifesto on the entangling of life, literature, and politics, and how the lessons learned from a life spent reading and writing fiction have changed him. In these essays, he grows from student to teacher, reader to writer, and reckons with his identities as a son, a gay man, a Korean American, an artist, an activist, a lover, and a friend. He examines some of the most formative experiences of his life and the nation's history, including his father's death, the AIDS crisis, 9/11, the jobs that supported his writing—Tarot-reading, bookselling, cater-waiting for William F. Buckley—the writing of his first novel, Edinburgh, and the election of Donald Trump.
By turns commanding, heartbreaking, and wry, How to Write an Autobiographical Novel asks questions about how we create ourselves in life and in art, and how to fight when our dearest truths are under attack.
There is nothing I love more than a memoir that is written as a collection of essays. I have had How to Write and Autobiographical Novel recommended to me more times than I can count. I am intrigued by the fact that Chee explores what he has learned through reading and writing, as that is something I have been thinking about quite a bit lately. Books are truly powerful! I look forward to growing and learning from Alexander Chee and his insights.
Fatal Grace by Louise Penny
Welcome to winter in Three Pines, a picturesque village in Quebec, where the villagers are preparing for a traditional country Christmas, and someone is preparing for murder.
No one liked CC de Poitiers. Not her quiet husband, not her spineless lover, not her pathetic daughter—and certainly none of the residents of Three Pines. CC de Poitiers managed to alienate everyone, right up until the moment of her death.
When Chief Inspector Armand Gamache, of the Sûreté du Québec, is called to investigate, he quickly realizes he's dealing with someone quite extraordinary. CC de Poitiers was electrocuted in the middle of a frozen lake, in front of the entire village, as she watched the annual curling tournament. And yet no one saw anything. Who could have been insane enough to try such a macabre method of murder—or brilliant enough to succeed?
With his trademark compassion and courage, Gamache digs beneath the idyllic surface of village life to find the dangerous secrets long buried there. For a Quebec winter is not only staggeringly beautiful but deadly, and the people of Three Pines know better than to reveal too much of themselves. But other dangers are becoming clear to Gamache. As a bitter wind blows into the village, something even more chilling is coming for Gamache himself.
I read the first book in this series at the beginning of March and went on to purchase the next three books in the series. They have finally arrived and I look forward to diving into the world of Three Pines. There is something strangely comforting about these books! It does not hurt that there are a ton of Canadian references that just make me so happy. I mean the victim in this book dies while watching a curling tournament!? I am hoping to make a huge dent in this series this summer, but of course I won't get to them all. I think it is up to 15 books now!
IQ by Joe Ide
A resident of one of LA's toughest neighborhoods uses his blistering intellect to solve the crimes the LAPD ignores.East Long Beach. The LAPD is barely keeping up with the neighborhood's high crime rate. Murders go unsolved, lost children unrecovered. But someone from the neighborhood has taken it upon himself to help solve the cases the police can't or won't touch.
They call him IQ. He's a loner and a high school dropout, his unassuming nature disguising a relentless determination and a fierce intelligence. He charges his clients whatever they can afford, which might be a set of tires or a homemade casserole. To get by, he's forced to take on clients that can pay.
This time, it's a rap mogul whose life is in danger. As Isaiah investigates, he encounters a vengeful ex-wife, a crew of notorious cutthroats, a monstrous attack dog, and a hit man who even other hit men say is a lunatic. The deeper Isaiah digs, the more far reaching and dangerous the case becomes.
Another crime series! I do not know why I have been in the mood for them lately. I have seen IQ described as a modern day Sherlock Holmes and there is no easier way to sell me on a book. I have had this book on my shelves for awhile now, so I would really like to prioritize it.
Let Me Hear a Rhyme by Tiffany D. Jackson
Biggie Smalls was right. Things done changed. But that doesn't mean that Quadir and Jarrell are okay letting their best friend Steph's tracks lie forgotten in his bedroom after he's killed—not when his beats could turn any Bed-Stuy corner into a celebration, not after years of having each other's backs.
Enlisting the help of Steph's younger sister, Jasmine, Quadir and Jarrell come up with a plan to promote Steph's music under a new rap name: The Architect. Soon, everyone in Brooklyn is dancing to Steph's voice. But then his mixtape catches the attention of a hotheaded music rep and—with just hours on the clock—the trio must race to prove Steph's talent from beyond the grave.
Now, as the pressure—and danger—of keeping their secret grows, Quadir, Jarrell, and Jasmine are forced to confront the truth about what happened to Steph. Only each has something to hide. And with everything riding on Steph's fame, together they need to decide what they stand for before they lose everything they've worked so hard to hold on to—including each other.
I just purchased a copy of Let Me Hear a Rhyme, and let me tell you that photos do not do this cover justice- it is gorgeous in person! Let Me Hear a Rhyme was one of my most anticipated books in 2019, but I just never got to it. I love that the story focuses on friendship and that it explores grief. I always find myself drawn to those type of stories, especially if they are YA.
Ninefox Gambit by Yoon Ha Lee
The first installment of the trilogy, Ninefox Gambit, centers on disgraced captain Kel Cheris, who must recapture the formidable Fortress of Scattered Needles in order to redeem herself in front of the Hexarchate.
To win an impossible war Captain Kel Cheris must awaken an ancient weapon and a despised traitor general.
Captain Kel Cheris of the hexarchate is disgraced for using unconventional methods in a battle against heretics. Kel Command gives her the opportunity to redeem herself by retaking the Fortress of Scattered Needles, a star fortress that has recently been captured by heretics. Cheris's career isn't the only thing at stake. If the fortress falls, the hexarchate itself might be next.
Cheris's best hope is to ally with the undead tactician Shuos Jedao. The good news is that Jedao has never lost a battle, and he may be the only one who can figure out how to successfully besiege the fortress.
The bad news is that Jedao went mad in his first life and massacred two armies, one of them his own. As the siege wears on, Cheris must decide how far she can trust Jedao–because she might be his next victim.
I have not been reading nearly enough SciFi lately, and that is where Ninefox Gambit comes in. I have seen some mixed reviews and I have been told that it takes awhile to get your footing and to understand the world. I think it will help me to know that going in, so I can be prepared for it. I hear that it pays off in the end!
Phew! That is it! I hope that I can write an update in September telling you that I have read and loved all of these books.
Have you read any of the books on my Summer TBR? I would love to hear your thoughts!