# of Books Read: 11
# of Pages Read: 3,084
Favourite Book(s) of the Month: With the Fire on High, The Test
In Cold Blood by Truman Capote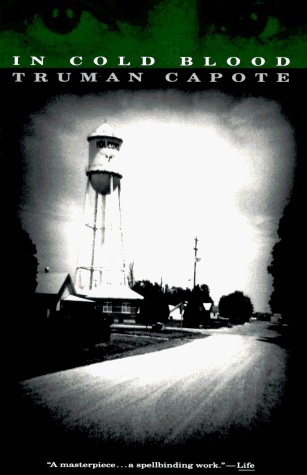 I am fascinated by Truman Capote, and I have been meaning to read In Cold Blood for years. It is often referred to as the first true crime novel, and there was so much that enjoy about it. It is very different from the more modern true crime novels I have read lately. He takes artistic liberties and the story reads almost like literary fiction. The writing is very descriptive, and you feel as though you know all the people involved. It is evident that Capote was passionate about this story, almost to the point of obsession. I highly recommend reading this book and then watching the movie Capote starring Phillip Seymour Hoffman.
My Grandfather Would Have Shot Me by Jennifer Teege
Jennifer Teege has lead an interesting life, and I do not know what I would have done if I came across the same discover about my family history as she did. I enjoyed seeing all the steps that she takes to try to come to turns with her genetics and the knowledge that her family wasn't quite what it seemed. I think the problems that I had had to do more with the translation, as I found the writing to be repetitive at times. That said, it made me realize that I need to read more translated memoirs!
With the Fire on High by Elizabeth Acevedo
Fire on High is one of my most anticipated release (it comes out on May 7th) and it was even better than I expected. Acevedo is a master at creating real characters who feel likes friends and cause the reader to become wholeheartedly invested in their lives. I was actively cheering on Emoni. I loved that cooking was such a big part of the story, just be aware that it will make you hungry. I also thought the romance was very sweet and realistic for a high school relationship. There is so much great representation in this book as well. You must pick this one up when it comes out!
The Dreamers by Karen Thompson Walker
The Dreamers was everywhere when it first came out, and I understand why. I was capitivated from the first word. There are a lot of characters, but I found I was able to keep track of them pretty easily. This is one of those novels that is so frightening because it seems possible. Walker's writing is very strong, and she is a magnificent storyteller. I will definitely be picking up her other book, The Age of Miracles, in the future.
Down Among the Sticks and Bones by Seanan McGuire
I finally continued on with this series and I think I enjoyed this book even more. I know it has mixed reviews, but I am a complete sucker from a prequel. I love a good backstory. The world is this one is very sinister and I was in to it. I now have a great understanding of Jack and Jill and of the choices that they made in the first book. Can not wait to see where this series goes from here!
Brain on Fire by Susannah Cahalan
Brain on Fire is a nonfiction and it was a very interesting story. I came out of if learning quite a lot. Cahalan is a journalist, and it shows through her writing. I was captivated by her story, even though some of the science stuff was over my head. It was a book that made me think about mortality and how quickly your life can change. Also, a highlight for me was how supportive her boyfriend was through her illness. There were times where it would have been easy for him to leave but he knew she was still in there somewhere and fought for her. In some ways this almost read like a love story. Beautiful!
The Test by Sylvain Neuvel
The Test is a short book but boy does it leave an impact. It is best to go in to this one knowing nothing about it, but just know that it is brilliant and everything that I have come to expect from Sylvain Neuvel. It is an interesting commentary on race, immigration, social status, the government, and more. I am still thinking about it, and will continue to do so.
Notes on a Nervous Planet by Matt Haig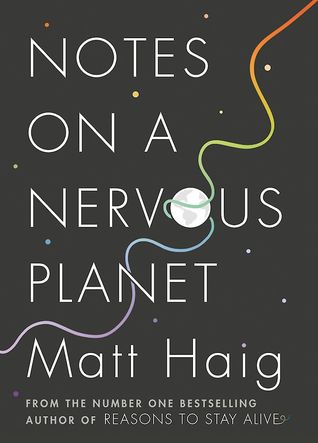 I truly think that anyone who suffers from depression and/or anxiety will feel heard when they read this book. Matt Haig shares his personal experience and how he has fought to overcome his illness. There is a lot of great and practical tips and insights on different ways to look at the world. He really focuses on the stresses that our modern world can put on a person, talking about everything from social media to shopping malls. I will be purchasing copies for people in my life who I think will gain something from it.
Anne Frank's Diary: The Graphic Adaptation
I read The Diary of a Young Girl when I was a preteen. I remember it so vividly; I was at resort in Arizona with my family and all I wanted to do was read this book. I instantly felt a connection to Anne and I have ever since. I haven't read the book since because it is too heartbreaking, but I received the graphic novel adaptation for Valentine's Day and I had to read it. The illustrations are breathtaking and truly capture the heart of Anne and her story. I was moved to tears once again.
The Water Cure by Sophie Mackintosh
The Water Cure is a really interesting novel that I appreciate as more time goes by. There is something unique about it. I loved that we slowly learn about the world as the narrators do. They are three sister who have been very isolated and have always been told that men are evil. Three men wash up on their shores and the story really picks up from there. There are a lot of feminist themes and it has one of the greatest endings that I have read in quite some time. I am hoping to see this book longlisted for the Women's Prize.
Death Note: Black Edition Vol. 1 by Tsugumi Ohba
My first manga!! And I freaking loved it! My brother has been bugging me to read Death Note for years. The Book Riot Read Harder Challenge was the motivation I needed to finally get to it. The art style was captivating and I love the moral dilemma that is happening. I am thrilled that my brother has all the Black Edition's. I plan to read them all in the next few months. If you have any similar manga recommendations I would love to know!
February was another interesting month of reading. I read a book that has been on my TBR for years, two of my most anticipated books of the year, my first manga, a graphic novel, etc. I have been experiment with my reading in 2019 and I am absolutely loving it!