Bitter Orange by Claire Fuller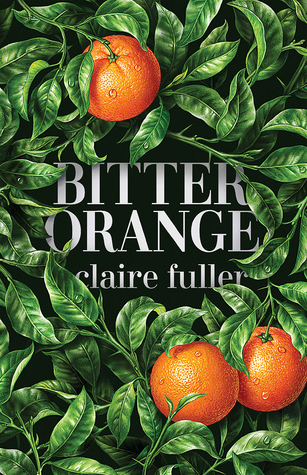 From the attic of Lyntons, a dilapidated English country mansion, Frances Jellico sees them—Cara first: dark and beautiful, then Peter: striking and serious. The couple is spending the summer of 1969 in the rooms below hers while Frances is researching the architecture in the surrounding gardens. But she's distracted. Beneath a floorboard in her bathroom, she finds a peephole that gives her access to her neighbors' private lives.
To Frances' surprise, Cara and Peter are keen to get to know her. It is the first occasion she has had anybody to call a friend, and before long they are spending every day together: eating lavish dinners, drinking bottle after bottle of wine, and smoking cigarettes until the ash piles up on the crumbling furniture. Frances is dazzled.
But as the hot summer rolls lazily on, it becomes clear that not everything is right between Cara and Peter. The stories that Cara tells don't quite add up, and as Frances becomes increasingly entangled in the lives of the glamorous, hedonistic couple, the boundaries between truth and lies, right and wrong, begin to blur. Amid the decadence, a small crime brings on a bigger one: a crime so terrible that it will brand their lives forever.
Bitter Orange will not be for everyone, but it had everything that I look for in a book. The characters are dynamic, flawed, and very human; the setting is very atmospheric and has an air of mystery; and the writing is descriptive and beautiful. I would classify it as historical fiction and mystery- a combo that I have come to realize I really connect with. It took me a little while to get in to, but once I did I was really in to it. There were some twists that caught me completely off guard and I thought were brilliantly executed. You never really know who to believe or what exactly is going on. There is something very sinister about Bitter Orange and it has continued to haunt me- which I love! This book has solidified the fact that Claire Fuller is one of my favourite authors- I will read anything that she writes.
No Exit by Taylor Adams
On her way to Utah to see her dying mother, college student Darby Thorne gets caught in a fierce blizzard in the mountains of Colorado. With the roads impassable, she's forced to wait out the storm at a remote highway rest stop. Inside, are some vending machines, a coffee maker, and four complete strangers.
Desperate to find a signal to call home, Darby goes back out into the storm . . . and makes a horrifying discovery. In the back of the van parked next to her car, a little girl is locked in an animal crate.
Who is the child? Why has she been taken? And how can Darby save her?
There is no cell phone reception, no telephone, and no way out. One of her fellow travelers is a kidnapper. But which one?
Trapped in an increasingly dangerous situation, with a child's life and her own on the line, Darby must find a way to break the girl out of the van and escape.
But who can she trust?
I am sad to say that No Exit did not work for me. I think my main problem with it is the fact that there is so much action, and not enough character development. I am someone who wants to understand my character's actions and motives, even in thrillers. There was so much going on that it became unbelievable and I was ready to just see how it wrapped up. I do have to say that I was unable to put this book down, even though I wasn't quite enjoying it- it is definitely fast-paced. I found some things predictable and obvious, but the epilogue was brilliant. I really thought it was quite a genius ending, which I don't often find in thrillers! I think you will enjoy this book if you are looking for a thriller that keeps you on the edge of your seat with one action scene after another.
Disoriental by Negar Djavadi
Kimiâ Sadr fled Iran at the age of ten in the company of her mother and sisters to join her father in France. Now twenty-five, with a new life and the prospect of a child, Kimiâ is inundated by her own memories and the stories of her ancestors, which reach her in unstoppable, uncontainable waves. In the waiting room of a Parisian fertility clinic, generations of flamboyant Sadrs return to her, including her formidable great-grandfather Montazemolmolk, with his harem of fifty-two wives, and her parents, Darius and Sara, stalwart opponents of each regime that befalls them.
In this high-spirited, kaleidoscopic story, key moments of Iranian history, politics, and culture punctuate stories of family drama and triumph. Yet it is Kimiâ herself—punk-rock aficionado, storyteller extraordinaire, a Scheherazade of our time, and above all a modern woman divided between family traditions and her own "disorientalization"—who forms the heart of this bestselling and beloved novel.
I predict that Disoriental will end up being my favourite book of the year. It is absolutely fantastic- I can not even put it in to words! It has reinvigorated my love for historical fiction as it has reminded me how much an author can do within the genre. Djavadi brilliantly weaves Kimia's personal and family story with the historical events that were going on in Iran and France at the time. It was so well-written and the characters felt so real that I had to check multiple times to make sure that it wasn't actually a memoir. Disoriental alternated between the past and the present, which can easily go wrong, but Djavadi made it feel seamless. I enjoyed both narratives equally. This might be my favourite book in translation that I have ever read. I truly can not put in to words how much I love it; please just give it a chance!