I am always curious to know what books people add to their TBRs, and that has inspired me to write this post! I have done a few of these in the past, and I always love the discussions that happen in the comments.  So here we are again!
The Dreamers by Karen Thompson Walker
In an isolated college town in the hills of Southern California, a freshman girl stumbles into her dorm room, falls asleep—and doesn't wake up. She sleeps through the morning, into the evening. Her roommate, Mei, cannot rouse her. Neither can the paramedics who carry her away, nor the perplexed doctors at the hospital. Then a second girl falls asleep, and then another, and panic takes hold of the college and spreads to the town. As the number of cases multiplies, classes are canceled, and stores begin to run out of supplies. A quarantine is established. The National Guard is summoned.
Mei, an outsider in the cliquish hierarchy of dorm life, finds herself thrust together with an eccentric, idealistic classmate. Two visiting professors try to protect their newborn baby as the once-quiet streets descend into chaos. A father succumbs to the illness, leaving his daughters to fend for themselves. And at the hospital, a new life grows within a college girl, unbeknownst to her—even as she sleeps. A psychiatrist, summoned from Los Angeles, attempts to make sense of the illness as it spreads through the town. Those infected are displaying unusual levels of brain activity, more than has ever been recorded. They are dreaming heightened dreams—but of what?
Is it just me or is this book absolutely everywhere?! It sounds very original and I am definitely intrigued by it.  That last line really caught my attention! I am hoping to get to this one sooner rather than later. 
No Exit by Taylor Adams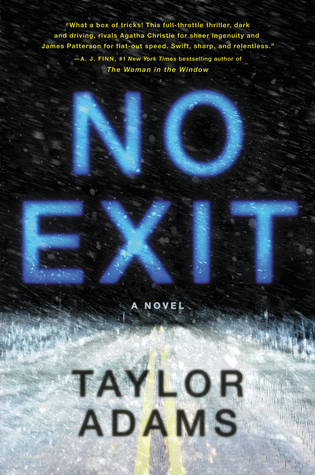 A kidnapped little girl locked in a stranger's van. No help for miles. What would you do?
On her way to Utah to see her dying mother, college student Darby Thorne gets caught in a fierce blizzard in the mountains of Colorado. With the roads impassable, she's forced to wait out the storm at a remote highway rest stop. Inside, are some vending machines, a coffee maker, and four complete strangers.
Desperate to find a signal to call home, Darby goes back out into the storm . . . and makes a horrifying discovery. In the back of the van parked next to her car, a little girl is locked in an animal crate.
Who is the child? Why has she been taken? And how can Darby save her?
There is no cell phone reception, no telephone, and no way out. One of her fellow travelers is a kidnapper. But which one?
Trapped in an increasingly dangerous situation, with a child's life and her own on the line, Darby must find a way to break the girl out of the van and escape.
But who can she trust?
You may have noticed that I do not read a lot of mystery thrillers, but there is something about No Exit that sounds so at 'the edge of your seat' good!  I actually already purchased the ebook because I couldn't wait.  I have read the first few chapters and I am already really in to it!
Maid: Hard Work, Low Pay, and a Mother's Will to Survive by Stephanie Land
"My daughter learned to walk in a homeless shelter."
While the gap between upper middle-class Americans and the working poor widens, grueling low-wage domestic and service work–primarily done by women–fuels the economic success of the wealthy. Stephanie Land worked for years as a maid, pulling long hours while struggling as a single mom to keep a roof over her daughter's head. In Maid, she reveals the dark truth of what it takes to survive and thrive in today's inequitable society.
While she worked hard to scratch her way out of poverty as a single parent, scrubbing the toilets of the wealthy, navigating domestic labor jobs, higher education, assisted housing, and a tangled web of government assistance, Stephanie wrote. She wrote the true stories that weren't being told. The stories of overworked and underpaid Americans.
I really enjoy memoirs written by women who have overcome many obstacles.  Maid is coming out tomorrow and I can not wait to get my hands on it.  I have already seen some amazing reviews!
When Death Becomes Life: Notes From a Transplant Surgeon byJoshua D. Mezrich
A gifted surgeon illuminates one of the most profound, awe-inspiring, and deeply affecting achievements of modern day medicine—the movement of organs between bodies—in this exceptional work of death and life that takes its place besides Atul Gawande's Complications, Siddhartha Mukherjee's The Emperor of All Maladies, and Jerome Groopman's How Doctors Think. 
At the University of Wisconsin, Dr. Joshua Mezrich creates life from loss, transplanting organs from one body to another. In this intimate, profoundly moving work, he illuminates the extraordinary field of transplantation that enables this kind of miracle to happen every day.
When Death Becomes Life is a thrilling look at how science advances on a grand scale to improve human lives. Mezrich examines more than one hundred years of remarkable medical breakthroughs, connecting this fascinating history with the inspiring and heartbreaking stories of his transplant patients. Combining gentle sensitivity with scientific clarity, Mezrich reflects on his calling as a doctor and introduces the modern pioneers who made transplantation a reality—maverick surgeons whose feats of imagination, bold vision, and daring risk taking generated techniques and practices that save millions of lives around the world.
Mezrich takes us inside the operating room and unlocks the wondrous process of transplant surgery, a delicate, intense ballet requiring precise timing, breathtaking skill, and at times, creative improvisation. In illuminating this work, Mezrich touches the essence of existence and what it means to be alive. Most physicians fight death, but in transplantation, doctors take from death. Mezrich shares his gratitude and awe for the privilege of being part of this transformative exchange as the dead give their last breath of life to the living. After all, the donors are his patients, too.
I am intrigued! I know I am not alone is saying that I am fascinated by organ transplants.  I am very much interesting in learning more about the process from an expert. I appreciate that the book is also part memoir so it will have a personal touch to it as well.
Recursion by Blake Crouch
What if someone could rewrite your entire life? 
"My son has been erased." Those are the last words the woman tells Barry Sutton, before she leaps from the Manhattan rooftop.
Deeply unnerved, Barry begins to investigate her death, only to learn that this wasn't an isolated case. All across the country, people are waking up to lives different from the ones they fell asleep to. Are they suffering from False Memory Syndrome, a mysterious new disease that afflicts people with vivid memories of a life they never lived? Or is something far more sinister behind the fracturing of reality all around him?
Miles away, neuroscientist Helena Smith is developing a technology that allows us to preserve our most intense memories and relive them. If she succeeds, anyone will be able to reexperience a first kiss, the birth of a child, the final moment with a dying parent.
Barry's search for the truth leads him on an impossible, astonishing journey as he discovers that Helena's work has yielded a terrifying gift–the ability not just to preserve memories but to remake them . . . at the risk of destroying what it means to be human.
Blake Crouch has a new book coming out in June!! I can not believe I just found out about this.  I was lucky enough to get my hands on an eARC, and it is taking so much willpower not to read it right away, but I want to get to it closer to publication day.  I absolutely loved Dark Matter, and Recursion sounds like it has a similar vibe.  Can't wait!
Let me know if you have read any of the books I talked about, or if they are on your TBRs! What books have you added to your TBR recently? I would love to know!