A few months ago I decided to every once in awhile share the books that I have added to my TBR.  It has been really fun to put these lists together and discuss the books in the comments! Here are a few of the books that I have added to my TBR in the last few weeks:
My Brother's Husband by Gengoroh Tagame
Yaichi is a work-at-home suburban dad in contemporary Tokyo; formerly married to Natsuki, father to their young daughter, Kana. Their lives suddenly change with the arrival at their doorstep of a hulking, affable Canadian named Mike Flanagan, who declares himself the widower of Yaichi's estranged gay twin, Ryoji. Mike is on a quest to explore Ryoji's past, and the family reluctantly but dutifully takes him in. What follows is an unprecedented and heartbreaking look at the state of a largely still-closeted Japanese gay culture: how it's been affected by the West, and how the next generation can change the preconceptions about it and prejudices against it.
I have started to embrace graphic novels this year, and My Brother's Husband is one that caught my attention recently. I love that one of the characters is Canadian and it sounds like this manga has the potential to be really charming!  I also really appreciate that the author is also the illustrator!
The Nickel Boys by Colson Whitehead
Based on the real story of a reform school in Florida that operated for one hundred and eleven years and warped the lives of thousands of children, The Nickel Boys is a devastating, driven narrative that showcases a great American novelist writing at the height of his powers. 
I do not think I have to explain this one- it is Colson Whitehead! I absolutely loved The Underground Railroad when I read it early this year and I will now read anything that he writes. It also sounds like it is going to be a very powerful and difficult read, which is right in my wheelhouse. 
My Sister, The Serial Killer by Oyinkan Braithwaite
Satire meets slasher in this short, darkly funny hand grenade of a novel about a Nigerian woman whose younger sister has a very inconvenient habit of killing her boyfriends.
This book sounds so interesting! I have been hearing a lot of buzz for it as well.  I am always down for a good serial killer novel- especially if the serial killer is a woman!
Hot Dog Girl by Jennifer Dugan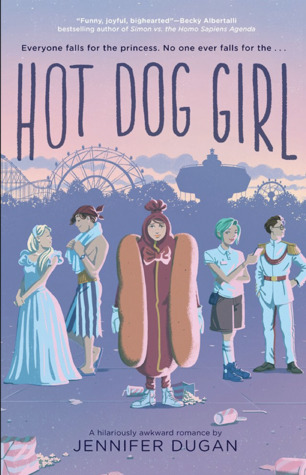 Her best friend, Seeley, the carousel operator, who's always been up for anything, suddenly isn't when it comes to Lou's quest to set her up with the perfect girl or Lou's scheme to get close to Nick.
And it turns out that this will be their last summer at Magic Castle Playland—ever—unless she can find a way to stop it from closing.
Still, Lou's absolutely positive she's just one good plan away from getting this summer back on track..
I know absolutely nothing about this book and I do not need to! Hearing that title and seeing that cover was all I need to instantly hit that 'want to read' button.  It does not come out until April 30th, 2019 and I will be here impatiently waiting…
The Priory of the Orange Tree by Samantha Shannon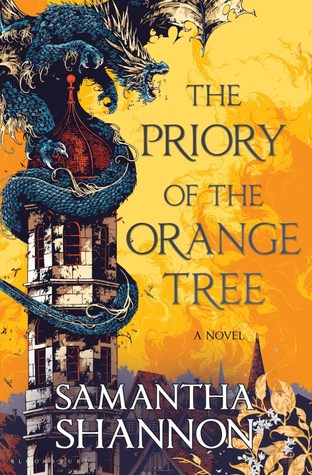 A world divided.
A queendom without an heir.
An ancient enemy awakens.
The House of Berethnet has ruled Inys for a thousand years. Still unwed, Queen Sabran the Ninth must conceive a daughter to protect her realm from destruction—but assassins are getting closer to her door.
Ead Duryan is an outsider at court. Though she has risen to the position of lady-in-waiting, she is loyal to a hidden society of mages. Ead keeps a watchful eye on Sabran, secretly protecting her with forbidden magic.
Across the dark sea, Tané has trained all her life to be a dragonrider, but is forced to make a choice that could see her life unravel.
Meanwhile, the divided East and West refuse to parley, and forces of chaos are rising from their sleep.
I have not read anything by Samantha Shannon, but The Bone Season is also on my TBR. This book is not out until February of next year, but early reviews have been fantastic.   am not a huge fantasy lover so I am picky about which ones make it on my TBR. I think this book is going to be epic and I can not wait!
The Odyssey by Homer
If the Iliad is the world's greatest war epic, then the Odyssey is literature's grandest evocation of everyman's journey though life. Odysseus' reliance on his wit and wiliness for survival in his encounters with divine and natural forces, during his ten-year voyage home to Ithaca after the Trojan War, is at once a timeless human story and an individual test of moral endurance. 
After reading and loving both The Silence of the Girls and The Song of Achilles this year, I have decided that I should read the original story of the Trojan War.  I am intimidated by determined to read this book as well as The Illiad in 2019!