Recently, a topic for Top Ten Tuesday was about books that you want to read by the end of the year.  I do not participate in TTT but I loved that topic and really enjoyed reading everyone's lists! This is me stealing that idea and talking about all the books that I want to but probably won't read before the end of the year.
The 7 1/2 Deaths of Evelyn Hardcastle by Stuart Turton
I planned on reading this book in October, but never got around to it.  I still think about picking it up all of the time! It sounds so interesting and atmospheric and I have only heard amazing things about it. The plot seems to be very original and I am in the mood for something that is completely different.
The Great Believers by Rebecca Makkai
The Great Believers has received a lot of praise this year and I have a feeling it is for good reason.  The reviews I have read have intrigued me and I know this is going to be a very important and emotional book.  Maybe not the best book to read around Christmas time but I want to get to it sooner rather than later!
An Absolutely Remarkable Thing by Hank Green
I am so curious to see how Hank Green's writing compares to his brothers.  It sounds like An Absolutely Remarkable Thing is nothing like anything that John Green writes and that excites me! I really like Hank as a person and I am looking forward to seeing what he has to say.  The summary definitely caught my attention!
The Girl in the Tower by Katherine Arden
I absolutely loved The Bear and the Nightingale when I read it last December! It is one of the most atmospheric novels that I have ever read and it has truly stayed with me.  I read Katherine Arden's middle grade novel in October and reminded just how much I love her writing.  I can not wait to be engrossed in another one of her stories.
One Day in December by Josie Silver
One Day in December is a new released and I am always looking for warm and cozy books to read around the holidays that aren't too cheesy.  This one definitely seems to fit the bill! It also has really glowing reviews.  I am excited for all of the feels!
Americanah by Chimamanda Ngozi Adichie
Chimamanda Ngozi Adichie is incredible and I am planning to read through her entire backlist. Americanah has been on my TBR for awhile now and I need to make the time to read it because I know I will love it.
The Heart's Invisible Furies by John Boyne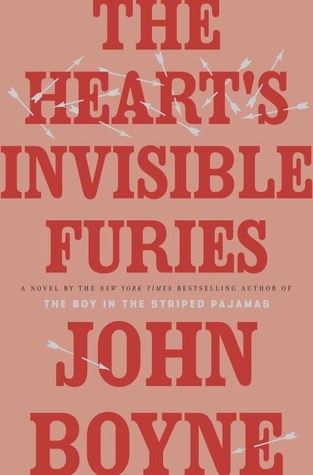 I started The Heart's Invisible Furies during the summer and I put it down for whatever reason and have yet to pick it up! It is ridiculous because I was really enjoying it! I LOVED John Boyne! He wrote one of my favourite novels- The Boy in the Striped Pajamas.  His writing is beautiful and I loved where the story was going.  I need to pick it up again ASAP!