Top 5 Tuesday is hosted by the wonderful Shanah @ Bionic Book Worm. This week's topic is perfect for me! At this point the majority of the books that I read are because of fellow book bloggers! I watch booktube, listen to bookish podcasts, and I am on goodreads and bookstagram, but I trust my fellow book bloggers the most. I think it is because I feel like I know them on more personal level and have a better understanding of their reading tastes. There are so many bloggers who I trust/have similar book tastes to me and turn to when I need a book recommendation! I decided to share five books that I probably never would have picked up if it were not for the rave reviews I have seen from so many bloggers.
Six of Crows by Leigh Bardugo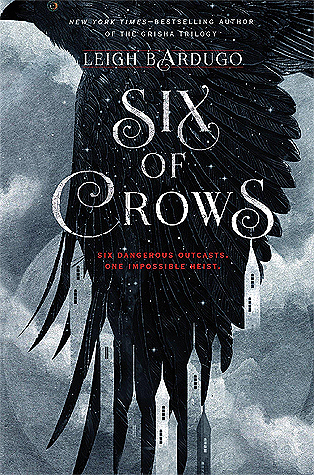 I have seen pretty much every blogger rave about how amazing Six of Crows is. I tend to avoid books that feel like they are so hyped but I had been reassured by my fellow bloggers that it lives up to the hype and let me tell you – they were absolutely right!! I really adored this cast of characters and can not wait to read Crooked Kingdom.
Every Heart a Doorway by Seanan McGuire
Every Heart a Doorway is such a unique story that and I enjoyed every minute of it. I never would have heard about this book if it were not for all the great reviews that I have seen on book blogs!
Warcross by Marie Lu
War Cross is a book that would never have been on my radar if it were not for blogs. I have always heard about Marie Lu, but had never read any thing by her. I saw War Cross on so many most anticipated lists last year that I just had to see what everyone else was excited about! I read it and it was so much fun!!
Stalking Jack the Ripper by Kerri Maniscalco
Stalking Jack the Ripper is a book that I would have just walked right by if I was not a avid book blog reader! The cover and the synopsis didn't grab my attention, but so many reviewers I trust raved about it so I thought "Why not?" I fell in love with this book and especially with Thomas!
A Darker Shade of Magic by V.E. Schwab
A Darker Shade of Magic is another book I have seen all of my fellow bloggers talking about. This is the one book on this list that I didn't love as much as I was hoping to. Don't get me wrong, I thought it was interesting, but I didn't connect with the characters or the story. I am going back and forth on whether or not to continuing with the series! What do you think?