Other People's Houses by Abbi Waxman
Goodreads Summary– At any given moment in other people's houses, you can find…repressed hopes and dreams…moments of unexpected joy…someone making love on the floor to a man who is most definitely not her husband…
*record scratch*
As the longtime local carpool mom, Frances Bloom is sometimes an unwilling witness to her neighbors' private lives. She knows her cousin is hiding her desire for another baby from her spouse, Bill Horton's wife is mysteriously missing, and now this…
After the shock of seeing Anne Porter in all her extramarital glory, Frances vows to stay in her own lane. But that's a notion easier said than done when Anne's husband throws her out a couple of days later. The repercussions of the affair reverberate through the four carpool families–and Frances finds herself navigating a moral minefield that could make or break a marriage.
If you love Liane Moriarty's books as much as I do than I think you will also love Other People's Houses! I love that this book is centred around a neighbourhood, and how interconnected the lives of these characters end up being. I am sure I am not the only one who is a little bit nosy, and this is a book that takes you inside other people's house!
I really enjoyed that the majority of the book was told from the perspective of Frances, a very well meaning woman who unintentionally discovers a secret about her neighbour. Frances is so relatable! I think we all have a Frances in our lives. That is what I enjoyed most about Other People's Houses, the characters are so real and feel as though they truly could be your own neighbours.
I was not expecting there to be so many funny moments in this book! There were definitely times where I laughed out loud. There are a lot of moments that I think everyone can relate to and this line in particular made me think "Abbi Waxman gets me!'
"Sometimes life is just what it is, and the best you can hope for is ice cream."
Other People's Houses is chock-full of drama, humour, and relatable characters. If you are looking for a quick book to read this summer, you can't go wrong with Other People's Houses!
Tin Man by Sarah Winman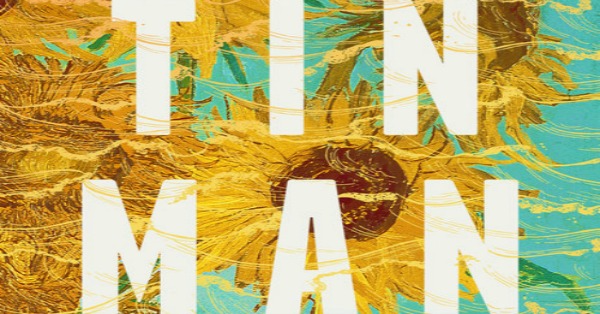 This is almost a love story.
Ellis and Michael are twelve when they first become friends, and for a long time it is just the two of them, cycling the streets of Oxford, teaching themselves how to swim, discovering poetry, and dodging the fists of overbearing fathers. And then one day this closest of friendships grows into something more.
But then we fast forward a decade or so, to find that Ellis is married to Annie, and Michael is nowhere in sight. Which leads to the question, what happened in the years between?
This is almost a love story. But it's not as simple as that.
I can almost guarantee you that Tin Man will be on my list of top ten books I read in 2018! I do not think that I have ever read a book that is so quietly beautiful. It says a lot of Sarah Winman's talent as a writer that a book that is only 208 pages had such an impact on me. It is a story that sneaks up on you and truly weighs heavy on your heart.
I wish there were more books about almost love stories. I think a lot of us have experienced something similar, and always wonder what could have been. I appreciated that we are told the part of the story from both Ellis's and Michael's perspectives. While Tin Man is a love story, it is also a story about the power of friendship.
You may know that I always appreciated when art is an important part of the story, and that is certainly the case in Tin Man. Van Gogh's painting, Sunflowers, is referenced throughout the novel and plays a huge role in the story. That painting also inspired the gorgeous cover.
This is a book that I will recommend to everyone and anyone. It is one I will think about often, and will probably talk about on my blog until everyone has read it!
Thank you to Penguin Random House Canada for sending me a copy of both of these books in exchange for an honest review.