Happy Easter Everyone!!
# of Books Read: 8
# of Pages Read: 2,480 pages
Favourite Book(s) of the Month: The Beauty That Remains, Simon vs the Homo Sapien's Agenda
Beauty That Remains by Ashley Woodfolk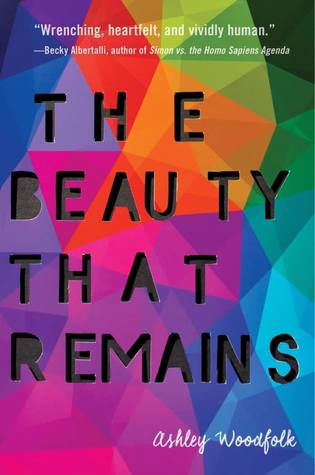 The Beauty That Remains has become one of my favourite YA novels. I put it in the same league as I'll Give You the Sun by Jandy Nelson and that is saying a lot! It tackles grief in such an honest and beautiful way. I love that music was at the center of the story. I think many readers will relate to the idea of turning to music in times of need.
Heart Berries by Terese Marie Mailhot
I have never read such a brave and raw memoir! Terese Mailhot bares her soul in this book and it was an honour to be able to read it. It made me so happy when I saw that it was Emma Watson's latest book club pick. It deserves all of the attention that it is getting!
A River Runs Through You by Norman McLean
If you love the movie A River Runs Through It than I think you will also enjoy the book. I can not even put it in to words, but I got the same warm and comforting feeling while reading this book as I do when I watch the movie. There is a lot of fly fishing talk that can be a little tedious, but I was able to get passed that because the story itself is so wonderul.
Year One by Nora Roberts
I can not believe that Nora Roberts wrote this book! It is so outside what I have come to expect from her, but it proves to me that she is such a talent. I could not put Year One down and was invested in the story. It was fantasy, dystopian, and paranormal all wrap in to one fast-paced novel!
Simon vs the Homo Sapien's Agenda by Becky Albertalli
I can not believe I put of this book for so long! I thought there was no way it could possibly live up to the hype, and I was so wrong! I buddy read Simon vs The Homo Sapien's Agenda with an IRL friend and it was a great experience. We then went and saw the movie, which of course we loved!
How to Stop Time by Matt Haig
I am torn on this one! There are some things I really loved about it and some things I was just 'meh' about. I really enjoyed the history! The main characters has lived for centuries and has met Shakespeare, Fitzgerald, Charlie Chaplin, etc. It was so fun to read! The main character did get on my nerves at times because he was so negative! His talk of headaches actually gave me a headache!
The Female of the Species by Mindy McGinnis
Wow! This book is heavy yet powerful. It deserves all of the praise that it has received. It can be very difficult to read, but the overall message is an important one. I appreciate how this book shines a light on some of the problems in our society. I can not wait to write a full review on this one, because there is a lot I want to say!
The Boat People by Sharon Bala
I have been wanting to read more books written by Canadians, and I was so happy that it lead me to picking up The Boat People! This book takes on the issue of immigration and refugees, and shines a light on just how difficult a topic it is. It is told from the perspective of three characters, who are each on all different sides of the issue. I was surprised by how much I enjoyed it!
I am pretty happy with reading 8 books this month! I hardly got any reading done near the end of March because I was out of town for my college roommate's wedding, and then I was really sick!
Have you read any of these books? What was the best book that you read in March?