Top Ten Tuesday is a fun meme that was created over at The Broke and the Bookish! This weeks topic is "books that feature characters who…" Some of my favourite characters to read about are characters who love books! I thought it might be fun to talk about a few of my favourite book loving characters this week!
Hermoine Granger (Harry Potter)
You can't make a list like this one without talking about Hermoine. She is pretty much the ultimate booknerd in my mind! She was my favourite character to read about growing up because I related to her in so many ways.
Elizabeth Bennet (Pride and Prejudice)
Elizabeth Bennet is my favourite book character of all time. A large part of why I love her is because of her passion for reading. I have gushed about her many times on this blog in the past so I will spare you this time!
Matilda Wormwood (Matilda)
I know I am not the only reader who was obsessed with Matilda growing up! I actually think that this book/movie actually inspired me to read more! There are so many great quote about reading in this book so I just want to share a couple with you.
"All the reading she had done had given her a view of life that they had never seen. If only they would read a little Dickens or Kipling they would soon discover there was more to life than cheating people and watching television."

"Sometimes Matilda longed for a friend, someone like the kind, courageous people in her books."
Liesel Meminger (The Book Thief)
I truly believe that everyone should read this book, but I think that book lovers will really appreciated the importance that books and reading have in this novel. Books really are at the center of everything and it is Liesel's character who discovers a passion for them.
Atticus Finch (To Kill a Mockingbird)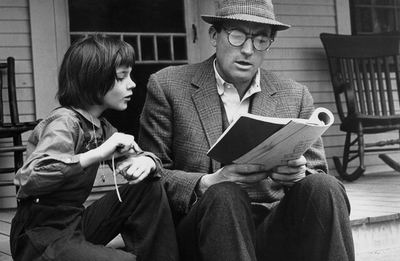 I also adore Scout from To Kill a Mockingbird, who also loves reading, but I have a huge soft spot for Atticus! He recognizes the life lessons that can be learned through books and he wants to pass that knowledge on to his children!
Jo March (Little Women)
Not only is Jo March a reader, she is also a writer! In a lot of ways she reminds me of Elizabeth Bennet. They both were very independent women who fought for what they were passionate about despite what society expected of women during their time. Maybe part of that is because they were exposed to a whole world of possibilities through the books they read and in Jo's case, through the stories she wrote.
Anne Shirley (Anne of Green Gables)
Anne is a recent favourite of mine! I just read Anne of Green Gables for the first time this year and she was such a joy to read about. Her love of reading and her imagination were inspiring for me, and I suddenly understand why this book is cherished by so many.
Cath Avery (Fangirl)
Fangirl is definitely my favourite book by Rainbow Rowell. It was so refreshing for me to read a contemporary book about a college-aged girl who loved reading. She fangirled over a series that is very similar to Harry Potter! OF COURSE I RELATE TO THAT!!
Charlie Kelmeckis (Perk of Being a Wallflower)
I loved everything about Charlie when I first read this book, but what stood out to me most was his love of reading. There are actually list of the twelve books that Charlie has read, and I would love to try and read all of those one day! A few of my favourites are actually on this list- including To Kill a Mockingbird and The Great Gastby.
Hazel Grace (The Fault in Our Stars)
I really enjoyed how Hazel and Augustus had the other person read their favourite book. That was so sweet! Hazel's favourite book, Imperial Affliction, is really at the center of the story and her passion for it made me wish that the book was real!
I find it interesting that all of these books, with the exception of Fangirl, have been made in to movies! I think that maybe that is another reason I feel a strong connection this characters. It is always nice to see characters that you relate to represented not only in books but in other forms of media as well!
I would love to know your favourite book loving characters in books/TV/movies/etc!