I began blogging in May of this year and I have grow to really love it in that short time. I truly believe that starting this blog as been one of the best decisions that I have ever made. I wanted to take this time to gush and rave about everything that I love about book blogging! I hope that you all can relate to this!
#1
I have a place to rant and rave about books! I have very few book lovers in my life and it is so refreshing to have a place where I can share my thoughts about books with people who actually care and are just as passionate.
#2
Book blogging as allowed be to discover books I never would have read in the past. I used to read primarily historical fiction, with the occasional contemporary or fantasy books thrown in. Since I started this blog I have read many books that were outside of my comfort zone, and books that I never would have given a second glance at in the passed. A few examples of this are The Sleeping Giants, Illuminae, and Red Rising- which have become favourite!
#3
I have started to think critically about what I am reading. I never used to analyze or really think about the books I read. These days, I look closer at world building, character development, dialogue, etc.
#4
I have met like minded people. People who understand book hangovers, reading slumps, and fangirling! This has been so refreshing for me, and it is so awesome to find a community of people who I can relate to.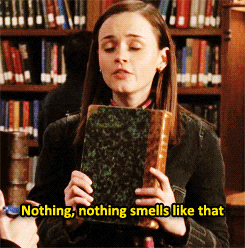 #5
Blogging has caused me to be more productive with my time. I now spend more of my free time writing/reading blog posts, as opposed to binge watching reality TV or playing the Sims. Do not get me wrong, I still do those things, but less often! It feels awesome to feel like my time is being spent doing something more productive while still having fun!
I would love to know the reason that you love to blog! If you relate to anything that I talked about I would to know.