I was tagged by Donna @ Moms Book Collection– one of my favourite bloggers! I was so excited to be tagged for this one! Who doesn't love to gush about their favourite romantic couples!
The Guide:
Thank the person who tagged you and create a pingback to the original author – Nel at Reactionary Tales.
Share at least 5 (but more are welcome) romances that tugged your heart strings. They can be from books, movies, TV shows, manga; anything you can think of! They can be examples of sad tears, angry tears, happy tears or a combination of all three.
Nominate 5 (or more) people to share their emotional traumas
(Note: Try not to spoil the story for your readers in case they would like to check out these romances on their own)
Mary Queen of Scots & King Francis
Aren't they adorable?! They are from the CW show Reign- which is a favourite of mine! This couple has been through so much, and their story is so tragic. Somehow through it all they remain insanely in love. If you have any interest in the Tudors, and honestly even if you don't, I encourage you to give Reign a chance- so that you can swoon over this couple as much as I do!
Jamie Sullivan & Landon Carter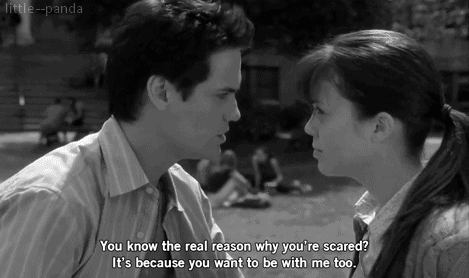 This is a long time favourite couple of mine. My younger self would put on A Walk to Remember whenever I needed a good cry. I always had a thing for the bad boy who deep down has a good heart. I loved that they both brought out another side of each other. Just a really sweet, and heartbreaking romance.
Mr. Darcy & Elizabeth Bennet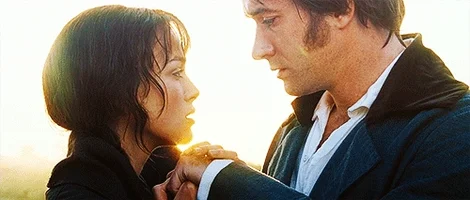 You knew this was coming! They are my favourite couple of all time! So swoon-worthy! Once in a while I will Youtube scenes from this movie just when I want the feels. I have gushed about these two often so I will stop now…This ending though!
Luke & Lorelai
It takes them forever to finally get together but the wait was so worth it- then Luke goes and screws it all up! Thankfully, The Year in the Life gave me all the answers I needed! I adore their banter. When he makes her a hoopa for her wedding I just melted!
Jake & Ennis
I was blubbering like a baby by the end of this movie! I knew the ending was coming but I still was not prepared. I was rooting for their happy ending!
I Tag: